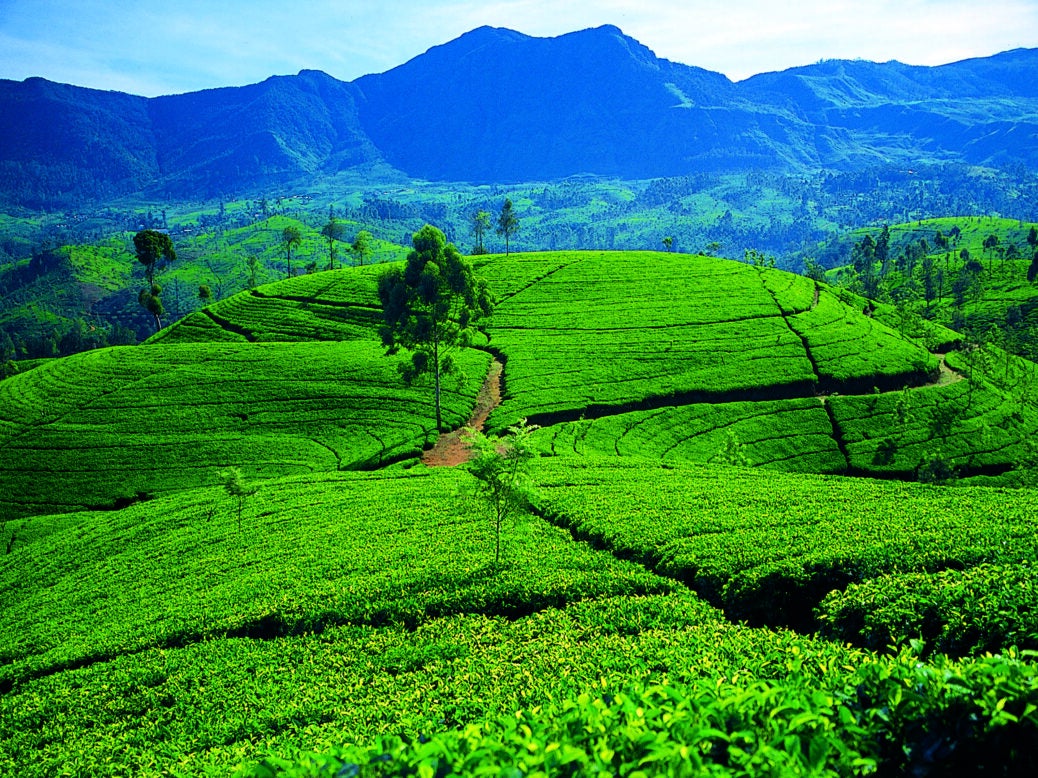 Sri Lanka has recovered before, from colonial rule and civil war. As the country's vital tourism industry prepares to leap back into life, Andrew Harris recalls his pre-lockdown adventure in the land of serendipity 
Oblivious to the pandemic that was on the way, I had only a darting mongoose, a parading peacock and an Olympic-sized pool for company. In such surroundings, surrender to an off-grid tropical afternoon is inevitable.
Eschewing Sri Lanka's famous sinews of sand, I'd headed straight for the hills. The mongoose and peacock were waiting inside Ulagalla, an ethereally beautiful property near Anuradhapura, the former 4th-century BC capital in the north of the island.
Time, if not standing still, was definitely dragging its feet. Ulagalla is one of several exceptional properties buried in the verdant, undulating folds of Sri Lanka's interior. Conceived around a tastefully restored 150-year-old village chieftain's mansion, 58 acres of luxury are interwoven into rurality with 25 secluded villas scattered around working rice paddies: back to nature without getting back to basics. In the middle of the paddies, a hut is converted into a rustic restaurant, presided over by women from local villages.
They have no English, but behind non-stop smiles they do have extraordinary culinary skills, which translate into a blissfully bucolic dining experience.
The principal restaurant, whose open sides invite open warfare with the monkeys, gazes out towards the lake and lost afternoons kayaking through the lily pads of its lost world landscape.
There are horses and bikes to explore surrounding villages, and tours curated to the many cultural landmarks, from the incredible Sigiriya fortress to Unesco-listed Anuradhapura which, after a thousand years as capital, disappeared into creeper clad obscurity for another millennium. National parks occupy 12 per cent of Sri Lanka's surface area.
The busiest, Yala in the south, where Ulagalla has an equally stylish sister property, Chena Huts, boasts the highest density of leopards in the world. It might also have the highest density of safari jeeps, all seemingly driven by Lewis Hamilton wannabes.
Leopards, though, can be spotted in less frenetic parks such as Minneriya, accessible to Ulagalla, where we also marvelled at 'the gathering', the largest congregation of Asian elephants on the continent. As we emerged on to a huge expanse of wetland, suddenly there they all were. Hundreds of them, totally unperturbed by our presence. A magnificent spectacle. Sri Lanka's abundance of riches, from secret surf spots to tranquil tea estates, the colonial streetscapes of Galle Fort and a plethora of palm-fringed beaches, is intoxicating.
One way of absorbing as much or as little as you choose is by car and driver: enter Terence, who, once conditioned to avoid jewellery showrooms, disports an encyclopaedic knowledge of his island. Setting out from the Dambulla Caves and their stunning centuries-old Buddhist imagery, we're soon ruminating on the differences between Sri Lanka and its lugubrious neighbour, India, which he's learned all about from Discovery Channel, rather than making the trip across the Palk Strait.
***
As we launched back into the kaleidoscope of colour and noise, with women in saris, diesel-choked highways, pungent spices wafting through a relentlessly tropical landscape, we could be in South India. But the illogical, endearing chaos that often defines the Indian experience is absent.
Scratch that multi-coloured Sri Lankan surface and an image of ordered calm emerges: it might look like India, but it feels more like Thailand. With Terence explaining how ordinary Buddhists don't become monks, as in Thailand (again, he credits his own teacher, the Discovery Channel), we glide sedately into the drive of Nine Skies, a stunningly situated 1920s tea planter's bungalow.
After a recent makeover rendering it more PG Wodehouse than PG Tips, Nine Skies is close by the colonial town of Ella, currently recolonised by backpackers. They pour off the little train built to transport tea to the coast, Instagramming away, as it chugs through timeless misty hidden hills of improbable perfection.
Named after the famous nearby Nine Arch bridge, Nine Skies looks down on to the Demodara Loop – not a Bulgarian gymnastic manoeuvre but another marvel of colonial engineering, where the track loops around a hill and back under itself, with tiny Demodara station in the middle.
Nearby, a bright yellow butterfly the size of a sparrow flutters aimlessly around the gorgeous gardens. Nine Skies is a picture of sleek sophistication, with an Art Deco bar and working fireplace. The five bedrooms might benefit from a more demonstrative design statement, perhaps, but the property remains an elegant escape route for seekers of solace.
Cruising through Ella, whose new-age visitors look disturbingly like the old ones I remember from Bali half a lifetime ago, (isn't it time those tie-dye trousers just stopped now?), we're suddenly plunging down the twists and turns of a valley draped in stunning Game of Thrones-type biodiversity; the Ella Gap.
The cascade from temperate cloud forest to stifling sea level surely ranks the Ella Gap among the world's great drives. It definitely focuses Terence's attention – he doesn't mention the Discovery Channel once.
Television has nothing on these views. Smothered in sunshine, the late afternoon has us meandering trance-like around the back roads of low tea country, close to Kandy, the second city and final redoubt of Sinhalese culture, which surrendered to the British only in 1815.
Originally part of a larger estate belonging to Aollin Ondaatje, great-uncle of Booker Prize winner Michael Ondaatje, Rosyth Estate House blends imperceptibly into the hillside, from which several staff members are heading purposefully toward us.
At the heart of 62 picturesque acres, with its little tea factory teleported out of the 1940s, Farzana and Neil Dobbs, who divide their time between Sri Lanka and London, have crafted a rural retreat of immense charm.
A lack of pretension melds with attentive service from an army of staff. There are 11 rooms of varying standards: the best is the imposing Rock Villa, opened in 2019. Perched on a huge boulder away from the main building, it commands 360° views across a spectacular slice of central Sri Lanka.
***
he gastronomic goings-on in Rosyth's glass-sided dining room, suspended dramatically amid tropical flora, soon exude an allure. Especially if Farzana is around. From the ubiquitous egg hoppers to subtly structured curries capable of administering shock and awe to unsuspecting taste buds, she remains passionate about her native cuisine.
Cookery classes with head chef Dhanushka are actively encouraged – as are estate tours with Subramanium, into his fifth decade with Farzana's family at Rosyth. Amid spears of sunlight darting through the king coconuts and huge jackfruit bending their branches like great green dumbbells, he expertly demonstrates how to tap a rubber tree before eventually depositing us at the tea factory.
There has, of course, been trouble in paradise. A 26-year civil war was brutally concluded in 2009 and the Islamist attacks of Easter 2019 delivered a death blow not just to 270 victims, but also to a tourist industry responsible for 11 per cent of GDP.
Covid-19 has been managed in a predictably competent manner, however: the official death toll at the time of writing, in contrast to the alarming statistics emanating from India, stands at just 11, and the FCO removed Sri Lanka from its list of countries 'posing an unacceptably high risk' in late July. While the country remained closed to foreign travel, a reopening is planned for the earliest opportunity.
As the island known as Serendib to Arab traders (from which Horace Walpole derived serendipity) picks itself off the canvas yet again, the lush landscapes of the interior appear as ripe as ever for a voyage of discovery. And where Discovery's concerned, I might have just the man for you.
Spear's was a guest of Ulagalla by Uga Escapes (ugaescapes.com); Nine Skies (teardrop-hotels.com); Rosyth Estate House (rosyth.lk); bespoke journeys by Sri Lanka specialist travel-gallery.co.uk
Read more
Gidleigh Park hotel review: A country house staycation to savour
The Balmoral, Edinburgh hotel review: 'Quite an achievement'
An 'enchanting' journey through Laos and Cambodia