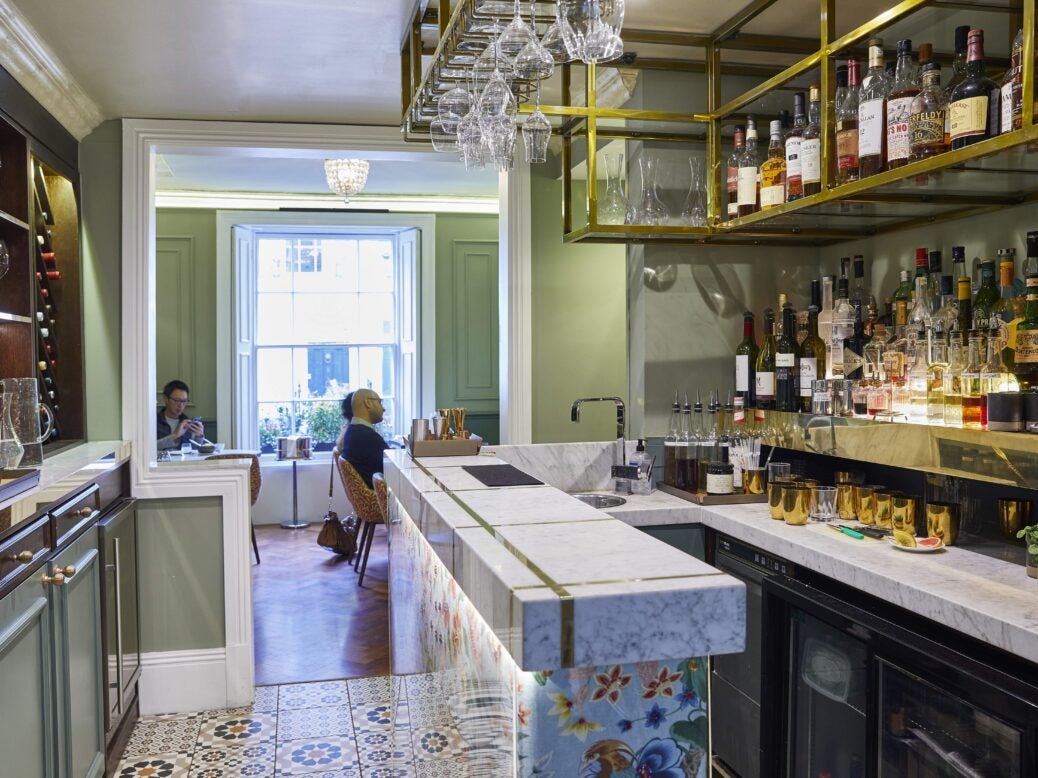 Arun Kakar heads to a quiet cottage off Sloane Square and discovers one of the best curry houses in town 
Kutir (Sanskrit for cottage) is tucked around a quiet corner of Chelsea's Lincoln Street, an intimate and cosy space that can quietly lay claim to serving up some of the best Indian food in town.
On the face of things, this shouldn't have been nearly as surprising as it ended up being: Kutir is headed by Michelin-starred Rohit Ghai, who earned his stripes at Mayfair's Jamavar. He's also served as executive chef of JKS restaurants, which includes Gymkhana and Trishna in its decorated stable. Not a bad selection of eateries to have on the CV.
My dad (as discerning as they come when it comes to curry) and I settled down to enjoy Kutir's Jaltarang expedition: a five-course seafood tasting menu. We open proceedings with cocktails. My 'Bagh' – el jimador tequila reposado, italicus, agave, fresh mango, chamomile foam, pink peppercorn – is sweet, deceptively stiff and powered by the mango, which is bafflingly fresh. For the hot summers day that we dined on, it was an ideal post-work pick me up.
On to the food. Our soft shell crab arrives first, lightly fried and immaculately presented, surrounded by a corral of chickpeas and bolstered by tellicherry pepper, garlic, mustard flourishes. It's delicious. Both my dad and I agree on the tendency to over-fry that we've both come across in various curry houses – that draining of flavour at the hands of oil – but here it comes together as soft, rich and tender. Buffeted by the tanginess of the peppery dish, our expedition is off to a winning start.
Next, scallops and aubergine fritters. Served with a prickly mustard, it's noticeably sharper than the crab but also allows the quality of the fish to take centre stage. Nothing is over-marinated here, aromas are subtle but flavourful enough to enhance the fish rather than overpower it.
It's a theme that continues into the next course, a delightful jheenga (king prawn) and mooli (radish) combination. Again, the fish is of astoundingly good quality. Exceedingly large in size and succulent, it's the spiciest dish of the night, served with a tangy dill raita, a minty, yoghurt sauce that immediately cools the palette. There's also a smattering of mooli in the mix too, adding a peppery note to affairs. It's the best dish of the night and one that packs enough punch in the spice department to keep the tongue-tingling between courses.
If this all didn't sound like enough food already, there's the arrival of the main course, a coriander lobster served with paratha and rice. The largest course, it comes flanked by a kaali daal (black lentils, a personal favourite) which we're quick to get to work on. Despite the heavier flavours here, the lobster retains its sweetness and delicacy, resulting in a dish that is both full-bodied and subtle.
By the time we've scraped the last of the daal from our plates, we're just about ready to be rolled out of the door. But alas, dessert awaits: an indulgent chocolate slab with pieces of banana and a generous slice of cassata filled with fruity kulfi ice cream. Both combine for an outstanding finish – the kulfi is refreshing and light while the chocolate is a much more velvety affair. Both are equally excellent, the perfect sugar rush to end things on.
Speaking of excellence, the evenings' wine pairings were nothing short of exceptional.
Indian cuisine, I've been told, presents several challenges for the sommelier. First, there is heat level, then there is an often-fragile balance of spices to contend with. You don't, for instance, want a wine that's going to leave an acidic aftertaste because it is at odds with a curry's more bitter edges. Neither do you want one that's going to smother – or indeed aide – the spice of the dish.
It's safe to say that the wines enjoyed over the course of the Jaltarang expedition at various stages highlighted, enforced and underlined the array of flavours over the night. A standout is the Blank Canvas, Grüner Veltliner, which accompanied the king prawns. Soft and smooth, it didn't extinguish the spiciness of the dish but supported and cushioned it in a connection that was almost uncanny. Another standout was the Domaine de l'Amour Rose which came with lobster. Fruity and cool, it lightened up the whole dish.
These selections shouldn't have been a surprise. Kutir's wine list runs to 110 bins, and with the quality of its menu, it's no wonder that it has the wines to boot. Upon arriving, I was tempted to opt for the more curry-typical choice of beer but was persuaded by the waiter to have faith in the wine. It was amply rewarded.
Kutir is smart and classy. Its waiters are eminently talkative and friendly, the service is attentive without being obtrusive. There's no question that it's one of the best Indian restaurants in London. Catch this expedition while it lasts.
The Jaltarang menu at Kutir lasts until the end of August.
Read more: