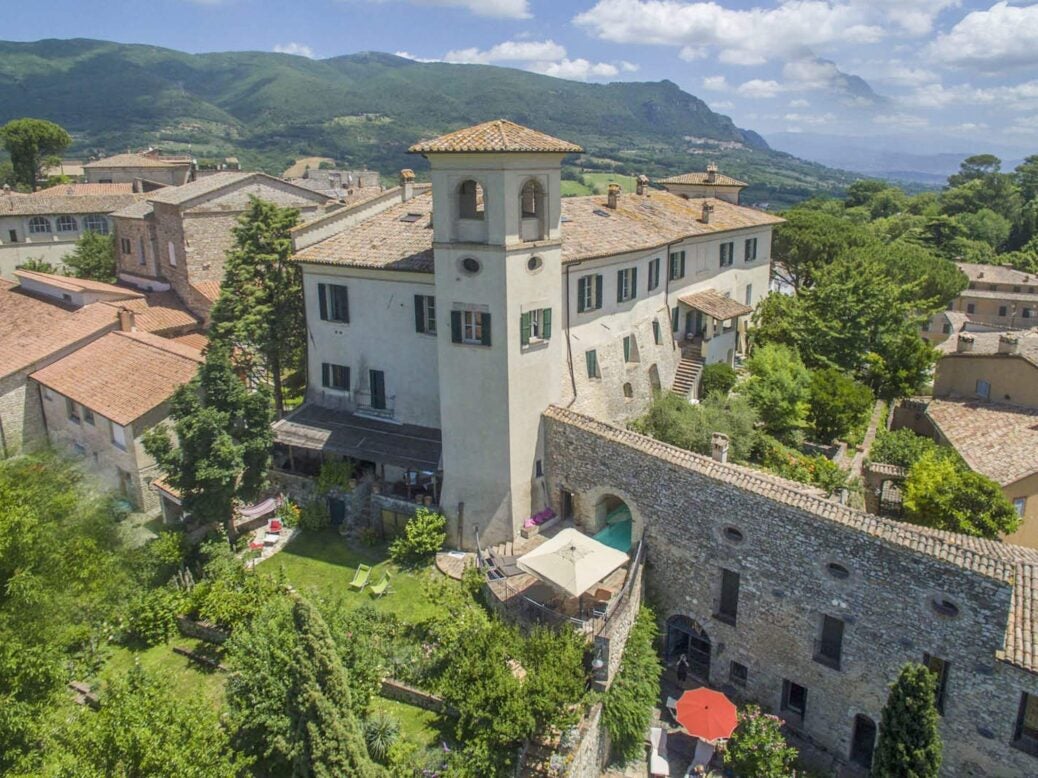 On your next trip to Italy, skip Florence and Tuscany and dive right into the country's 'green heart' in Umbria, writes Rasika Sittamparam
The perfect Mediterranean break might seem like a myth, but the description can be forgiven if used to describe a getaway in Italy. But for adventurers who have explored the ruins of Rome and the art of Florence and are looking for somewhere remote to escape to, look out for Umbria, a region bordering Tuscany known for its medieval hill towns. The landscapes are so densely forested and hilly, and are located almost equilaterally between north and south Italy that it is often referred to as 'the country's green heart'. Within the olive-green terrains lie one of the country's greatest secrets: the palatial Santi Terzi adorning the idyllic village of San Gemini.
The period palazzo is actually a private villa, rumoured to have homed one of Michelangelo's greatest rivals, the neoclassical sculptor Antonio Canova. Despite the 40-degree heat, I feel a gentle chill amidst Santi Terzi's stonework, a building so vast it was aptly furnished to welcome up to 20 guests. The owner, a rugged Italian gentleman who introduces himself as Michele, ushers me to the top of the tower to experience the windowless view of Terni. The altitude of above 300 metres is a little daunting, but the prospect of the horizon takes my breath away. Rooftops of more picturesque buildings like the palazzo, gently swaying trees and shadows of valleys provide a sense of extreme calm. The atmosphere is still and mysterious, as I am not used to not seeing a single signpost of tourism. As I descend the stairs and exit the palazzo, I follow the cobbled pathways and mysterious arches that lead out to the rest of the commune, home to over 5,000 inhabitants.
The residents hardly interact with me, but their nonchalance to tourists is refreshing. Being one so used to sycophantic keychain peddlers on holiday, I am almost alarmed and amazed at the same time when an off-license owner (who also sells gelato and espresso) shakes her head vigorously when I ask for souvenirs.
But one must not be disheartened by the lack of touristy welcomes; it's a chance to be one with the vibrant locality. That included the wild horses in one instance. My afternoon swim in the magnificently rugged River Nera in the nearby Valnerina region is brought to a halt by a duo of marauding horses. I wait in the waters with my coolheaded guide, who doubles as a horse whisperer. A few minutes of thumping, strutting and head-shaking go past before the equine interlopers gallop off elsewhere, leaving us to continue our journey through the winding stream.
For those wanting to stay on well-trodden paths, there's cycling and hiking to pursue, with routes leading through the picturesque periphery of the medieval Bevagna, close to the region of Perugia. One leisurely trek leads me to lunch at the Arnaldo Caprai Winery. Here, I am treated to a typical Mediterranean banquet, but with a delicious alcoholic twist. I embrace the oaky strength of the much revered Sagrantino di Montefalco, a red wine from the region exalted by Benedictine monks and Roman philosophers alike for its 'sacred' qualities.
Wine only forms the tip of the iceberg of the Valnerina valley where culinary and cultural treasures abound. One such finding is the ethereal Abbazia San Pietro in Valle, a seventh century abbey which is one of the oldest in central Italy, as well as one of significant importance to medieval art history.
Enter the building and a series of Romanesque frescoes come into view: walls on the right, with scenes from the Old and New Testaments crafted in reaction to Byzantine paintings in the 12th century, oppose those on the left, which depict newer painting techniques from the 15th and 16th centuries. My favourite artefact sits on the high altar, a marble fragment from the 8th century with two grinning men, bearing the inscription 'Ursus Magister'. It's the first example of an art piece signed by the author in Western history – a revelation so consuming I wanted to camp in the vicinity overnight to fully digest its meaning.
Alas, rationality and hunger overtake my mind, and I head back to the comfort of my temporary home in San Gemini. Two minutes away from the palazzo in Santi Terzi resides a living Umbrian treasure. I air kiss the gregarious Lorena Autuori, a chef who is so Italian and charming that I convince myself I had seen her before on television. Welcoming me into her home, which has a 17th century tomb in the hallway, she gestures me into her achingly quaint and complete kitchen and hands me a glass of rosé, not an atypical welcome in Umbria so far.
A customary cooking class commences, led by the culinary queen Autuori. The group activity starts with us kneading the primo, which ends up as a batch of misshapen gnocchi. 'Don't worry, it happens,' our host coos in our ears, as she prompts us to handpick fragrant herbs from her mini-garden in a basket for the pesto. An hour goes by, and we appreciate the fruits of our guided labour, eaten with an addition of three courses cooked unbeknownst to us. 'Welcome to Umbria,' she raises a glass, a moment I realise that three days have slipped by since my arrival, and that it's not too long before my final farewell with this breath-taking part of the world.
Months after the trip, I yearn for a slice of Umbria again for my mental and culinary palettes. Autuori naturally comes to mind, and I cheekily write to her about my need for a cure for my post-holiday blues. Hey presto, she replies, with some of the most elaborate instructions on how to make a spaghetti carbonara from scratch. I thank her and head home, to pretend that I'm back cooking in Umbria again, while planning the next trip.
Rasika Sittamparam is a writer and senior researcher at Spear's
Tuscany Now & More (tuscanynowandmore.com, 0207 684 8884) offers Santi Terzi from £5,984 for 20 people based on travel in August 2018 for seven days sharing on a self-catering basis. Includes a maid. Tuscany Now & More features a range of properties across the region and can provide private chefs, excursions and other services upon request.