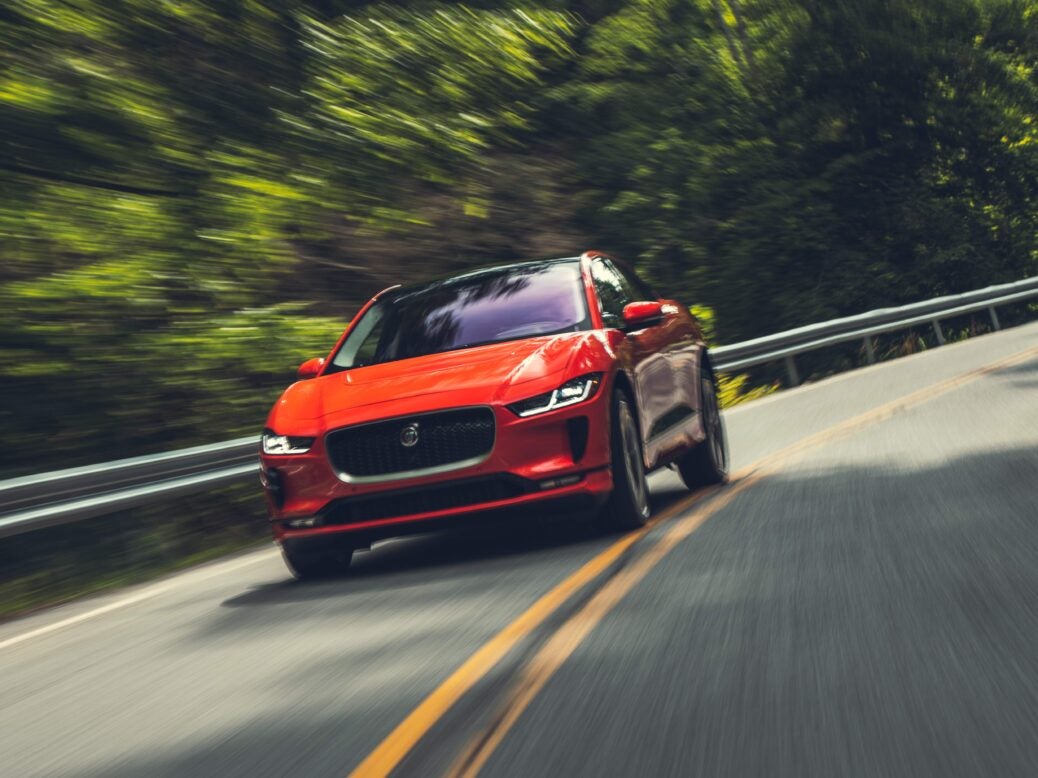 The new Jaguar I-Pace is the first electric car you might – indeed should – want to buy, writes John Arlidge
I like driving. I like cars. But there are very few cars I would fly to New York to drive for a few hours and then fly straight back home.  This summer, however, I did, and I'm glad, because the car is the most important British car for a generation. It's good to look at, good to drive, good to own, good for families, and good for the planet.
The Jaguar I-Pace is the first credible electric car that you might want to buy. First off, it's a Jaguar, so you know you already like it. It has a range of up to 300 miles, depending on how and where you're driving and the climate – batteries don't work so well in the cold – but that's good enough for most of us. It looks like an electric car, which matters, and it looks fantastic, which matters more. Most surprising of all, it's a high-riding SUV that handles like a sports car.
For a country that is all too accustomed to eating the dust of the German car giants, this is a genuine British 'first'. BMW has the small, handsome electric i3, but it's only really a town car, and the i8 may be the most futuristic of the BMW line-up but it's a two-seater supercar. We're still waiting for credible, practical electric offerings from Mercedes or Audi.
I know, I know: Teslas, the 'original' modern electric cars that caught the old guard by surprise, go further. But nobody ever looks good driving a Tesla. They just look smug. Teslas are ugly. And then there's the firm's owner. Elon Musk is not – how shall we say? – everyone's cup of electrons. It's not just that no one knows whether his firm has a future –
unlike Jaguar, which, as part of the Jaguar Land Rover group, is going gangbusters. His pronouncements are bonkers at best, madly offensive at worst. In July he tweeted that the heroic British diver who helped to rescue 12 boys and their football coach who were trapped in a cave in Thailand was a 'pedo', after the diver had dismissed Musk's suggested rescue by micro-submarine as hopelessly impractical. He later apologised. But still.
Who is responsible for such an unlikely English victory over the Germans? Step forward, er, Dr Wolfgang Ziebart, who was born in Hanover, and – phew! – Ian Callum, who hails from the Scottish borders. Ziebart, Jaguar's technical design director, is a man ahead of his time. He used to work for Infineon, a chip-maker for Apple's iPhone. I first met him at the Consumer Electronics Show in Las Vegas three years ago.
He had gone there, rather than to the oily, old-fashioned Detroit Motor Show that happens at the same time, because he realised before most of his rivals that cars were becoming tech products and, as he told me at the time, 'technology is moving quickly'.
So, thankfully, was he. He has spent the past three years creating the best-driving, most practical electric car on the market. When I drove the I-Pace (in Dynamic mode, rather than Comfort or Eco), it was instantly engaging and frighteningly fast – 0-60mph in 4.5 seconds. At 2.1 tonnes it's a heavy car, but that does not affect its handling because the batteries are under the floor, giving it a very low centre of gravity. You can throw it around like a Mini Cooper. And it was guilt-free hooning, since going downhill and braking I recovered much of the energy used up going uphill. Best of all, it's not an electric 'game console' ride. It's a cross between a sports car and, since it's whisper quiet, a Rolls-Royce.
Top speed is 124mph, since you ask.
Charging to 80 per cent takes 85 minutes on the 50kW DC fast chargers you find at service stations and in car parks. New 100kW DC chargers will take 40 minutes to get to 80 per cent. Off the mains supply with a 7kW AC wall box at home, it takes just over
ten hours to get to 80 per cent.
Performance matters in any car, but in a Jaguar more than most. That goes double for design. After all, it was Enzo Ferrari himself who acclaimed the E-Type as 'the most beautiful car ever made'. This is where Callum, Jaguar's design director, comes in. When he arrived, Jaguar's styling had become so tired, the marque was all but dead. With his muscular F-Type two-seater sports car, the rakish XF sedan, impish E-Pace small SUV and magisterial yet avant garde XJ, he has created a new, modern, sporty elegance.
The I-Pace is his proudest work. It's the cab-forward, mid-engine sports saloon he's been waiting to get into production for 30 years. Back in 1989 he penned the eerily similar-looking Ghia Via for Ford, but it never went into production because the engine would have had to have been in the boot. The design works on the I-Pace because it does not have one big engine but, like most electric cars, two small electric motors, one at the front and one at the back.
Since electric motors are smaller and need less cooling than petrol ones, the nose of the I-Pace is lower and snarkier than on most four-door cars. The short bonnet enables the front seats to be as far forward as safely possible. That creates a distinctive, sporty profile and, better yet, a vast cabin – Cayenne space in a Macan-sized package, with a boot that rivals a BMW 5 Series Touring. You sit as high as in a small SUV, such as the Jaguar F-Pace or Volvo XC60, but the car does not feel like an SUV.
Confusing? Thrillingly so. 'A lot of people – the marketing guys and journalists – are trying to define it,' says Callum. 'I say it is what it is. It's an I-Pace. It's disruptive. I love that.' The only conventional piece of design is the grille, which is large – far larger than it need be – 'to remind people that this is a Jaguar', Callum says.
The interior is as good as Tesla's is hideous. Instead of a vast, distracting touchscreen on the dashboard, there are two smaller screens. When not being used they can be switched off and fade to black. No glaring white light. There are actual old-fashioned buttons, too. Gasp! The panoramic roof is a single piece of glass. Put all the innovations together and it's no wonder Callum thinks the I-Pace is the most important Jaguar since the E-Type because, like the E-Type, 'it will define the next 40 years'.
The only downside? Like all electric cars, the I-Pace is expensive to buy – although, of course, cheaper to run than a petrol or diesel car. It starts at £63,500 but you will quickly get to £70,000 once you put on the 22in wheels, which not only look best but ride best too. But hang the expense. The I-Pace is futuristic, optimistic and British – and we could all do with a bit of that right now.
John Arlidge writes for Spear's.
This article was orginially published in issue 64 of Spear's magazine. 
Image credit: Jaguar Land Rover