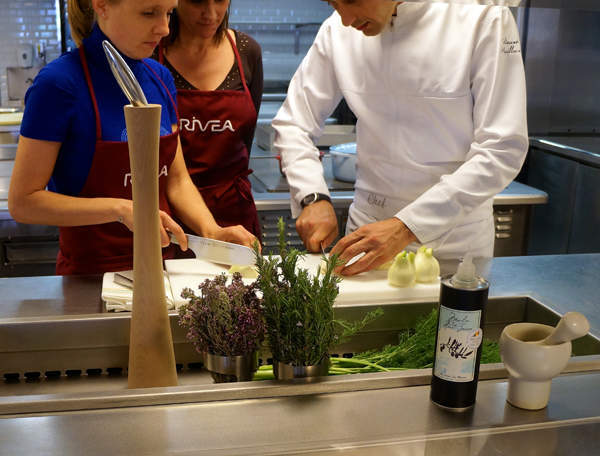 Alex Matchett recently dined at Rivea in London for Food Friday. Not to be outdone, I popped over to Saint-Tropez to experience the original Rivea at the hotel Byblos and spend time with some of their producers and cook with head chef Vincent Maillard.
The Byblos is one of those legendary Riviera hotels – it was built by a rich Lebanese gentleman to try and woo Brigitte Bardot back in the Sixties and frequented by the likes of Mick Jagger, Clint Eastwood and Cher.
Its nightclub, Les Caves du Roy, is an institution in the south of France and has been known to turn wealthy guests and celebrities away if they do not meet the strict entry criteria. It's so good even Tom Cruise can't get in – isn't that fabulous? With a prime position, beautiful Sisley spa and Pablo Picasso-designed staircase, there is much to be admired here but I came for the food.
Rivea by Alain Ducasse opened in 2013 and is run by head chef Vincent Maillard. Maillard has been working with Ducasse on and off for the majority of his professional career. He creates the menus here at Rivea before running them past Ducasse for feedback and approval.
Those menus are designed to showcase the best seasonal produce of the Mediterranean in a relaxed, sun-drenched environment. Summer flavours linger on into September's menu to allow late visitors that Riviera dining experience – after all, that is what this whole venture is about.
Suppliers are local and trusted. We visited the sprawling farm of the restaurant's vegetable supplier in Cogolin en route to the nearby Club 55. It is a fairly new farm but you would never know – the farmed and wild areas blend seamlessly into one another to create a perfectly balanced organic environment. Horses work the land and no artificial pesticides are used. As we start our tour, three-Michelin-starred chef Arnaud Donckele arrives on his motorbike to hand-select his ingredients for service.
Rows of ripe, warm strawberries grow next to polytunnels full of hundred of varieties of tomato. Courgettes and aubergines intermingle with redcurrants and herbs, the air delicately perfumed by the plants. It is a real treat. We try tomatoes straight from the vine, salad leaves that taste exactly like lychee, and stevia so sweet you only need to lightly bite it once to release the flavour. With produce like this available on your doorstep, it is no wonder that the food in this region is so good.
The following morning we arrive at the Rivea kitchens to begin our tuition as the trays of courgettes and their vibrant flowers are delivered from the farm. Chef Maillard promises to guide us through the preparation of courgette soup and artichoke risotto, which at first seems like a walk in the park. 
This courgette soup, though, has several different elements including stuffed courgette flowers, a courgette concentrate and much more. Chef is patient and kind with his students, encourages participation and quietly goes back over your work to make sure that everything is done to his standard.
Nothing leaves the kitchen that he is unsatisfied with, even if it has been created by a gaggle of journalists. Having 'mastered' preparation of artichokes we went about our business while chef discreetly went back to neaten up the poor little things until they looked perfect.
As you wander around the surprisingly roomy stainless steel kitchen, you can help yourself to tea, coffee and cold drinks as well as a selection of pastries. You should, however, remember that after you've finished your lesson you get to eat everything you've made, so best to take it easy where croissants are concerned.
Chef also plates up for you, so those who are Instagram-inclined can impress their friends with images of beautiful dishes that they have technically prepared. There is no doubt that the food created in this kitchen is wonderful and not even the interventions of six untrained extras can ruin it, which is impressive.
If you don't want to cook, you can simply just enjoy the food of the restaurant as a guest whether under the broad canopies of the trees or inside in the simple, bright dining room. Prices aren't cheap but considering where you are they aren't completely ridiculous either. Enjoying the people watching by candlelight in the warm late night air is worth a good handful of euros alone.
So, if you find yourself in the vicinity of Saint-Tropez, have a touch of cabin fever on your yacht or simply want to enjoy good food this summer, head to Byblos and talk to their concierge about the cookery course – or simply stroll into the restaurant. Who knows, you might even spot Bruce Willis outside the nightclub at the end of your visit.
The cookery course is €190 per person and includes tuition, lunch, wine and a parting gift