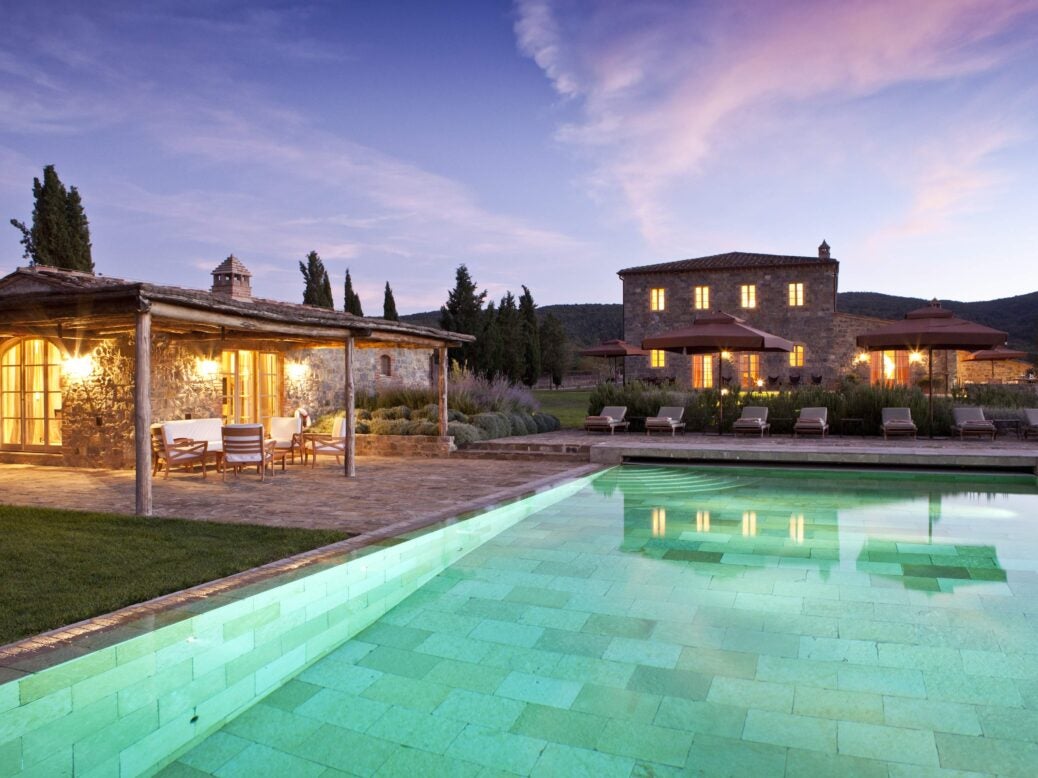 Castiglion del Bosco is a luxury hideaway for television presenters and technology billionaires, discovers Edwin Smith
Resting an Aperol on the ledge of your private, heated infinity pool and looking out across the wooded valley below, it's easy to see why Tuscany's Val d'Orcia has been named a Unesco World Heritage site.
The designation has practical consequences, too. It forbids the construction of any new building on the 151,200 acres of rolling hills that make up the region. But it is possible to respectfully refurbish existing structures – and this is what has been done at Castiglion del Bosco.
In 2014, Massimo Ferragamo, scion of the famous fashion family, unveiled a collection of rustic Tuscan villas arranged around a 13th century castle and 'borgo' (best translated as 'hamlet') and called it Castiglion del Bosco. The castle is very much a ruin, but the other buildings here are anything but. The stone villas – some draped with climbing plants and girded by gardens filled with lavender – have been beautifully restored into handsome, spacious houses that are dotted around the 5,000 acre estate.
The interiors, which were largely designed by Ferragamo's wife, Chiara, are filled with exposed beams, four-poster beds, marble, beautiful tiling and luxurious upholstery.
Sitting in seclusion by the pool is bliss, but there is plenty to occupy those moments that aren't given over to outright, horizontal relaxation. At the cooking school, The Brunette and I mixed flour and water before shaping it by hand to create homemade tortellini.The other student in the class was Sophie Lui, a television news anchor for Global BC in Vancouver, who, along with her partner Philip Meyer, joined us for lunch to enjoy the fruits of our labours. Over the tortellini and a rather good pinot nero, Philip explained that the management of Castiglion del Bosco had been taken over by the Rosewood hotel group. As MD of Sand Hill in California (another Rosewood property, which is beloved by tech billionaires) he would know. It is an interesting time for the group, which is expanding – notably with a new hotel being built in London on the site of the old US embassy on Grosvenor Square.
If the other diners in Castiglion del Bosco's excellent restaurants that week were any guide, the Rosewood empire is doing nicely. I was almost certain that I spotted Michael Bloomberg (not then a presidential candidate) at a dimly lit table just a few metres away from us. When I casually asked the waiter whether we were, indeed, dining just metres from the billionaire, any doubt evaporated. The strenuousness of his denial was all the confirmation one could need.
The Brunette and I visited Castiglion del Bosco in the autumn, but we might have easily delayed our visit. Throughout the winter months, guests here can relax in the beautifully appointed spa, tour the spectacular winery, or have a private chef to come to their villa and cook steak Florentine.
The concierge service can also set you up with whatever you fancy, and so we set off (via chauffeur-driven Range Rover) to go truffle-hunting. Paolo, our tartufaio, led us and his truffle-sniffing dog Pippo through the woods and pried five or six black truffles out of the earth in less than an hour. The black variety are woody in scent and tasty on pasta, but it's the white variety that are most prized. At $2,000 per kilo, they fetch 10 times as much – but aren't in high season until November and December. To me, that sounded like a perfect excuse to come back.
The winter villa experience at Rosewood Castiglion del Bosco is available until 1 April 2020 and includes concierge service, daily housekeeping, private heated pool and 24/7 security. Three-bedroom villas from €2,750/day