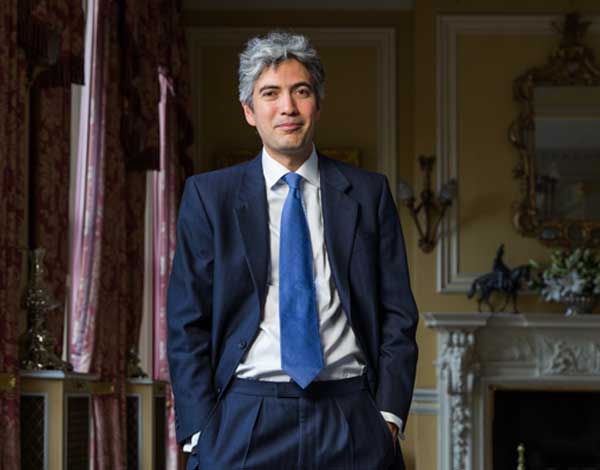 Entrepreneur Hugh Dickinson is aiming to create a more affordable boarding school – one that is genuinely affordable to the middle classes, reports Arun Kakar and Christopher Jackson

Spear's meets Hugh Dickinson at his club, the Cavalry and Guards Club off St James': an establishment tells you something about the man. He's well-spoken, and possesses that vague air of camaraderie that defines an ex-army officer, and it's here that Dickinson is plotting a venture that could well change the landscape in education.
His vision began with a simple observation: boarding schools are now unaffordable for professional parents, and effectively a whole strata of society, which historically was able to afford it. 'In my day, the fees were broadly affordable,' recalls Dickinson, who went to Stonyhurst. 'But they've now risen out of sync with the traditional market. Some schools are now more than £40,000 a year.' Fees at Eton stand at £14,167 a half-term, while Harrow will set you back £13,925.
Why is this? 'There's been a ridiculous arms facility race,' says Dickinson, CEO of start-up Concept Education. 'They thought that by building that £5 million state of the art theatre that would increase pupil numbers, and they would do better.'
The top 15 schools have done fine, Dickinson observes, but the others have struggled, and now rely on the international market. The ex-army man now wishes to recreate what he views as the benefits of his own education – but at a fraction of the cost. He is planning to deliver weekly boarding at around £20,000 a year, without scrimping on the essential quality of education offered.
Education, education, education
So where will the savings come from to deliver better value for money for parents and children? Again, the former Irish Guards officer says that it comes down to that facilities arms race again.
'Firstly, if you're taking over a school, as a going concern, it's likely they've got good facilities,' Dickinson explains. He adds that even if ends up on a site which doesn't have existing structures, he would be careful with the pennies. 'If you don't have facilities you don't spend a huge amount to get them.'
How would parents feel about that? 'Speaking to people of my generation who have been priced out of the market, many have come to me and said, "We don't want our kids to grow up in a five-star hotel. We're happy for them to have decent facilities provided the welfare, the education and the all-round development is excellent"'.
Another way to save on costs, says the entrepreneur, is to have a 'narrower syllabus.' He continues: 'With your typical school, parents say, "We won't send our children to you unless you teach Russian." They hire a teacher and it leads to inflated syllabus costs. Now, of course, you might offer Mandarin instead of French, or computer science instead of ancient history, but what you don't need to do is offer a curriculum of 20 or 30 subjects.' He adds that 'slightly larger class sizes' are another way of improving affordability.
All hands on deck
Along with appropriate location – being a desirable distance from London – there are other aspects of Dickinson's vision which gently modernise existing patterns of boarding to make them more attractive for today's parents – most likely including some sort of five-day weekly boarding to give greater family time.
So what's the best way forward? Dickinson has assembled a strong advisory board: there's Martin Steven, ex-high master at St Paul's in London – which counts George Osborne among recent alumni; Anthony Goddard, ex-head of Aysgarth; Jessica Miles, headmistress of Monmouth School, and Will Orr-Ewing, the well-known head of Keystone Tutors.
Next, this brings us onto the hardest part – the site itself. There has been some movement here, and though he would love to tell me more, can only speak in vague terms. He's very close to securing a site, which he hopes to complete on soon: 'The site should be secured in January,' he discloses. Dickinson is now looking for investors to come on board for a January completion.
So, what will day one at Dickinson's school look like? Obviously, there'd be 'huge excitement', he says, smiling, allowing himself to look forward a little. He adds that what he wants is 'a happy environment, where children can get the best and can develop on all levels.' Moreover his will be a rounded education that can ensure that children 'will flourish in the 21st century in the age of AI'.
How did he get the education bug? 'I left university and joined the military. As a young officer in a regiment, your role is like a teacher,' explains Dickinson. 'You are training young soldiers how to be a good infantry soldier, and that's when I thought I enjoyed working with young people – and instructing them.'
School of life
After the army – where he was deployed on operations in Northern Ireland, Bosnia and Afghanistan – Dickinson trained at law firm Ashurst's before moving to Blue Bay Asset Management. During that period an idea had sprouted – an idea so good, in fact, that Dickinson has now left his role, and with two children (aged two and one), has put in a significant slice of his own money towards making it a reality.
'On a purely personal basis – coming from a very large and busy family, being one of seven kids – I was allowed to develop individually in ways I wouldn't have been if I'd been in home. It enabled me to flourish.'
These are advantages that he would like his own children – as well as others – to enjoy, but which are denied to them by price, he confirms, before pointing out the other advantages of boarding: 'Boarding school has more time than a day school, not only to teach but also to provide education that goes beyond the classroom. There's time for the extracurricular, and academic progress out of hours – the development of softer skills. You're not wasting a couple of hours a day travelling to and from home.' The level of friendships one acquires can also be considerably deeper, he argues.
If he can square the circle and deliver a 'no-frills' boarding school offering that grabs the attention of Middle Britain – and beyond – then Dickinson may well be onto something. 'The appetite is strong as people know affordability is an issue.'
concepteducation.co.uk
Portraits by David Harrison
Read More: