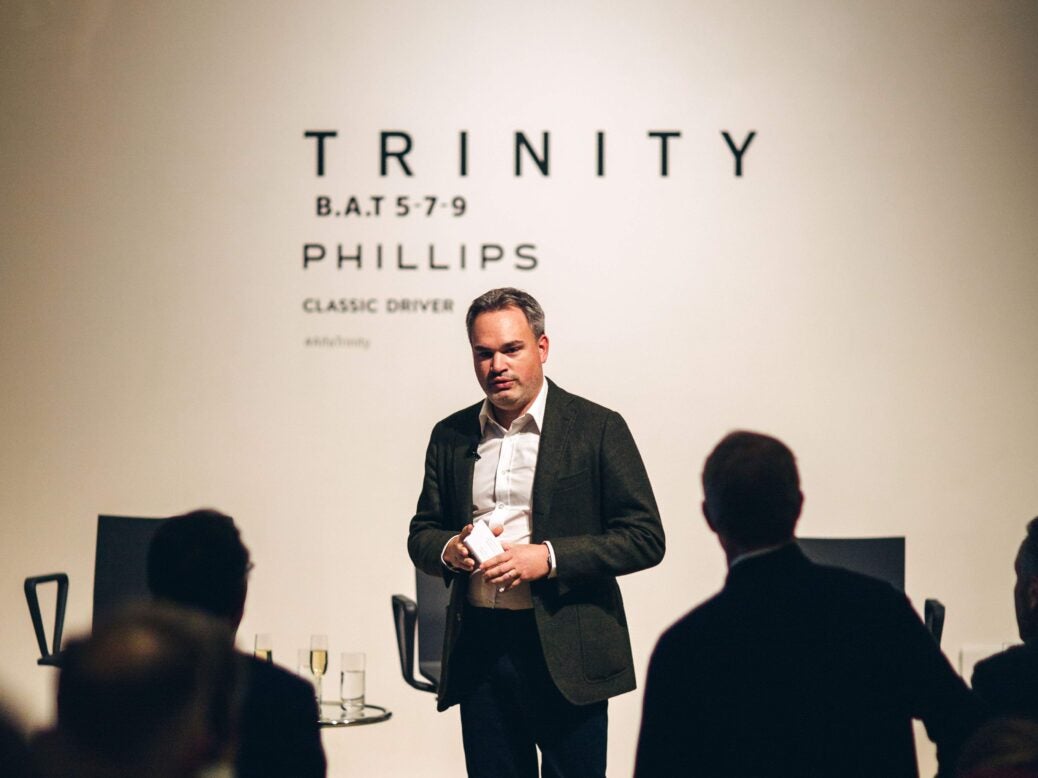 In his short time at Phillips, James Marks has shaken up the watch auction world, says Timothy Barber
You have to wonder quite what James Marks's colleagues at Phillips auctioneers, whose London HQ towers over Berkeley Square, must make of him. Against the pervading smarm and hot air of the auction world, the firm's UK head of watches is refreshingly straight-talking, especially when it comes to the motivations of his buyers.
'Auction houses traditionally say they're selling you an object that you buy with your heart, because you love it. It's a bit of a blinkered view,' he says. 'I don't think people should be afraid of talking about investment values. We do it about our houses, why not watches? Investment is a bit of a dirty word, but for vintage watches in this country it's the biggest growth area.'
Marks isn't from the auction world, and auctions aren't his main interest at Phillips either. A high-flying former trader and fund manager, he moved from being a client of Phillips's market-leading watch department to running its London branch in late 2018, with the objective of doing something a bit different: he's opened a shop.
Display and pay
When we speak, Marks, 39, is planted comfortably on a plush sofa in his showroom, which occupies an airy former gallery space on the fourth floor of the Phillips building.
In display cabinets are vintage watches ranging from £400 Breitling stopwatches and picture-perfect Omega Speedmasters to the kinds of immaculate Patek Philippe references and rare Rolexes that have driven the surging vintage watch market to new heights in the past five years.
Anyone can stroll in and buy a watch if they have the readies – though they'd need £1 million-plus to snap up an as-new gold Rolex Cosmograph Daytona from 1969 with a black bezel and dial. It's nicknamed 'JPS', after the similarly liveried Lotus F1 cars of the 1970s that advertised John Player Special cigarettes.
'An amazing, amazing piece,' Marks says, admitting that the watches on sale more or less reflect his own tastes. On his wrist is a Patek Philippe perpetual calendar in white gold with a hobnail bezel (ref 5139G), the watch he wore for his wedding.
He's had to put the hobby to one side now that it's his profession, but he's hung on to 'more watches than my wife knows about'. The big watch auctions in Geneva, New York and Hong Kong take place in spring or autumn, with consigned watches taking as long as six months to go under the hammer.
Marks reasoned that there was a gap waiting to be filled – hence the shop, which is named Phillips Perpetual. 'You can buy a suit online at 11am and it's delivered to your house at 5pm, so why would people stick to this auction model of doing things just because it suits us?' he asks. 'London is a dealer-oriented market, which is quick and efficient, so a dealer model made sense here.'
Besides attracting the investment savvy of a new generation of watch buyers – 'I won't call them collectors, because they're not' – he says Phillips Perpetual has already been funnelling clients onwards into auctions, while picking up watch newbies from other departments. Being open during Frieze week was particularly productive.
'In my banking days the buzzword was "cross-selling", and this is the ultimate example of it,' he says. Marks was bitten by the watch bug aged seven, when he started collecting limited-edition Swatches. He sold his haul aged 17, and was able to fund his 113first car purchase with the proceeds. Once he entered the finance world in the early 2000s, he fell down the rabbit hole. What for his colleagues were status symbols became for Marks an academic obsession.
The credit crunch may have killed off the 'pinstripe, Daytona and Church's shoes' attitudes Marks once knew ('It's all Apple Watches now'), but what came with it fuelled the explosion in the vintage watch market, which he estimates to be worth more than $1 billion annually. 'The Fed printed $80 billion a month, and it couldn't all go into Apple stock or the housing market – it had to go somewhere,' he says.
Vintage watches – limited in number, transportable, collectable – and specifically vintage Patek Philippe and Rolex, were ready- made as a new asset class for those getting out of cash in uncertain times.
'In Switzerland right now, interest rates are minus one, in the UK they're zero, and there's a core group of people out there who rely on yields to have a lifestyle. We have clients who say they'd love to be more involved with the stock market, but with these numbers and P/E ratios, we can't. The bond market's not an option. So they're looking for something else.'
Winning hand
Marks, who is a grandson of former F1 supremo Bernie Ecclestone, scored big wins when his fund bet against the market on the Brexit vote in 2016 and on Donald Trump's presidency, at which point he decided it was time to cash out and follow his obsession.
A Phillips Perpetual shop in New York is planned for 2020, with others to come. 'When you have an idea and you're given the backing of market leaders, why would you not,' says Marks, who sees little sign of any bubbles bursting in the watch market any time soon.
'So we have to come to terms with the fact that there's a new norm economically. We've never seen as great a money supply in the world as we have now – everything I was taught for economics A-level has been turned on its head. And we will see these little pockets of unusual activity.'
Read more
Why steel is where it's at in watches – Tim Barber
Tim Barber on the 'freaky, macho, high-tech' watches of Roger Dubuis