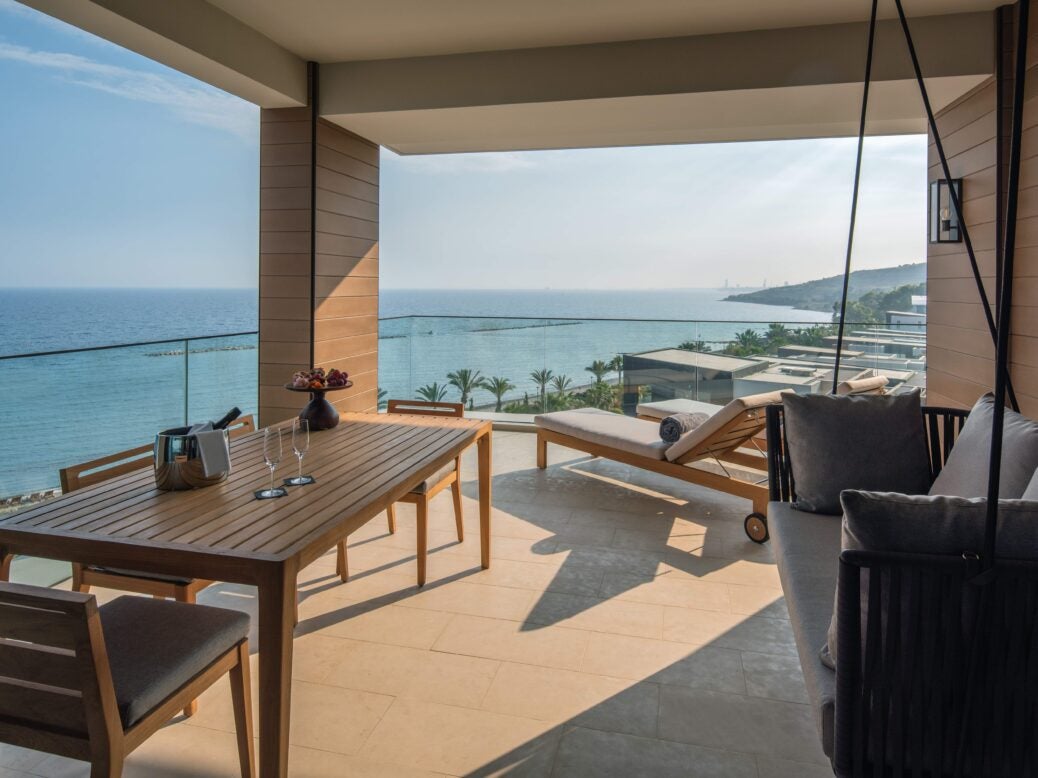 The Cypriot city's burgeoning reputation as a luxury destination has just been given another boost, discovers Sophie Killip
Stepping out of our taxi and onto the grand sandstone entrance of our hotel, it's easy to see why empires of old fought over the island of Cyprus. It's difficult to tell whether we've gone back in time or sped into the future; the monolithic Amara hotel, rising up from the beach like a desert rose – all creams, browns, golds and oranges – vibrates with a royal grandeur.
It's the newest, ultra-luxe hotel to open in the Cypriot coastal city of Limassol, which is fast winning a reputation as a burgeoning luxury destination.
The city sits above enchanting azure waters and a golden beachfront, where luxury apartments are springing up. The Marina has firmly established itself as one of the most reputable and thriving yachting destinations in the Mediterranean – with berths for yachts up to 110m. Last year saw the opening of Parklane, a new offering from Marriott Hotels.
Amara, however, with its sleek lines and floor-to-ceiling windows, is in a league of its own. Lights hang as if frozen in time, and everything seems to pause here. There is a stillness to the hotel that feels like comfort, as solid and as unwavering as the edge of the infinity pool. Each of the 207 guest rooms faces out to the sea and endless horizon, with at least 180-degree views.
Spear's is lucky enough to stay in one of the hotel's luxurious duplex-level rooftop suites. Downstairs has been finished with a contemporary, minimalist feel, with light wood furniture, warm down lighting and traditional Cypriot touches.
Up a marble staircase to the second floor, a wooden door leads through to an exclusive outdoor terrace, complete with a private infinity pool and dining area – and a birds-eye view of the sprawling hotel.
The hotel describes itself as a boutique, but never feels cramped or crowded.  Guests will always find a perfect sunning spot by the pool, or a table or two free at of its many restaurants – a good thing too, as the Amara is a foodies' paradise. There is a range of dining options here, including a Ristorante Locatelli – Michelin-starred Italian cuisine served alfresco; an open-air fish tavern created by experienced Greek chef George Papaioannou, called Armyra; and the first Nobu restaurant in Cyprus. Called Matsuhisa Limassol, the restaurant is set within a space designed by the world-renown David Rockwell, founder of the Rockwell Group.
While in Cyprus, we spend our days exploring the island, visiting everything from Aphrodite's Rock (where the Goddess is said to have been 'born' out of sea foam) to the world UNESCO site, the Tomb of the Kings; or shopping in the capital, Nicosia, and exploring the untouched Troodos Mountains. In the afternoon, it's back to the hotel to lounge by one of the tranquil pools, or down to the spa – where an hour-long Swedish massage will certainly invigorate the senses.
On our last night at Amara, after a drink and a swim in our room's private pool to take in those endless views, we make our way to dinner at Matsuhisa Limassol. The evening is spent delving into mouth-watering Peruvian-Japanese cuisine. Small plates include decadent sushi and sashimi, and a surprise signature plate of a simple baby spinach salad, finished with truffle oil, proves a hit with our table. After several courses, including melt-in-the-mouth wagyu beef and crispy vegetable tempura, dinner finishes with shared deserts and a moreish fruit sake, before we stumble up to bed, full and warmed by our time in the sun.
Even after several days at the hotel, Amara's shine does not wear off. Its rich, imposing structure is still as breath-taking as ever as we drive away from it, en route to Larnaca International Airport.
There is one stark difference, though: we are refreshed, rejuvenated, and a tad sunburnt – and we know that the golden hotel rising from the sea is an effortless monument to laidback island life.
Sophie Killip is the editor of Design Curial
amarahotel.com; rooms start from €425.00 per night
Read more:
How Iceland became a 'destination for food adventurers' – Spear's travel
This Tuscan sanctuary is perfect for truffle-hunting tech titans