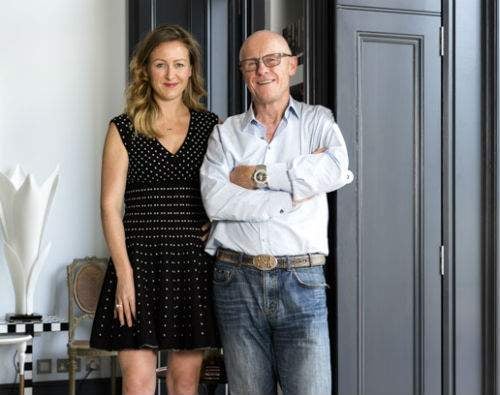 Lyme disease may well have chosen the wrong opponents when it took on the Caudwell family, writes Christopher Jackson
When Phones4U billionaire John Caudwell experienced the diagnosis of his family with Lyme disease, it provided an explanation for the heart-breaking illness of his eldest son Rufus. Now he and his daughter Rebekah Caudwell are focused on beating this little-understood disease.
John Caudwell
This engulfed me. One by one, 11 members of my family were diagnosed with Lyme. Nobody knew anything about it – not the public, and not the medical profession. I had to educate them. Because of my wealth status I was able to make a massive noise about it: it saturated society.
Rebekah Caudwell
When Dad started becoming vocal about Lyme disease, it was amazing watching what he went through. People throughout the world started contacting him: he would sit up until 4am reading every message. He was overwhelmed with grief. He was getting messages of the most traumatic kind from people failed by the system.
John
If I produced my Facebook stories from all those thousands of people who'd written to me and put it into a book and told the way in which doctors had insulted them and told them they were hypochondriacs, it would go down as one of the biggest health scandals there's ever been. I can't very easily excuse that.
I know there's a way of getting my son well. He spends his life being tortured – every day is a new day of torture: panic attacks, air hunger which tortures him physically as well as mentally and and makes him wish at times he could die. Whatever we're doing, we're not doing enough.
Rebekah
Rufus's diagnosis caused significant grief in the family. Initially there was excitement that we had something to attribute his illness to. But quickly after that, grief followed, because we felt we should have done more, and we wished he hadn't suffered needlessly for so long.
John
With Lyme you've got this mysterious group of illnesses which cause a mysterious group of symptoms, which can be life-destroying – the chronic Lyme patient can go through suffering every bit as severe as cancer and sometimes worse. The ticks carry a whole range of infectious diseases but there are a lot of others as well – so we're not always talking about Lyme. We call it LymeCo for that reason.
Rebekah
Research will have to look at whether the disease is only tick transmission. There probably are alternate methods: for example, foetal cord blood has been tested directly upon birth and there are borrelia bacteria in it. Obviously there aren't ticks hopping around the hospital – you'd hope not – meaning it's probably trans-placental. Sexual transmission has also not been ruled out.
John
I met Jeremy Hunt [the health secretary] and explained to him that if something isn't done, the population will become more and more chronically ill. He said to me: 'We have no money and if we spend money on this we have to take it away from cancer or heart attack.' But if you look at the damage Lyme is doing, it's not right that we're spending £4 million a year on Lyme and billions on cancer.
Jeremy did, however, agree to commission an investigation and to report back to me on the conclusions.
Rebekah
A committee which includes Dr Tim Brooks [of the Rare and Imported Pathogens Laboratory in Porton Down] and our own CEO Veronica Hughes is aiming to create NICE guidelines in the battle against Lyme. We were delighted that Veronica was selected for this and it is helping us further change. The aim of the charity is to fill in where the government can't, and we don't yet know what that means yet as it is still laying out its strategy.
John
In a year's time, the government will be making recommendations on Lyme: if we get where we need to be, with the upcoming NICE guidelines. If they come back with what we need, we'll build on that. If not, I need to go to war on behalf of all the neglected victims.
Rebekah
The charity has already started on awareness. Veronica Hughes is running a programme called Enjoy the Countryside (enjoythecountryside.com). Our message is: love the countryside, but be aware, prevention is better than a cure. Check yourself for ticks afterwards, and wear long trousers if you're walking through tall grasses.
John
A database needs to be built, and everyone needs to be tested for it. What results would that yield? We don't know. But the beauty about Britain is we've got the NHS, and we've got the intellect and the structure. I'm hoping in 20 years' time we'll have a wealth of information that will grow and that we'll find ways of lessening these illnesses if we don't find cures, and in some cases we hope to find cures.
Rebekah
While Dad wants to look at UK data to get a more accurate idea of what is going on in the UK, I have been meeting some of the world's leading medics, practitioners and scientists and becoming involved with patients. I am hoping to create a round-table at some point of academics, clinicians and patient advocates to start a collaborative conversation. For me personally, working together, pooling the financial and intellectual resources of the best people in the world, is an important part of change making.
John
The problem with orchestrating brilliant individuals internationally is this: potentially, you get a brilliant doctor but you might get a quack. And where is the data? What we need is a public health drive and data-based approach leveraging the existing structures of the NHS.
Rebekah
It feels as though we are at the frontier of a new world with regard to health. For example, there's research going into the immune system in the brain and growth in understanding of systems such as lymphatic drainage, the vagus nerve, as well as burgeoning knowledge of conditions such as MCAS [mast cell activation syndrome] and PANS [paediatric acute-onset neuropsychiatric syndrome]. All this is integral to our fight against Lyme.
John Rich people couldn't do any better than donate to any of our charities. There are no overheads: I pay them all. You can be certain we're bringing a hard-headed approach to people that need the help.
Rebekah
My father is extremely good at setting up a charity. He takes people from the commercial sector and says: 'This has to be the best that it can be.' If you waste money in a business that's negligent – but if you waste money in a charity it's criminal.
John
Rebekah has got a brilliant medical brain, even though she's not medically trained – she's soaked up this information. She has her own life in New York but she has sacrificed a lot for the family. If we can get the family right, she will now go on and do great things for society. I know she can make a big difference, because the kids will go forward managing a huge sum of money once I'm gone.
Rebekah
To know Lyme is to know all of medicine. It does lead you to reading about neurological conditions – understanding cardiology, the respiratory system, the micro-function of the body, and the gastric system – you look at everything. And only a fool would rush in.
John
I believe the rich should absolutely give their money back, whether it's 90 or 50 or 20 per cent – and whether during or after your lifetime. I am patriotic and I want Britain to prosper – a country massively successful financially, but with a heart to look out for the people. That has to start with the rich.
Rebekah
At a time when it's possible to be feeling at our most pessimistic – there's pollution, climate change, and no water – I still think that humanity is beginning to stand up. There is this sense of disruptive change going on; people are looking at healthcare and environment, and education. People are beginning to work together for change.
Web caudwelllyme.com
This feature first appeared in the September/October issue of Spear's which is available at your nearest WHSmiths travel store or independent news agent. To subscribe, visit www.spearswms.com/subscribe