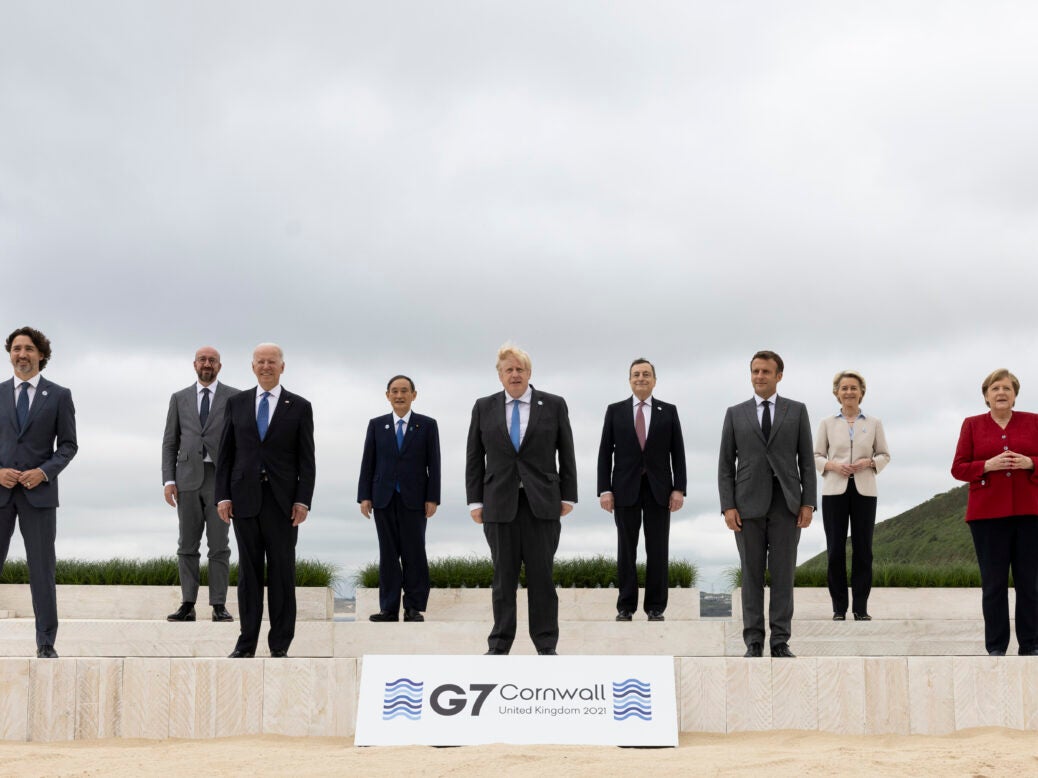 There's no disguising the fact that the world has got a whole lot more complicated, and that the West will only be really 'back' if it shows both creativity and persistence, writes David Lansman
Observing the bonhomie at the recent G7 Summit in the UK, it's reasonable to conclude that the West is getting its mojo back. Of course, the big difference was US President Biden, on his first overseas tour since his election. As any student of politics knows, style and substance aren't necessarily the same thing. But on this occasion, they were fairly well aligned.
In clear contrast to Trump's 'America First' policy, multilateralism is a key component of Biden's foreign policy. At one level, that just means that he'd rather collaborate with partners, rather than insult them as a way of achieving US policy goals. If that's all, then it's just another version of 'America First' – though a welcome one.  But a vision of a world in which multilateral and plurilateral institutions ('coalitions of the willing') function effectively is normally a more predictable and less risky one, so we can hope in time for substance as well as style.
Since there's increasingly little appetite elsewhere in the West for exercising (and paying for) 'hard power', a West aligned – to some extent – under US leadership should be a pretty welcome move.
On the plus side, the G7 Summit suggests that some important objectives have become easier to achieve. In the run-up to COP26, the language on climate change was, well, warm.
But this barely concealed the differences between those repeating ambitious long-term commitments when they have little idea how their successors will deliver on them, and those for their own economic reasons taking a more sceptical or selective stance.
This is no doubt a forerunner of COP26 in November, which also takes place in the UK. The environmental campaigners were far from satisfied, though to be honest it's hard to imagine any commitments big enough to satisfy campaigners. Fortunately for the planet, innovation will doubtless fill much of the gap. Just think how much the cost of renewable energy has fallen or how much further an electric car will now take you than only a few years ago. There are even alternatives to carbon-guzzling blockchain on the horizon (full disclosure: I'm involved with Digital Cognate, an exciting company pioneering one of them).
There was similarly mixed but also encouraging progress on Western cohesion around the challenges posed by China, from the South China Sea to human rights and economic and financial distortions. Again, President Biden takes a good deal of the credit. As an illustration, now that it's Biden rather than Trump talking about the 'Wuhan lab leak' theory of Covid, there's an enhanced push for a proper international investigation.
But that doesn't mean the West is lining up for Cold War Mk II, so won't be returning to any 'golden age' for Western coherence. It's good to see the G7 working together on an unprecedented range of challenges from distributing Covid vaccinations to the 'Build Back Better World' fund designed to compete with China's Belt and Road initiative.
But the simple – if often decidedly scary – world of the original Cold War is gone for ever. The Europeans, particularly President Macron of France, hanker for a distinctive role and greater weight in the world.  The US has hard (and every other kind of) power; the Europeans have regulatory muscle to throw behind their policies and (as they like to describe them) 'values', though there's no hiding the fact that they have, relatively speaking, less economic strength to back them up.  Perhaps only France, with its central role in the EU, its military strength and its nuclear weapons, can square the circle.
Even so, it's hard to see what a 'third way' between the US and China might look like in practice, unless it means arguing that you can be distinctively Western while resisting any US pressure to limit economic relations with China and (in the case of Germany) Russia. With Biden rather than Trump in the White House, it's hard to see the Europeans creating a clear differentiator.
In this light, it's interesting to note that, without the same celebrity appeal of the G7, a NATO Summit took place in Brussels immediately afterwards. The communiqué described China as a 'challenge' but Russia as a 'threat' to Euro-Atlantic security.
To see why, look at the history and geography, and follow the money. The West is (in every sense) invested in trading with China and in deterring Russia. Russia doesn't enjoy the power and status of the Soviet Union, while on the other hand, no Western government could ignore incidents like the Salisbury novichok poisonings, or Russian action in Ukraine or Syria.
But if we mentally fast-forward a decade or two, I fear that treating Russia as an outcast rather than a potential partner might well come to be seen as a massive failure of imagination.
So, it's at least a little relief that another leg of Biden's whistle-stop tour involved a meeting in Geneva with Vladimir Putin. No G7-style love-in of course, but certainly modest cause for optimism.
The Western leaders leave the Cornish beach in better shape than might have been feared a year ago, with or without the chance to swim in the English sea. But there's no disguising the fact that the world has got a whole lot more complicated, and that the West will only be really 'back' if it shows both creativity and persistence.
David Landsman is Chairman of Cerebra Global Strategy. He is a former British Ambassador and senior executive. His articles reflect a personal view.
Picture by Simon Dawson / No 10 Downing Street
More from Spear's
Robert Amsterdam: What Google searches and headlines won't tell you about the reality of geopolitics
Should billionaires be consigned to the dustbin of history? Some wealth tax campaigners think so
Matthew Goodwin: Why political change in 2021 might be taxing for some