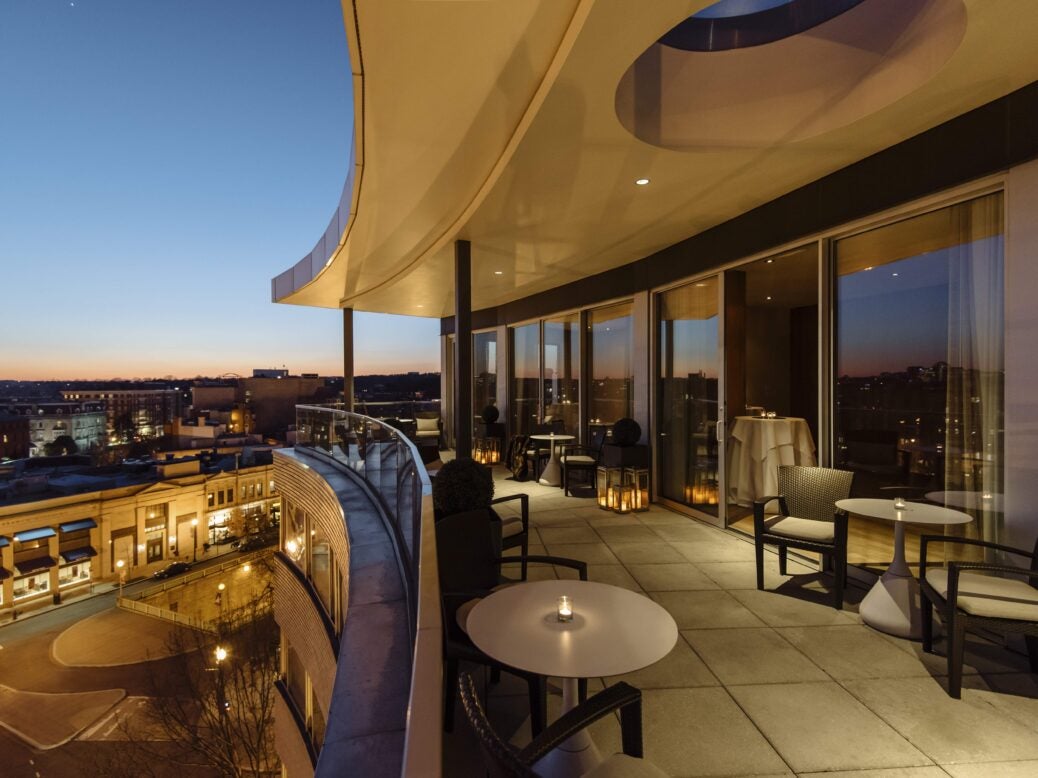 Christopher Jackson wrestles with reality in Washington, and finds himself in danger of losing
As my train pulls into Penn station at Washington D.C., I think, 'Donald Trump is President of the United States.' It doesn't sound as if it can quite be true – but then, all the instruments agree that it is true and has been for nearly two years.
It's about 10 years since I've been to Washington: then, George W. Bush was President of the United States, and that felt strange. It seemed at the time that he could hardly speak, but in retrospect he had a kind of folksy eloquence.
Of course the identity of the president matters wherever you go in America. You see it everywhere in New York: the instant grumblings or weary eye-rollings when the president is mentioned. In Washington the air has a closeness to it: you come to realise that it's a small, even villagey place, and that the chief fact about it is that from this little town that very unusual man, Donald Trump Jr., is temporarily entrusted with overseeing the species that produced Shakespeare and Beethoven.
I hail a taxi which takes me down towards the Dupont Circle. This hotel – part of the Doyle Collection – is not too far from the White House: indeed it feels judiciously removed at about a 20-minute walk. It's also within striking distance of Georgetown, with its bookshops and bohemia, and not too far either from Connecticut Avenue where Christopher Hitchens used to live, presiding boozily over the world of politics and letters in a top-floor apartment in the Wyoming building.
Recalling involuntarily that the president of the United States is Donald Trump, I was shown into my room: this had a kindly welcome note addressed to me in Gaelic – a reminder of the hotel's Irish ownership – and splendid views of the capital's west side. It has some of the chain's recognisable qualities: at first you think of these as mere business hotels, but there is everywhere an attention to detail, and always a superb restaurant – in this case the Café Dupont – that lifts it above that characterisation.
I head into town, towards Lafayette Square: there on the corner is St John's Episcopal Church, where every president – including the current incumbent the reality TV star Donald John Trump – has worshipped: there's a pew at the back which Abraham Lincoln used to sneak into during the days of the civil war. Then on the other side of the park, you see it: the broad sweep of Palladian white of the White House itself – and to its left the Treasury building.
One is always aware in Washington D.C. of a heart-breaking commitment to a history which by European standards is very young. Everywhere you go there's a sign reminding you of Abraham Lincoln, or Woodrow Wilson, or FDR: and to find this history – which is indeed something to be proud of – so much compromised by recent events gives the place a melancholy air.
This isn't imaginary: in the 2016 elections, Hillary Clinton won DC with 260,223 votes. This doesn't sound like a lot until you discover that it constituted 92.8 per cent of the vote. Trump received only 11,553 – about 4 per cent. And very few of these visionary Trump supporters are in evidence in Washington. The area round the Trump International Hotel, halfway up Pennsylvania Avenue, feels downbeat and vacant – or, to use the president's own phrase in another context – 'low energy'.
And the contrast is made stranger still when you go into the National Portrait Gallery and find hordes – and not only tourists, I note – queuing to get a glimpse of portraits of the Obamas. Barack's, by Kehinde Wiley, shows the president incongruously perched on a chair in front of a floral background. It is nothing when set against Amy Sherand's majestic portrait of Michelle downstairs: this, one of the great pictures of our times, shows the former first lady in a majestic dress, all style and poise in an infinity of cool blue. As with Ingres' Madame Moitessier, Sherand's main preoccupation is with the dress: it reminds you that the Obamas could only face down the country's civil war inheritance with just such panache and strength of character.
Back in the DuPont, I decide to try the restaurant and enjoy what I think of as a classic Doyle Collection meal – excellent scallops and superb steak. The staff here keeps you topped up with every kind of wine and champagne. The service is all shot through with that kindness which is specifically American: it's an immediate warmth, and even if it can seem naïve by European standards, is worth a thousand times more than the tense smile of the Londoner meant to pass for benevolence on the tubes.
And yet this is a country over which Donald Trump – who some consider to have been the brief companion of Stormy Daniels – presides. And that is particularly catastrophic as you sit in the Lincoln monument and read the high-souled words of the Gettysburg Address or the Second Inaugural.
I read again the wonderful pacing of the Gettysburg speech: 'It is altogether fitting and proper that we should do this' – a volte of true magnificence, halting and emotional but full of a wise resolve. It could only have been delivered, of course, by a man with great intellectual resources – and in a country with the same.
But America has always harboured a dark wish to squander what it has: just north from Pennsylvania Avenue is the Ford Theatre, where John Wilkes Booth entered the history books to curtail the man who I still think of as the finest leader our species has produced.
You could argue that the country never overcame Lincoln's assassination: without him, Reconstruction never quite happened, and you sense the disquiet that flows from that everywhere you go in Washington.
The alarming thing is that I am not sure whether Trump more properly belongs in the lineage of Lincoln or Wilkes Booth. Even so, at the DuPont, you find another America, the one you want to win, where all is hospitality and excellence – a nation you wish well.
Christopher Jackson is deputy editor of Spear's