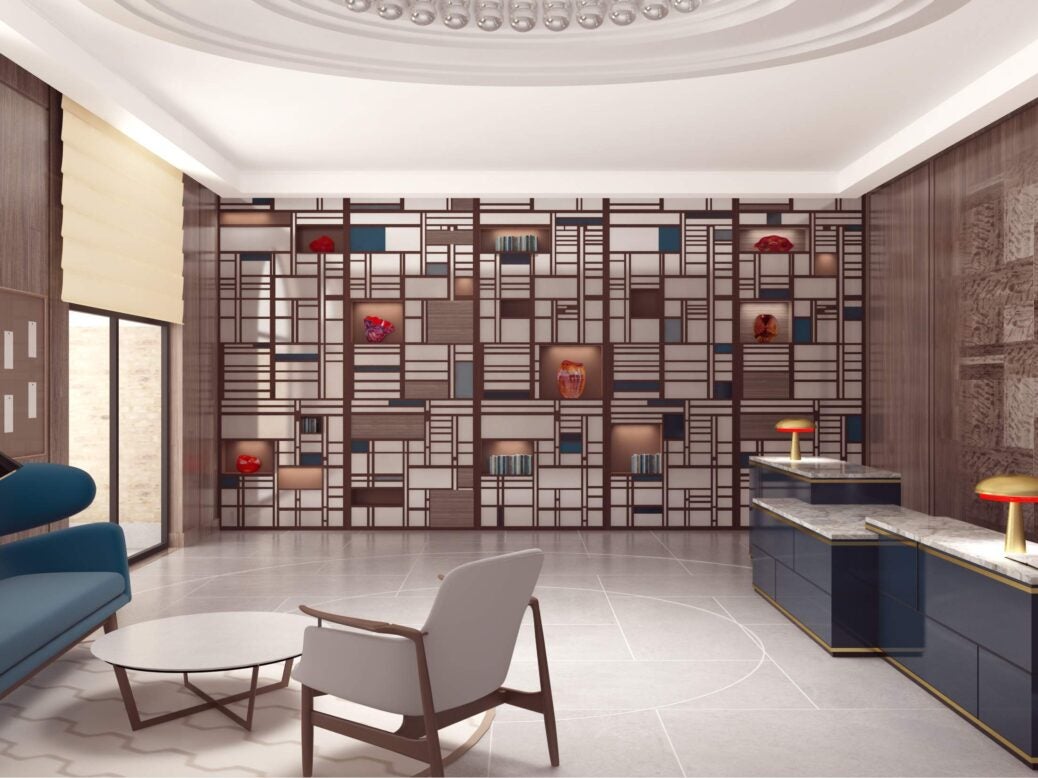 A new private members' club is set to make the Square Mile rather less square, writes Alistair MacQueen.
Seated at a table in one of Soho's foremost destinations for discerning sybarites, L'Escargot's proprietor Brian Clivaz is bonhomie encapsulated. The sanguine force behind establishments such as Home House, the Arts Club, 12 Hay Hill, and countless more, he relaxes in his chair and orders a morning coffee, which arrives accompanied by a tall pink gin. The term éminence grise may have been coined before he was even born, but if he hasn't done so already Clivaz should consider trademarking it tout de suite.
Such is his acumen for running some of London's premier members' clubs and restaurants that it's no surprise why he, plus his business partner (and general manager of Home House and the Arts Club) Ian Palmer, are presiding over one of the most anticipated launches in the City of London this year: the Devonshire Club.
Forty years after the original Devonshire merged with the East India Club, the Blackstone real estate group funded the majority of the investment at its new site in the City's Devonshire Square, just two minutes' walk from Liverpool Street station. I ask Clivaz where the attraction lay in opening up a new club away from the West End and Piccadilly. Rubbing his hands on his thighs, revelling in the warm-up to his riposte, he emphatically proclaims: 'When we started Home House in Marylebone, people believed no one would go north of Oxford Street for a club, but I think it's always good to look at somewhere new, to be at the forefront of things, so we looked towards the City. With a large transport hub there, I think we'll attract people into the City and away from the more traditional socialising areas because of what we're able to offer.'
Certainly, the arrival of Crossrail at Liverpool Street will be a catalyst for further investment into the area on a financial and cultural level, and this shift in the spotlight from west to east is in part thanks to the perceived 'cool' factor of nearby districts such as Shoreditch, Hoxton and the Silicon Roundabout. This is after all the locale of start-ups, thought leaders and SMEs — a place where cutting-edge ideas, entrepreneurialism and fair-trade Ethiopian coffee shops coalesce to produce innovative companies and ideas that influence our lives. These trends have naturally fed back into the City's makeup, too; the pop-up food shacks around Finsbury Square Gardens and Broadgate Circus being one example.
It remains to be seen who will constitute the membership of the Devonshire, but one can certainly expect it to be as diverse as it will be ambitious in character, appealing not only to the intelligent and glamorous female but also, Palmer assures me, the music, fashion and design communities. Clivaz elaborates on his general manager's perspective: 'We had in mind a very beautiful, international jet-setting lady who was not in business — certainly wasn't a gentleman. Because if you open a club in the middle of the City you're bound to attract lots of City folk, lots of suits a bit like me, rather dour. We thought if we could attract that central jewel in the crown, then the rest of the paraphernalia would follow.'
He takes a lengthy sip from his gin, and verbally flails an employee for running a coffee machine too loudly during the interview. Returning to a theme he has warmed to, he perks up again. 'What I like to say about our clubs is that they're exclusive, but they don't exclude,' he says. 'I like them to be inclusive and to welcome people you normally wouldn't expect at a particular club because it makes it less formal.'
The Devonshire will also be a place where, as in most members' clubs, networking and socialising will go hand in hand. Because of its location, can Clivaz or Palmer see the local entrepreneurial crowd making up a sizeable chunk of the membership?
Whereas Clivaz is not so keen on what he calls 'laptoppery', 'where every table is taken up with anyone on their laptops raising money to do that project or this project', Palmer can see what this demographic would bring: 'Take a company like WeWork, which is a business that's just started next to our office. It is doing phenomenally well with entrepreneurial people sitting on their laptops, so they'll be able to take their clients and potential investors to the Devonshire, to really impress them and accelerate their own businesses.'
Palmer also stresses how technology has played a big part in the Devonshire's design. The whole building will have full 4G connectivity and wi-fi throughout, while all the TV screens in the private dining/meeting rooms will have wireless connectivity, so those with a presentation on their iPad or iPhone can sync their devices with ease.
The club will also have its own 'business communities', adds Palmer, which, 'will include talks from influencers and leaders of business, people like Julie Meyer, who's a very successful entrepreneur in her own right, as well as talks on all sorts of other subjects such as politics, and a cultural and business programme of events.'
Clivaz confirms that these talks by senior politicians and business pioneers will be accompanied by 'an ambitious art programme. There is a lot going on with Shoreditch, Hoxton, Dalston, so we'd like to bring a bit of that in with exhibitions and talks by local artists, events and music.'
The development itself is two buildings joined into one: No 5 is a 19th-century Regency building, and No 4 is from the Georgian period. Taking me on a tour around what will soon become the Devonshire, replete with hard hats and hi-vis jackets, Palmer elucidates on what awaits its prospective members (who will pay a £2,000-a-year membership fee, plus £2,000 joining fee). With a refurbishment budget of £25 million and 68 bedrooms over six floors, the Devonshire will mix the best of the social (110-seat brasserie, three bars, screening and private dining room) with the utmost in pampering (gymnasium, Pilates studio, beauty salon and four treatment rooms) in the Georgian part of the complex. It certainly sounds inviting, but as Palmer confirms, 'The spa will be very Hermès and luxurious, resembling a Georgian house with a beautiful salon and treatment rooms, in order to make you feel like you're being taken care of the moment you walk in the door.'
An slab of Italian marble has already been placed in the Library Bar. Palmer describes how an ornate chandelier will greet visitors to the reception area before they proceed into the brasserie. The downstairs as a whole will be decorated throughout in Murano glass, with the mid-century furniture cosseted by interiors designed by March & White, which should make superyacht owners feel right at home.
But what of the look of the club itself? 'The design is very much 1960s, Catch Me if You Can, when everybody was having so much fun and the economy was doing great,' says Palmer.
Striding over the glazed walkway that links the two buildings, we arrive in one of the bedrooms. Many of them are well appointed, but none more so than one of the super-king suites, with its superb view of the Gherkin and Lloyds of London building providing priapic reminders of your locality.
We finish in what some see as the club's biggest asset — its garden. Certainly in this part of the city, outdoor space is rare indeed, yet the Devonshire is blessed with not only a winter and smoking terrace, but also a verdant summer terrace suitable to satisfy any members' atavistic desires.
Whether it's for business or pleasure, meetings or martinis, the Devonshire is spearheading many of the new openings in the Square Mile by introducing the last word in refined luxury.
'The way people socialise, do business and go out has changed in the last 30 years,' says Clivaz. 'For the business element we hope that we'll be at a higher level at the Devonshire, where it's more entrepreneurial rather than an employee type of situation, and we'll serve the kind of cuisine you get in the Côte d'Azur with some traditional English. But I can't run a place that doesn't serve grouse or asparagus hollandaise.' Sybarites will be pleased.