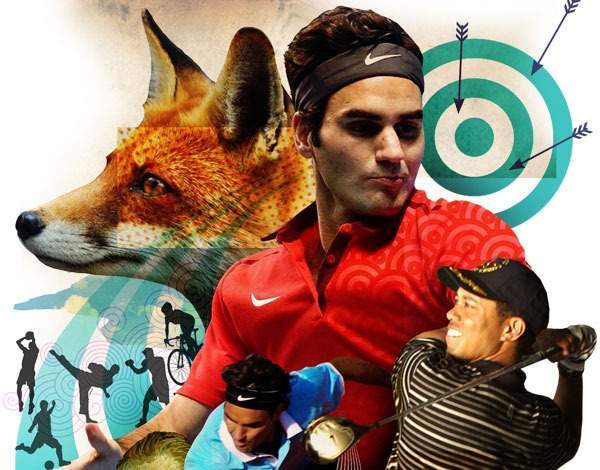 If you want to succeed – whether in sport, business or life – should you be a generalist or a specialist? Edwin Smith investigates the 'Roger versus Tiger Problem'
What's the difference between Tiger Woods and Roger Federer? As far as sporting prowess is concerned, they have much in common. But the two men took quite different paths to success. Woods was a child prodigy, who was swinging a club and receiving coaching from his father at just ten months old.
Aged three he won the ten-and-under category of his first golf tournament. When he was four, his father – who had by this time already begun to prepare him for media interviews – would drop him off at the local golf course and return to pick him up eight hours later. Federer had a different upbringing. His mother was a tennis coach, but barely played the game with him. She and her husband were never 'pushy parents'. As one journalist observed, they could better be described as 'pully'.
'We had no plan A, no plan B,' Federer's mother once said. Instead, he was free to spend his youth dabbling in just about every sport you'd care to name – from basketball to handball, skiing, wrestling and skateboarding.
While Woods was playing golf on prime-time TV as a toddler, Federer's tennis talents didn't even warrant a mention in the local paper until he was in his teens.
The question that David Epstein addresses in his new book, Range, is which of these templates is most useful for the rest of us – not just as we try to become better tennis players or golfers (or perhaps prime our children to become the next Roger or Tiger), but as we acquire other skills, build careers and run businesses.
Practice run
Epstein's first book, The Sports Gene, took aim at the idea, credited in particular to the writer Malcolm Gladwell (who popularised the '10,000 hours' theory), that practice is the most important determinant of success.
That battle of ideas, Epstein tells me over the phone from his home in Washington DC, was made explicit in 2014, when he was invited to go head-to-head with Gladwell at the prestigious MIT Sloan Sports Analytics Conference in a debate billed as '10,000 hours versus the Sports Gene'.
'He's very clever,' recalls Epstein. 'And I didn't want to get publicly crushed.' So, Epstein explains, he 'went through the literature' and found that the evidence didn't support Gladwell's claim.
'What scientists who tracked athletes saw was that those who went on to become elite had this early sampling period where they played a variety of sports […] they delay specialising until later than their peers. That was the systematic trend in most sports.'
After the debate, as the pair were coming off the stage, Gladwell told Epstein: 'Hey, you know what, you got me on that thing. That obviously didn't support my hypothesis.'
'I thought that was pretty open-minded of him,' says Epstein. The pair became running partners and began talking about what they coined the 'Roger versus Tiger Problem'. These conversations inspired Epstein's new book.
At first, he planned to write more broadly about generalists and specialists, investigating which fields suited one or the other.
But as his research progressed, the competition appeared more and more one-sided. In Range, Epstein admits there are some fields in which early specialisation and narrow focus are especially helpful. He argues, though, that this is typically only the case in environments where the same patterns and scenarios are repeated over and over, such as chess and golf.
Yes, there are millions of possible combinations of moves in chess, but the board is always the same size, the rules are always the same. Yes, there are any number of ways to strike a golf ball, but it is always stationary, right there in front of you.
However, as Epstein writes: 'The world is not golf, and most of it isn't even tennis. As [psychologist] Robin Hogarth put it, much of the world is "Martian tennis". You can see the players on a court with balls and rackets, but nobody has shared the rules. It is up to you to derive them, and they are subject to change without notice.'
In real-world situations, rote practice and early specialisation are not the most important things. Where new technologies emerge, they sometimes aren't even possible. Instead, people with a breadth of skills, knowledge and experience are the ones often best prepared.
To make his point, Epstein describes early-career samplers who thrived (including Van Gogh) and mentions research which shows that the most prolific scientists (in terms of the patents they register) don't tend to be outright experts in a single field, but polymaths, who have experience in several different areas. The position is persuasive.
But is it surprising? Author and journalist James Ball doesn't think so.
'His argument has been so completely and entirely swallowed for most of the last century that I don't see why he saw the need to make it,' Ball told me. 'It is already the status quo: the idea of transferable skills, the gentleman's education.'
Ball, whose 2016 book Bluffocracy was neatly encapsulated as 'how Britain ended up being run by eloquent chancers', believes that arguments like Epstein's result in 'fakers' being unwisely elevated above people with real expertise – especially in British public life.
When I put this to Epstein, he makes a distinction between real generalists and what he describes as 'dilettantes'. He adds: 'In the US, we may have something of the opposite problem [to the UK].'
The US president is not a career politician or lawyer, but a real-estate specialist.
'Some people think, "Well, he figured that out. Therefore, he can figure out how to run a country."' The problem persists in Silicon Valley, too. 'Zuckerberg's been funding these medical initiatives which are total nonsense,' says Epstein. 'He thinks he can cure all these diseases this century because the body works like a website. It doesn't.'
Split decision
The more pressing question, then, might be how generalists and specialists should be arranged within organisations. Epstein acknowledges the issue in his book, but rather than solving it, ultimately, he seems to try to dissolve it.
In Range, he describes a project run in conjunction with the US intelligence agency IARPA, where researchers recorded the personalities and techniques that were most effective for making predictions about geopolitical events. It was decided that there were, broadly speaking, two kinds of people. Not generalists and specialists, but – borrowing terms from Isaiah Berlin – 'hedgehogs' and 'foxes'.
'The hedgehogs fashion tidy theories of how the world works through the single lens of their speciality,' writes Epstein. Foxes, on the other hand, 'draw from an eclectic array of traditions and accept ambiguity and contradiction'.
When it came to making accurate predictions – which, we can assume, reflect the predictor's ability to understand the world – the foxes performed much better. In fact, a Washington Post report indicated that a team of civilian foxes performed 30 per cent better than a collection of professional intelligence analysts.
'Sometimes the foxes had an area of deep specialty and sometimes they didn't,' says Epstein. 'But what they did have is a deep curiosity, an openness to contrary ideas – and I think that approach and those habits of mind might be even more important than breadth and specialisation.'
Read more