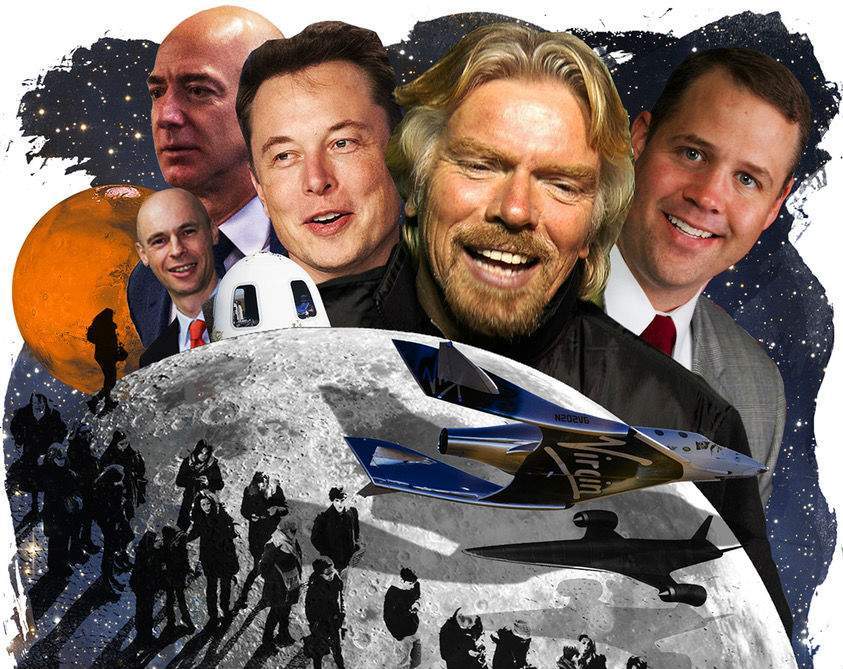 Fifty years ago, the US put a man on the moon. Now, finally, the UK is taking space seriously too, and there is an opportunity for investors. Rasika Sittamparam reports
'Our goal is ultimately to move on to Mars and not get stuck on the surface of the moon.' These were the words of NASA's Jim Bridenstine, who recently announced the timeline for America's biggest mission yet. Almost half a century after the Apollo programme ended in 1972, an uncrewed mission will take off in 2020, a manned flight will orbit the Earth in 2022, and Artemis 3 will finally land men and the very first woman on lunar soil in 2024. But the mission, as Bridenstine mentioned, is to occupy the moon to build the 'Gateway', a staging point for Homo sapiens' further ascent to Mars.
There is a competition for the contract to build NASA's space lander on the moon, between Boeing (which is already making the core of the launching rocket), Lockheed Martin and Jeff Bezos's Blue Origin. 'The goal here is speed,' Bridenstine reminded his audience at the Florida Institute of Technology, echoing vice-president Mike Pence's eagerness for US leadership in space. '2024 is right around the corner.'
Manned space exploration is anything but a pipe dream in the world of billionaire punters – take Sir Richard Branson and Elon Musk's space vehicle and rocket testings. In the UK, there seems to be another type of boom: a rush of venture capital investment into space technology start-ups. The amount injected into the industry almost sextupled between 2017 and 2018, rising from $32 million to $185 million in the UK, according to a report by Seraphim Space Index, which monitors the global appetite for space tech.
Private propulsion
The figures may be stratospheric, but the capital may never be enough. Although Musk's Falcon 9 rocket costs around $62 million to launch (a pittance compared with the $1.5 billion it costs NASA to take its shuttle into orbit), space exploration is still very, very expensive. So expensive that public institutions would struggle to keep on justifying manned missions to space, which leaves most of the arena to the ultra-wealthy.
That is a good thing for the CEO of the UK Space Agency. Graham Turnock says the UK is at the forefront of welcoming private investments, a result of a business-friendly environment and unrivalled knowledge and capability in the sector.
'It's one of the best places you can invest in,' says Turnock. 'We've set up to support the commercial space sector in a way that not that many countries can rival.'
The UK has the 'legacy benefit', he adds. 'We are attracting some really impressive entrepreneurs from the States to come and set up here.' We mustn't forget, 50 years on from Neil Armstrong's 'giant leap for mankind' on the moon, that the fuel cells in Apollo 11 were developed by British scientist Francis Thomas Bacon.
'Without you, Tom, we wouldn't have gotten to the moon,' Richard Nixon is claimed to have said to Bacon. A development on a similar technological scale is occurring in the heart of Oxfordshire – the UK Space Agency and the European Space Agency's (ESA) biggest current grant is to Reaction Engines, a private company that's developing the Synergetic Air Breathing Rocket Engine (SABRE). This will be a reactor that could propel a rocket up to Mach 25, with the fuel efficiency of a jet engine.
Turnock says this will be a 'more sophisticated' version of Musk's 'steampunk' reusable launch: 'The rocket can go up and then land safely back and be available for use within a relatively short term, almost like a plane is. That is potentially revolutionary.' It's all the more remarkable when you recall the discontinuation in the early Seventies of Black Arrow, the UK's only carrier rocket, which placed its first satellite, Prospero, into orbit. But our space ambitions were revived in 2010 with the creation of the UK Space Agency to invest into the ESA, emboldening our ambition to become a world leader in satellite technology.
Although the EU is forcing the UK to sever ties with its Galileo satellite system after Brexit, the UK has vowed to build a rival to both Galileo and GPS. And we're now vying for space launch capacity, with sites planned for Cornwall, Sutherland and Glasgow. The UK is impatient to capture 10 per cent of the global space market by 2030. The £20 million announced for Spaceport Cornwall recently will support Branson's Virgin Orbit, cementing the government's rapport with private enterprise.
This institutional acceptance of private capital is a 'seismic shift', says Per Wimmer, a London-based wealth manager who had 'hedged his bets' by buying not one, but three tickets to space, including with Virgin Galactic. The 50-year-old's heart is set on becoming one of the first space tourists – in all likelihood by the end of 2020.
Unlike the Cold War, which motivated the original space race, he says today's involvement of billionaires in space should be described more as 'the new space age', as those working in the industry tend to be 'very collaborative'. 'When China put their probe on the dark side of the moon, guess who supplied them with relevant data to be able to land precisely?' asks Wimmer. 'NASA – the Americans did. Guess who had equipment inside? The Russians and the Dutch.
'Space is a global collaboration to that degree, because that's what it takes to truly push the frontiers out.'
It's never a win-lose game, despite the fact that there is a close rivalry between Bezos, Musk and Branson. 'If one company has an accident, it's bad for everybody,' says Wimmer, pointing to Branson's VSS Enterprise crash in 2014 which killed one of its test pilots. Wimmer, who bought his first ticket in 2000, was scheduled to be on board a similar model in 2015, but the catastrophe meant his trip had to be postponed further.
Going out for a spin
There are obvious challenges in 'fighting the elements', Wimmer says of his experience training with astronauts and cosmonauts in the US and Russia. He remains fearless, despite having felt G-forces 'pulling blood out of your head' in centrifuges and experienced dizzying nosedives on fighter jets to simulate weightlessness.
'The more you're weightless, the more you're spinning around,' he says. 'Even when you stop, the liquid inside your ears that keeps you balanced continues spinning.' Such effects will intensify when he accelerates 100km from the ground to the boundaries of space. After his historic trip to the moon, Buzz Aldrin is now eager for humans to walk on the Red Planet. Both Turnock and Wimmer are set out to meet him at the Kennedy Space Center in Florida to celebrate Apollo 11's golden jubilee on 20 July.
'We're going to have a big party,' exclaims Wimmer, a good friend of Aldrin. He recalls hearing the landing narrative over and over again. 'Some of the switches didn't work and Buzz, he told me, used a pen and stuck it into where the buttons were and eventually got it fixed.'
It could have all 'gone terribly wrong' when the Eagle almost landed over a huge crater, with the fuel nearly de – pleted. 'It's an amazing amount of risk,' Wimmer says ad – miringly, 'but in the end there was a big success.'
And it doesn't stop here: 'Let's imagine that somewhere in the future there will be a human mission to Mars,' Turnock says, which will certainly involve UK expertise via the ESA.
'Who knows, the first person on Mars could be British. We should definitely see that as a possibility.'
Rasika Sittamparam is a senior researcher at Spear's 
Illustration by Ben Challenor
This article first appeared in issue 69 of Spear's magazine, available on newsstands now. Click here to buy and subscribe. 
Read more: