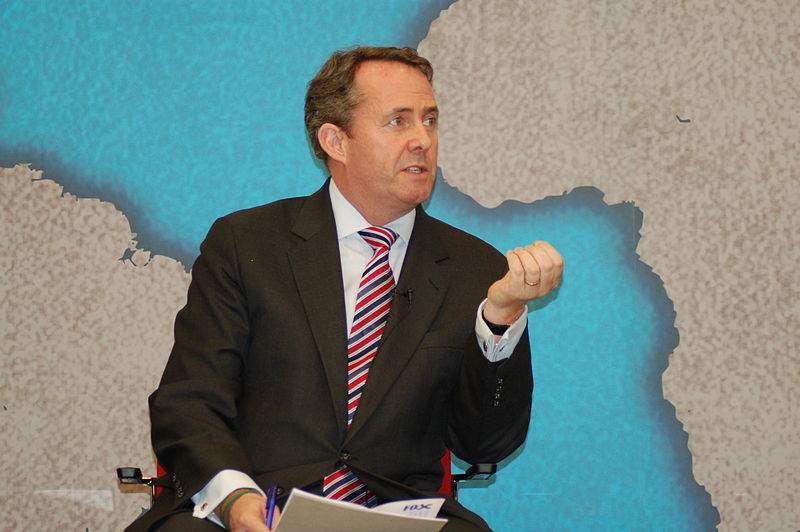 Liam Fox leads the keynotes at an informative day at City Week, covering everything from fintech to Brexit, reports Arun Kakar
Secretary of state for international trade Liam Fox assured representatives from the international financial services community that he understood 'people's concerns' involving Brexit, in a speech where he emphasised that 'there's no room for complacency' when facing the challenges and opportunities for the sector.
Speaking at City Week conference at Guildhall, Central London, Fox drew on the 'old-fashioned grit and determination' of the UK's financial services industry but sounded a more cautious tone when addressing the worries brought about by the Brexit process so far.
'We are in the middle of a fundamental change of direction, and the unwillingness of Parliament I have to say to give certainty exacerbates the situation,' he told delegates. 'But I am convinced that when the dust settles the City of London will do what it always does, which is to emerge fitter, stronger and more dynamic than ever.'
Tackling the 'doom and gloom' predictions that accompanied the UK's decision to leave the EU, Fox noted that the country has 'maintained- and even strengthened- its position as a global financial centre'.
He added: 'The financial sector stands at the heart of that success.
'Our deep and liquid global capital pool, a pioneering regulatory framework, and world-class advisory, legal and related professional services have helped us run one of the greatest trade surpluses in our history: at around £43 billion a year.'
Fox also spoke about the uncertainty experienced by many firms since the referendum result, underlining his belief that the best approach is to leave the EU with a deal and that 'we are continuing to work hard, including with parties across Parliament, to find a way forward'. Fox added that 'whatever the outcome, I want you to know that this government will remain your champion. We will never jeopardise the City's success'.
The City's financial clout on the global stage is evident in more than rhetoric, however. The UK's banking sector is the largest in Europe, hosting more than 250 foreign banks – more than New York, Paris and Frankfurt combined.
It's responsible for around 11 per cent of the total UK tax receipts, and Fox sounded a warning to 'those who threaten its viability or stoke up resentment' against the sector that should 'remember how much it pays the bills'.
Brexit continued to play a supporting role throughout events at Guildhall. John Glen, the economic secretary to the Treasury signalled to a 'stubborn shadow over an otherwise positive outlook', amid nine years of consecutive growth and a trade surplus of more than £60 billion – the largest in the world.
'You won't be hearing rhetorical gymnastics from me today to try to disguise the fact that we are not where I'd hoped we'd be in terms of Brexit,' he said. 'I know the City wants and frankly deserves certainty, and I'm sorry I can't give you that today [Monday 20 May 2019].
'But it's absolutely right that the government continues to seek consensus for a deal that can command a majority in the House of Commons.'
Glen sought to bang the drum for the finance sector and UK fintech, following last week's findings from industry network Tech Nation, that the country leads Europe for investment in the sector. 'The revolution in Open Banking is underway, heralding greater competition, innovation, and choice than ever before,' he noted.
The speech also highlighted the government's Global Financial Partnerships strategy, set out last June by chancellor Philip Hammond with an aim to 'bring together governments, regulators, and industry to build a system for opening up cross-border financial services'.
The strategy, Glen said, would seek 'deeper enduring, open and ambitious relationships, making it easier for firms to do business with other markets around the world, cementing the City's position as the global capital of finance'.
He added: 'While it's important we establish our future regulatory relationship with the EU, the fact of the matter is London isn't a European financial hub. It's a global financial hub. And we must never forget that.'
Other highlights included a panel on 'Political risks and global trade',  in which CBI director-general Carolyn Fairbairn said a 'real questioning of the benefits of globalisation' is one of the key issues facing business today. On a panel with Rachel Lord, senior managing director and head of EMEA at BlackRock and Alison Martin, group chief risk officer at Zurich Insurance; everything from Gulf tensions to the US/China trade war was discussed.
Arun Kakar writes for Spear's