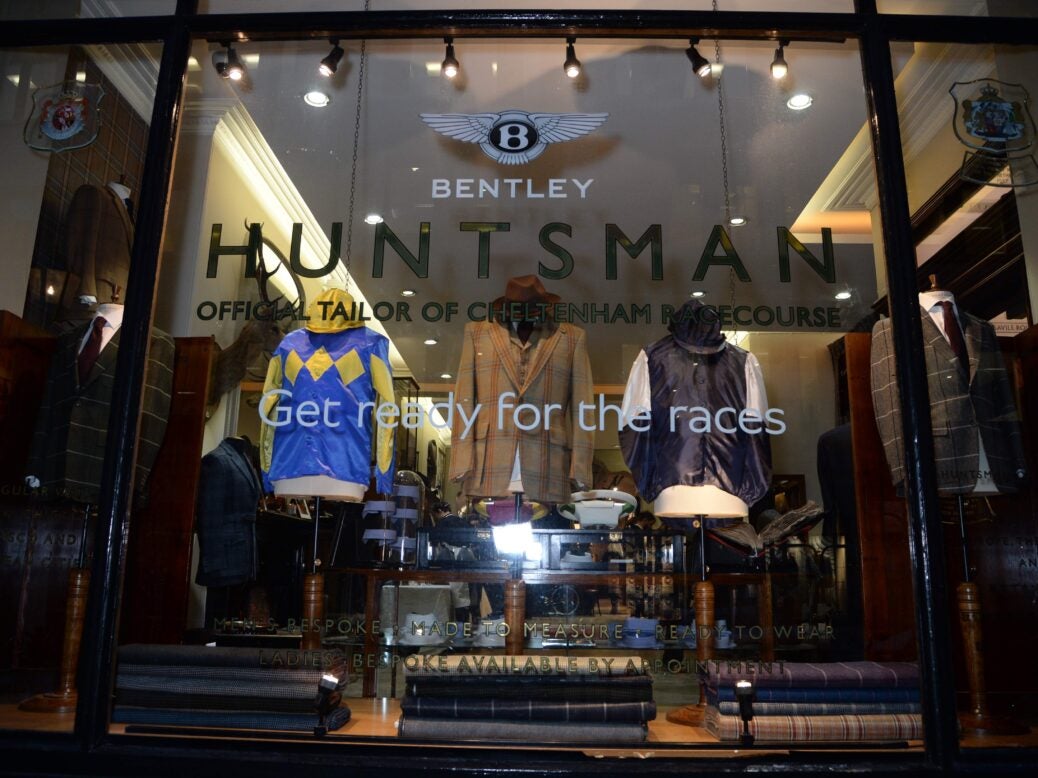 William Cash attends a party hosted by top British tailor Huntsman, in collaboration with Bentley, to celebrate next week's Cheltenham Festival
An array of Bentleys lined the street as VIP guests, ranging from Pink Floyd's Nick Mason to jeweller Stephen Webster, packed into the Huntsman tailoring shop. Famous for supplying the finest bespoke British tailoring to the likes of Gregory Peck, David Niven and British royalty including Prince Albert and Edward VII, and Lord Louis Mountbatten, the Cheltenham party kept up Huntsman's tradition of being synonymous with quintessential British aristocratic style with guests including style guru Stephen Bayley, film-maker Philip Knatchbull and society milliner Lady Laura Cathcart.
The party was co-hosted by Huntsman's owner Pierre LaGrange, looking sartorially dapper in a bespoke Huntsman suit. Under Lagrange's ownership, the brand has emerged from a small London Savile Row tailor into a global luxury 'heritage brand' with immaculately glamorous credentials and clientele. In addition to Huntsman's signature bespoke tailoring, the exclusive brand now also offers 'ready to wear' and online sales options so you can have a virtual fitting from your St Tropez yacht or St Barth's villa.
Huntsman have been living up to their glamorous reputation of late in the news after film director Matthew Vaughn set his Kingsman: The Secret Service film, starring Colin Firth, within a tailor's shop, closely based on Huntsman, after going to Huntsman for a fitting. Vaughn has been ordering his bespoke suits — if you have to ask the price, you probably can't afford to be a client — ever since he was 18. Both the Savile Row shop front and the distinctive interior of the shop appear in the film, including the two stag heads that stand over the shop-front. According to a Huntsman insider, the stag heads were left 'for safe keeping' by a customer who went out to lunch in 1921 and never returned.
Guests drank Pol Roger champagne, Glenfarclas Whisky, Chase Vodka, Bentley's own special cocktail and superbly delicate and delicious canapes were served including enough foie gras canapes to satisfy Prince Albert. It certainly made trekking there in the snow worth it.
All guests were given silk pocket squares that featured an illustration of the new Bentley Bentayga 4 x 4 parked outside the Huntsman premises, drawn by Liam Wales. Tweed garments, accessories and racing silks could be seen throughout the shop; an indicator of what to wear this racing season.
Upstairs, in Huntsman's new event space, Bentley's talented craftsmen and women demonstrated to party-goers the process of marking and hand-stitching the iconic leather steering wheels. Downstairs, Huntsman displayed their new bespoke jumper selection; clients can now have jumpers created with whatever slogan they desire written across the front.
The choice for the evening was the names of horses racing in Cheltenham this year, such as Mite Bite and Top Notch. Other guests attendees including Dragon's Den Touker Suleyman, model Miles Bugby, influencer Louis Nicolas Darbon and explorer twins Hugo and Ross Turner. Spear's editor-at-large will soon be reviewing the new Bentley Bentayga after he noticed the car had replaced the Range Rover as the 'must have' HNW luxury 4 x 4 vehicle to drive around St Moritz.
William Cash is editor-at-large at Spear's