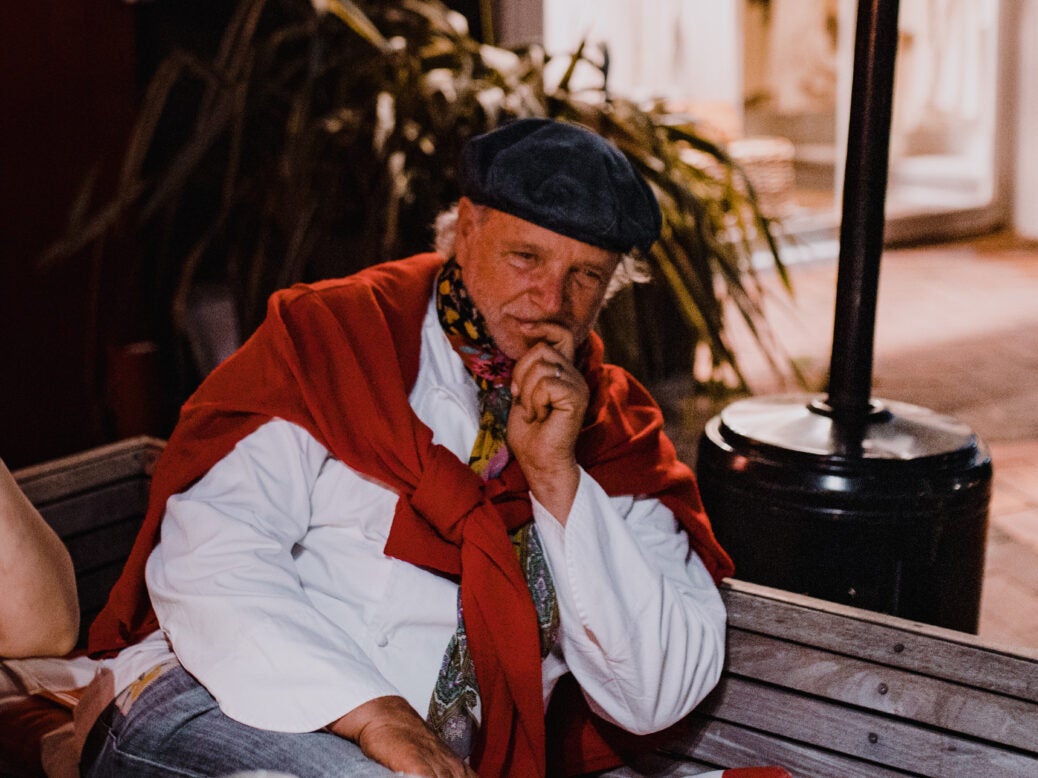 Unconventional chef Francis Mallmann has rekindled 13,000-year-old cooking methods and pooh-poohed much of modern restaurant culture. Now he's bringing his unique style to the Scottish Highlands
There's a scene in the Chef 's Table Netflix documentary about Francis Mallmann in which he cooks chickens over an open fire on his remote Patagonian private island, La Isla, a tiny speck of land with rugged terrain and views of snowcapped mountains.
His voice resonates over the footage: 'You don't grow on a secure path.' I pause the episode to dial in to our Zoom call. When Mallmann appears, clad in a navy blue beret and a white shirt, he seems slightly uneasy that we are not meeting in the physical sense. But he is no stranger to interacting with people digitally.
He talks about the 'thousands' who reach out to him on social media. 'I get messages like, "I'm a broker in New York – very successful, and bored to death. I want to change my life. Can I go and learn?"'
Mallmann, 65, has been dubbed 'a shaman of smoke' for his unorthodox style of wild cooking that has been sampled by A-listers from Gwyneth Paltrow (at her wedding to producer Brad Falchuk) to the King of Spain.
On Instagram David Beckham posted a picture of himself inside the chef's barbecue dome and described the experience as 'unforgettable'. Mallmann is certainly unconventional.
In his twenties he followed the traditional route of training in the Michelin-starred kitchens in France, which included a two-year stint with Paul Bocuse. But he felt restricted by the restaurant industry's rules and decided to return to Argentina and explore the styles connected to his Andean heritage.
Having grown up in the mountains of Patagonia, he was moved to experiment with 13,000-year-old cooking methods, once practised by the region's indigenous people, which had been all but forgotten.
'There's a sort of deep silence that is related to them, in a way,' he says. 'They had many beautiful things about fires… one of them was that you couldn't borrow fire. If a friend lost his fire, they had to start it again.'
Mallmann has cooked over fire everywhere from Marrakech to China and Russia, but next year he will do so in the UK for the first time, heading to the 'very mysterious' landscapes of the Scottish Highlands. 'I like the adversity of bad weather,' he explains.
Teaming up with Satopia Travel, he will be hosting a six-day feast at the Alladale Wilderness Reserve, with prices from £13,460 per person. Guests will gather around a large fire and watch it 'grow to huge flames'. 'In an hour and a half it will go down to ashes and coals. I want [them] to write me an essay about that,' he says.
Mallmann believes that thinking and writing is the first step in understanding 'the language of fire'. Once satisfied with his guests' observations, he will begin his cooking lessons.
The days will be filled with plenty of wine, conversation, hiking, literature and poetry. His favourite piece of writing is the last page of James Joyce's Ulysses. 'There's this most beautiful point where she says to him, "Yes, I'd say yes, I want you. Yes."'
For all his standing as a chef, Mallmann says he prioritises good company over good food and is critical of fine dining trends such as wine pairings and tasting menus. 'There's all this sort of ceremony around things in a way that I find completely ridiculous,' he says.
'Just shut up and drink. The important thing is how you live around that [dining] experience, in which way you embrace it, who is sitting with you and what you are talking about. Are you being witty? Are you being adventurous in your thoughts? Are you growing? Are you learning?'
He is proud of the fact that he embraces sadness as well as happiness in his life and treats them both 'equally'. 'I feel that when I go to bed at night, I have two great friends to sleep with. One is happiness. And the other one is a diversity of sadness.'
And yet, when he wakes up, he feels like he's 'drugged all day long', despite never having taken drugs in his life. Life gives him his high as he's 'always surprised by every minute of the day.'
He records some of his observations in a weekly column for the Argentinian newspaper La Nación, where he talks about Paris, his children, the environment, and 'a lot about sex'.
So far as food is concerned, Mallmann foresees significant change.
Despite being known largely for his meat dishes, he has said that in 30 years 'we won't eat any more animals' and in 2018 announced his intention to write a cookbook for vegans.
Now, he says, the coronavirus crisis may expedite this change.
'[This] is a special moment. I think that the pandemic will bring better things to the world, the planet… it will help us realise that we all have to take a stand as individuals to get things better, and that will move into the restaurant, gastronomic world, for sure.'
That chimes with his favourite maxim: 'Change is the engine of life. If we don't change, it's very sad. You're like a rock.'
Main image credit: Manuel Heslop
More food and drink from Spear's 
William Sitwell meets Olivia Burt: 'A chef with a dream and she doesn't have a restaurant'
William Sitwell reconnects with Sipsmith's gin masters, a decade later
How Caravan took over London: William Sitwell meets the founders