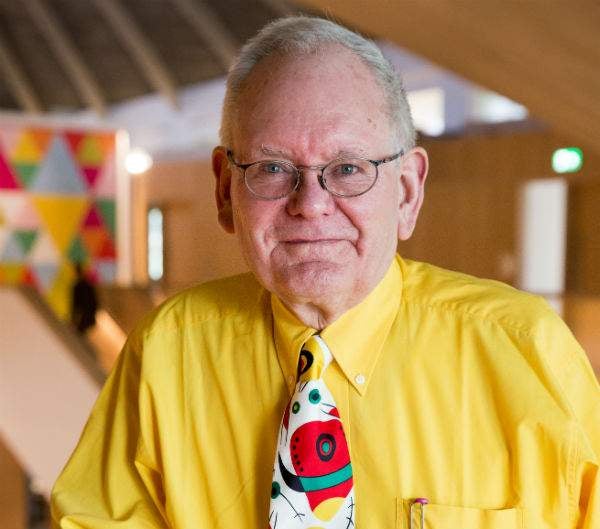 John Makepeace is a great furniture designer – but it's in teaching others that he has secured his greatest legacy, writes Olenka Hamilton
John Makepeace is waiting for me in the lofty entrance hall of his club, the Athenaeum. He smiles kindly and grumbles about being forced to wear a suit whenever he comes to London. But though the father of British modern furniture isn't in his overalls today, he does wear a bright yellow shirt, multi-coloured tie, and the disposition of a man fulfilled – just in case you were in danger of confusing him with a banker.
Makepeace, 78, has a lot to be pleased about. He is celebrating 40 years since the first batch of students – among them the Queen's nephew, Viscount Linley – arrived at Parnham College, the furniture school he founded. The 80-room, 16th-century Grade I-listed Parnham House in Dorset would produce a generation of world-class furniture makers and designers before closing in 2000.
We sit on purple sofas and Makepeace brings me a cup of tea. 'The furniture isn't up to much, I'm afraid,' he whispers mischievously, picking up a biscuit.
'Seeing Parnham taking off was thrilling,' he says, still smiling, biscuit still in hand, 'and I don't think I ever realised the risk I was running with this extraordinary building.'
He is referring to what he considers retrospectively to have been the mad act of buying an enormous, crumbling Dorset estate in the midst of a property collapse and an oil crisis. The latter led most to think they would never be able to heat a large country house again, but then John Makepeace is not most people. 'Those of us who have the thing we passionately want to do are so fortunate,' he says, quoting Goethe: 'If there's no commitment, there can be no achievement,' which sums a lot of his life trajectory.
A succession of experiences fomented his love for the craft of furniture making. At the age of six, when he first held wood in his hand, just after the war when timber was rationed and even a piece of skirting board was hard to come by; a trip to a 'brilliant' cabinet maker at the age of 11 ('he had a particular style which was post-Arts and Crafts but quite heavy with it, but it was meticulous, the wood and the detail was beautiful and I'd never see anything like it'); and shaping visits to the US, Denmark and Sweden.
'The Danes were prepared to make the arm of a chair blend and flow, and that was just beautiful because it was so humane,' he says. 'It was revolutionary in that it was so much at odds with what people thought of as modernism following from the Bauhaus, that expression of the machine in timber which became endless straightness and linearity.'
Makepeace, who had planned to go into the church, identifies the trip to Denmark as the catalyst which set him on the path to becoming a cabinet maker. Although Britain's furniture industry was in the doldrums at the time, he persevered, receiving rejection after rejection until finally a Dorset workshop agreed to teach him 'for a fee', with the warning that he would never make a career of it.
He started up his own workshop anyway at 21, and forged a quietly successful career, which took him from making mass-market hits and large-scale institutional commissions to exquisitely made one-offs, on which he still works today. In 1972 he became a founder member of the Crafts Council, and in 1988 he was appointed OBE. His secret? 'It's really important not to make something that you're not really passionate about. One wants to make to pieces that are landmarks,' he explains. 'That's partly why furniture carries value, as people can see it has a place in history. A lot of thought goes into everything on every level.'
It was in his role as a founder member of the Crafts Council that Makepeace noticed the lack of apprenticeships or adequate training in woodwork available. He conceived a course, which over two years would teach furniture design and making and business together: 'A place where the heart, the hand and the head could be brought together through the making and designing of craft furniture,' writes design historian Lesley Jackson in Beyond Parnham, a book marking 40 years since Makepeace founded the college.
The college gained momentum quickly. His passion propelled him, infecting others along the way. 'One of the things I've learnt is that if there's a strong vision, you carry people with you. Parnham captured the moment,' he says.
Trustees included violinist Yehudi Menuhin and theatre director Peter Hall, and there was a constant stream of eminent figures willing to come to lecture, among them Richard Rogers and Norman Foster. The same can be said of the students – the calibre of applicants was consistently high.
'One of the wonderful things about setting up a college from scratch is that you tend to attract people who are adventurous and have a clear interest in design,' says Makepeace. 'They could have chosen to do almost anything but they were choosing to make furniture, which means the whole world could benefit from a new generation of artisans.'
Steuart Padwick is one such student. Having started out as an actor, he went to Parnham and later became lead designer at made.com. 'One started with a passion and developed an eye for quality and detail,' remembers Padwick. 'One day you would be focusing on making perfect dovetails, the next you would be creating shelters in the woods with the artist David Nash RA… John was our inspiration.'
Other eminent alumni include Mark Boddington, whose company Silverlining is especially well-known for its yacht interiors; Sean Sutcliffe, who went on to work for Terence Conran; the industrial designer Konstantin Grcic; and David Linley, who opened his eponymous showroom on Pimlico Road in 1985.
'I will always remember my time at Parnham Hall with great affection, for I owe my subsequent career to the many people whom John Makepeace brought together to revitalise the modern Arts and Crafts movement,' Linley says.
Today Makepeace spends most of his time at his home in Dorset, the 18th-century house Farrs, where he and his wife exhibit their collection of contemporary furniture and silverware and tend to their respective gardens. He also finally has the time to do what he has always dreamt of doing, which is working on private commissions for individual clients.
When I ask who he considers to be his greatest competitors, he answers unequivocally: 'My students, which is exactly as it should be.'
Makepeace finally eats his biscuit and insists on showing me round his club. The library is magnificent, he says, a spring in his step, and it is. We stand next to a 'members only' sign looking longingly at the mass of books through the glass doors, before Makepeace ushers me out and waves me off down Pall Mall.
Olenka Hamilton is staff writer at Spear's