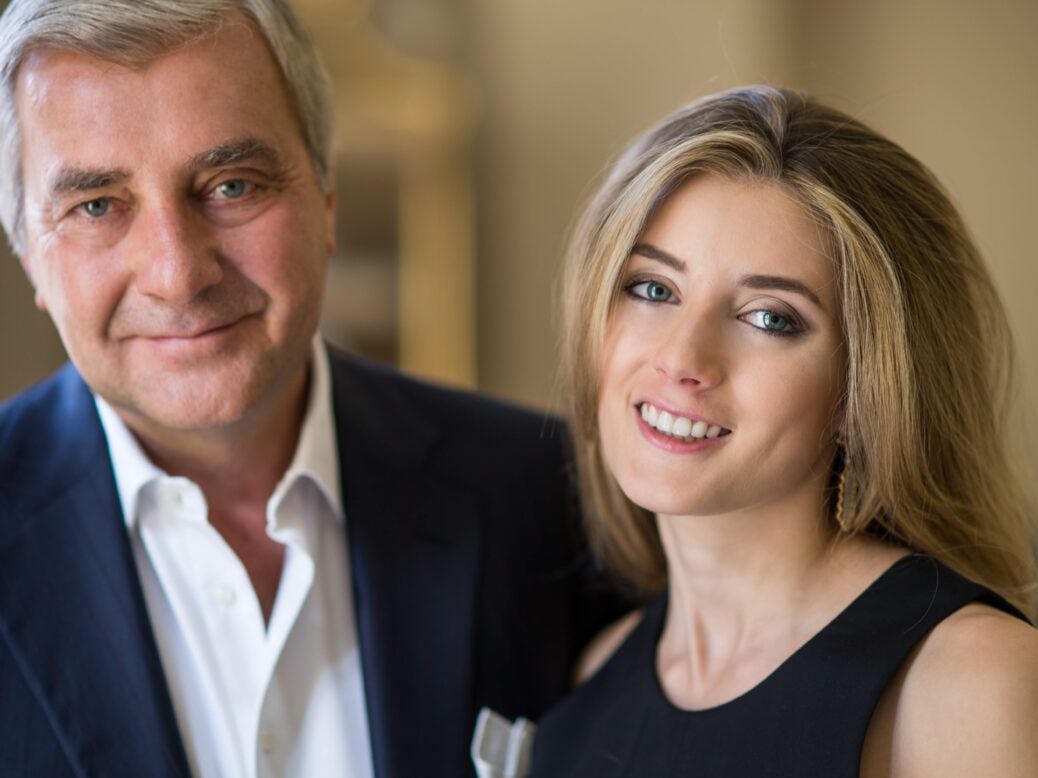 The Buccellati family are a shining model of succession planning, says Emelia Hamilton-Russell
When Princess Margaret visited the Vatican in 1949 – the first trip by a British royal for centuries – Pope Pius XIII commissioned a small, intricately ruby-studded icon of the Madonna and child to give the princess, a token of goodwill between Catholicism and Protestantism.
The man he commissioned was Mario Buccellati, a former apprentice goldsmith at the prestigious Beltrami & Beltrami on Largo Santa Margherita in Milan, who had taken over the business in 1919 and named it after himself.
The Buccellati house had been a favourite of Milanese aristocrats and the Spanish royal family since its inception, but becoming jeweller to the Pope cemented its place among the world's most prestigious houses. Now celebrating its centenary, the brand is often seen adorning the necks of unofficial royalty such as Celine Dion and Oprah Winfrey, among other, more private customers, and has a four-floor mansion on New York's Madison Avenue, as well as outposts in London, Moscow, Tokyo, Beijing and Beirut.
'I am simply, expressly, a custodian,' says Andrea Buccellati, 60, the house's chairman and grandson of the founder. 'Each generation needs to find within the family one person that cares about the jewellery enough to dedicate his or her life to this,' he tells me in his gravelly, thick Italian accent. 'First it was my father, then me, and now I am teaching my daughter Lucrezia.'
According to family legend, the Buccellatis have been making jewels since the mid-18th century, when Contardo Buccellati worked as a goldsmith in Milan. Mario revived the family tradition in 1903, and the skills he acquired have been passed from father to son ever since.
That is, until now. 'My son has always been more interested in technology and business,' Andrea tells me, though he was unconcerned. From the age of six, his daughter Lucrezia had shown an interest in art and design.
She has what Andrea calls 'the gift – the creativity, the passion' inside her, and is the first woman ever to design for the brand. 'I was always very involved in one way or another,' says Lucrezia, tickled by the suggestion that she carries 'the gift'. 'I would say it's always been inside me because – voluntarily or involuntarily – when you grow up around that sort of thing it seeps inside you.'
She explains how, when she first announced that she wanted to take up the family trade, her father's reply was: 'Why don't you be a singer or something?' It was nothing personal, explains Andrea. 'My father did the same for me – he wanted to be sure that I really wanted to do it. It was an investment for him and an investment for the company.
The moment you choose a successor it could take six or seven years to teach them. He didn't want me to turn around after the training and say, "Actually I want to be a lawyer."'
Precious lessons
Unlike 'the gift', 'the training' involves long hours of sitting at a work bench next to the brand's artisans, learning how to manipulate gold so that it resembles lace, or engrave it so that no area is left smooth – a style called rigato.
'As a boy I spent time with a hundred artisans,' says Andrea. 'Some of them worked with my grandfather, and some of them told me, "Your grandfather would never do something like that," or "You have to follow this instruction – your grandfather gave it to me." In the end, my experience was formed of course from my father, but also from all the artisans.'
The techniques, Andrea explains, have been the same since the Renaissance era, and need to be carefully, and expensively, preserved. 'They went out of fashion after the renaissance period. It was too expensive and people preferred quicker styles. We are the only ones who continue to use this method.'
There are old-fashioned tools involved, such as a bulino (a steel chisel with a wooden, ball-shaped handle for engraving), a cuscino (a tiny leather sack filled with sand for resting a piece of jewellery on), and a trapano (a miniature drill reportedly used by Leonardo da Vinci).
One of their greatest challenges is persuading younger generations to learn the craft, because 'if you learn to engrave gold, basically you will be with Buccellati for ever – there is nowhere else'. In 2013, having been stable under the stewardship of Andrea's father Gianmaria Buccellati for 65 years, the brand experienced a tremor. 'It was a delicate moment because, the company was growing, but we also had to face a change in generation,' says Andrea. Gianmaria had died at the age of 86, and running the company on their own had become untenable. 'Today, in the new century, to develop and grow a company you need a lot of experience – more than before. The family can't do everything.'
In 2013, the family sold a 67 per cent stake to Italian equity company Clessidra – which saw the company grow by 60 per cent in three years. Then, in 2016, an 85 per cent stake was bought by the Chinese holding company Gansu Gangtai, which has plans for further Asian expansion. In the midst of the turmoil, Lucrezia, then in her early twenties, was brought on board.
She and Andrea retain full creative control of designs and products. 'In a certain way it's a democracy,' reflects Andrea. 'Usually when you work in business you have many opinions but ultimately it's one person making the decision. But working with my daughter – sometimes she shows me a design and maybe it's wrong for me, for some reason. I'm very classic – I think it has to be the most beautiful jewellery on the most beautiful woman, etc. But something positive comes out of the discussion.'
Having a woman's point of view has been a game changer, he says: '[Lucrezia] will say things like, "Papa, I never wear those pieces I just keep them in the bank. I want to design something more affordable, more wearable."'
Blue funk
This was how the latest collection, Timeless Blue, was born. The techniques are the same, but the use of threadlike silver strings rather than gold, and Lucrezia's lighter, more wearable designs were the first steps to making the jewellery more affordable, and therefore more approachable for younger customers.
The collection launched on Net-A-Porter and flew off the metaphorical shelves. 'That was the idea at the beginning, that we would broaden our appeal,' explains Lucrezia. 'But then our current customers went absolutely crazy for our silver collection too. They loved it because they could travel with it and wear it every day and not worry so much about it being stolen.'
However, while the West is moving towards less ostentatious pieces, the Asian and Russian markets have started to show serious interest in owning a chunky piece of Italian history, says Sotheby's Daniela Mascetti, who has been working with important jewellery for more than 30 years.
'In Italy, there are two houses that go down the generations: Bulgari, which has been going since 1882, and Buccellati,' she says. 'History and continuity is a valuable commodity now. All the other houses are trying to rebuild their past or make a treasure of their past.'
Looking to the future, Andrea agrees that change is inevitable. 'Everything is more fast, more globalised, more "profit immediately",' he surmises. 'What I hope and what I work for is to grow the brand, but in the correct way. For us – for the family – the most important thing is not the money, it's the continuity.'
Will Buccellati still be in stores in 2119? 'Yes, absolutely, why not!?' he laughs boomingly. 'But we want to keep the Italian art style, and all the pieces must always be done by hand. There can be no compromising.'
He likely has the right attitude. With the company now owned by a Chinese conglomerate, maintaining that connection to the past – and their Italian Renaissance roots – will be essential.
Emelia Hamilton-Russell is a junior staff writer at Spear's
Read more: