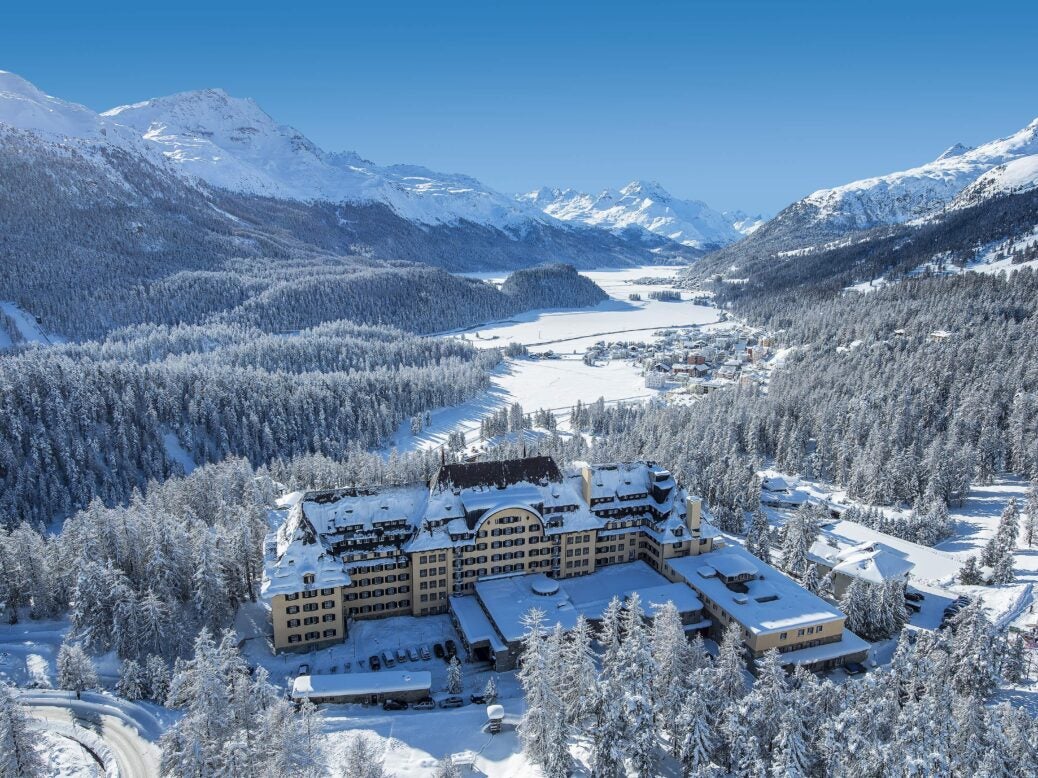 Spear's columnist Alessandro Tomé checks into the luxurious Suvretta House Hotel in St Moritz for an Alpine ski trip with a difference – courtesy of Ipanema
Tall and tanned, and young and lovely, the girl from Ipanema goes walking and when she passes – I seem to emit a loud 'ah!'. So loud indeed, that I am brought back to my senses with a clip around the ear from (the suddenly quite not so) Angel Wife. And the fact that this girl from Ipanema wears fur; very elegantly so if I must say. But incongruous none the less to see her walk like a samba that swings so cool and sways so gentle – even in ski boots – around the beautiful fireplace in the ski room at the stunning Suvretta House Hotel in St Moritz.
Odd as it may seem, it turns out that a huge, fun, friendly and beautiful Brazilian contingent descends on St Moritz and Suvretta in particular during January and hence this vision repeated itself with a number of different impersonators over the few days that Angel Wife and I were fortunate enough to spend the hotel in one of their stunningly beautifully renovated rooms. If I ever need help decorating a chalet, I will ask Suvretta's decorator – really.
This is our first hotel stay in St Moritz, although Angel Wife was partially brought up there and it's where I have also spent many a winter, and where we luckily (for me) met. But homes of one family or other friend have always been our local abode and so it was with some trepidation that we had arrived at the Suvretta House. We knew of it, rather than knew it. In our mind it was where kiddy-laden families with high disposable income went to do crèche in the poshest possible way.
We needn't have worried: from the moment the doormen greeted us by name and sent the luggage straight to our allocated room, to the moment when they sadly put it back in the trunk of our car on departure, we were giddy with the joy of being there. For starters, you really cannot beat the location and view down the Engadin valley over three lakes and facing the beauty of Corvatsh in the distance. I wasn't so sure about being 'out-of town'. I am now. Pop in and out as you need on the usually fun-laden hotel bus and for the rest it is all here. Even I could not think of how to make it more convenient.
Skiing holidays had become a bit of a dread for me: all the boots and walking and carrying stuff or driving and parking, and back again is usually such hassle that you are tired before you even start. Not here: ski school – in house; ski passes – in room; ski and everything else rental – in house; ski slope – on doorstep, literally; sashaying, tall and tanned Brazilian beauty – in fireplace-warmed super-tech boot room. What more can one ask for? Yes I know…
And then there are the staff and the service. We struggled to think of a more friendly while efficient service than here. Nothing is a bother and everything is arranged within five minutes. And that is a great compliment to the hotel's management duo and tours de force, Peter and Esther Egli. Perhaps my biggest challenge was to prise this charming couple away from their work and the wellbeing of their guests long enough to have tea with us. And a deliciously English one at that, though Angel Wife limited me to the one scone only.
Which brings me to the food, particularly in their main restaurant as well as the Chasellas one up the hill which they own – absolutely delicious and beautiful, even though they need to work at the lighting (the bright lights look is so over at our age!). In the hotel's traditional Alpine Stubli they have an interesting chef with potential but I think he needs a little more time to mature. In the meantime I would stay with the traditionally excellent dishes there rather than the exotic ones.
So as you watch the world ski championships on the perilously looking slopes and long to head for St Moritz, don't hesitate and pick Suvretta House over all other boring and somewhat old-style options. And if you happen to have a nice flat there or even a chalet, or worse – if you tend to squat with friends or family there as we used to – then save up and don't bother with all that hassle anymore. Suddenly skiing will feel nearly as relaxed as a stroll on Ipanema Beach – furred or not.
Alessandro Tomé is a columnist for Spear's