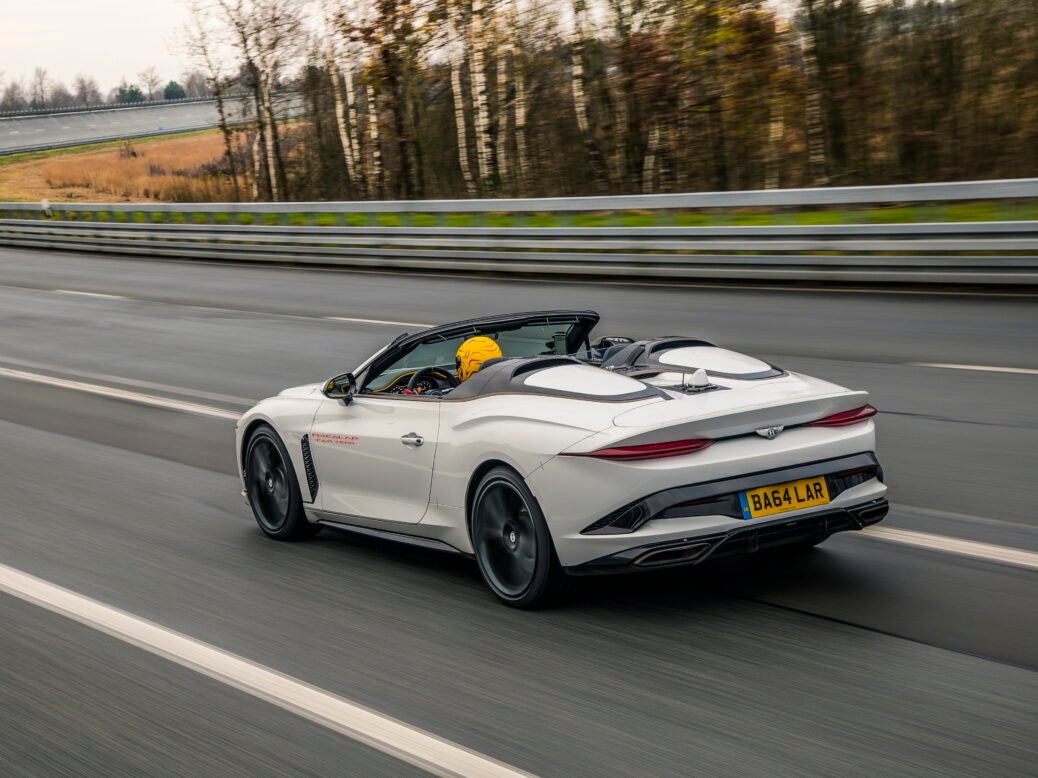 Bentley will produce just 12 Bacalar two-seater speedsters. Each will be bespoke, made according to buyers' individual specifications, and cost from £1.5 million. Gareth Herincx took 'Car Zero' for a spin
With prices starting at £1.5 million, the Bacalar two-seater speedster is the most expensive, exclusive car ever made by Bentley. To be precise, it has been designed, engineered and handcrafted by the good folk of the Bentley Mulliner division – the oldest coachbuilding company in the world.
Just 12 examples of the car will be produced and every one will have its own identity, tailored to its owner's tastes. Omar Sheikh, the leader of what the marque refers to as the 'Bacalar Project', tells Spear's that some will have bright, vibrant colours in both their paintwork and interior accents – plus lots of visual carbon fibre.
Others, by contrast, 'focus more on elegance, with greater use of deeper paint colours combined with satin nickel and chrome brightware, pianopainted veneers and tweed'. In response to individual clients' specifications,
Bentley has developed new bespoke colours for exterior paints, wheels, exhaust finishers, interior piano veneers, hide and tweed, says Sheikh. 'Even the headlamps are custom-made for every car.'
'A big part of these cars is the blend of materials and level of customisation available,' he adds. 'One interesting combination includes the split veneer option of carbon fibre over 5,000-year-old riverwood.'
For now, the bespoke designs of the 12 limited-edition vehicles remain top secret. But Spear's is among the lucky few to be invited to get behind the wheel of the so-called 'car zero' – a development prototype that still looks pristine, despite thousands of miles of punishing testing.
Named after the breathtaking Laguna Bacalar on Mexico's Yucatan peninsula, the car uses the Bentley Continental GT Convertible's platform. Unlike the GTC, the Bacalar sports a roofless 'barchetta' design and there are 750 new parts used to construct each car – more than 40 of which are manufactured from carbon fibre. In fact, not a single body panel is shared with a production Bentley.
The Bacalar is powered by a more potent version of Bentley's mighty 6.0-litre W12, now producing 650bhp. Capable of 0-62mph in 3.8 seconds and a top speed north of 200mph, it's blisteringly quick.
Thanks to all-wheel drive, all-wheel steering and a swift-shifting eight-speed automatic gearbox, it's deceptively fast, surprisingly playful and remarkably agile for its size.
Out on the road, the engine note is restrained, and the car's slippery shape means it's possible to have a conversation at more than 100mph. The bad news, if your interest has been piqued, is that all 12 customer cars have been pre-sold, and will soon be on the way to lucky owners in the Middle East, United States, Europe and the UK.
But fear not. There are already murmurs that the Bentley Mulliner division – like its luxury rivals Ferrari, with its FXX programme, and Rolls-Royce, with its one-off Sweptail commission of 2017 – will be back with more limited editions before long.
More motoring from Spear's
The last hurrah of the Lotus Elise, a pioneering standard-bearer for purity and engagement
How Adrian Hallmark is turning Bentley into an unlikely environmental pioneer
It's a Daniel Craig Bond, not a Roger Moore' – Land Rover's new Defender reviewed