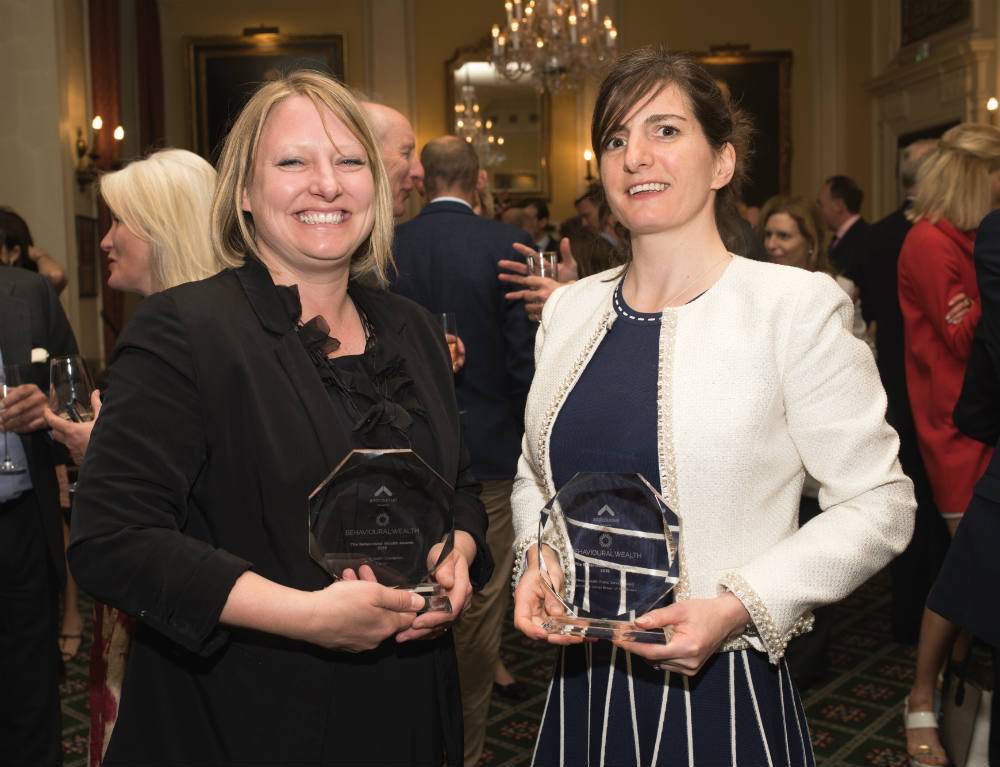 The Behavioural Wealth Awards launched this week at the Cavalry & Guards Club in London recognises those who are fighting to improve mental health and wellbeing in the workplace, writes William Cash
Coinciding with the launch of mental health awareness week by Prince William, Mayfair-based Behavioural Wealth held an award ceremony to honour outstanding mental and behavioural initiatives in the public and private sectors – a first of its kind in the UK.
The event was attended by leading figures in the UK wealth management industry and mental healthcare professionals. These included Rupert Phelps, head of family office services at Smith and Williamson, the Earl of Balfour, Lord Monson, James Anderson of PAM, Sir Michael Craig-Cooper, Guy Paterson of Stanhope, Spear's editor-at-large William Cash. Melissa Lesson of Mishcon de Reya, William Begley of Charles Russell Speechlys, Robert Brodrick of Payne Hicks Beach Solicitors, Charles Cochrane, Sarah Cormack of Mills & Reeve, Henry Dallas, Simon Davenport QC, Clare Maurice of Maurice Turnor Gardner, Dr Nigel Meir, founder of Tibberton Capital, Patricia Milner from Withers, Paul Stibbard, vice chairman of Rothschild Trust and many others.
The Mental Health Philanthropy Award was awarded to a firm who has helped to improve public and family services in the areas of mental and behavioural health, often against a backdrop of reduced public sector funding. This was won by James Brown and Sam Hall of Manchester-based Hall Brown Solicitors. The firm was recognised for their philanthropy in backing and supporting the rollout of Family Drug And Alcohol Courts (of which there are now 13 in England and Northern Ireland).
After the government stopped financing the national unit, a fundraising campaign was launched by the co-founders of Hall Brown Family Law Solicitors, based in Manchester. This followed a meeting with the late Judge Nicholas Crichton, who founded the first Family Drug and Alcohol Court in 2008, and the Earl of Listowel, who is one of the courts' most prominent advocates in parliament. The award recognised this important initiative.
The second award, the Addcounsel Mental Health Champion Award, recognised initiatives in the financial, legal and private client advisory world to improve mental health within their sectors. This was awarded to Clarion Solicitors and collected by Clare King.
'With one in four British workers now reporting mental health issues, it's a timely moment to recognise some of the pioneering work that is being done to raise mental health within the high pressure world of the UK's legal, private client and banking worlds,' says Paul Flynn, founder of Addcounsel, the parent company of Behavioural Wealth.
Several private client firms – such as Quilter, St James's Place, Brewin Dolphin and Rathbones – are now introducing mental health support programmes for employees. There are also a number of excellent initiatives within the legal world, with law firms offering pro bono services to assist families facing mental health, addiction and recovery problems.
Flynn said: 'The understanding that "health is the first wealth" is at the heart of our service. We provide a service that deals holistically with physical and behavioural factors that cause deterioration in our quality of life.'
Research has shown that the new 24-7 email-driven 'work religion' is harming people's lives and families like never before. This trend is understood by Flynn, who also founded  Behavioural Wealth, which is at the vanguard of care for people dealing with issues such as CEOs and entrepreneurs suffering from 'burn out' and depression.
These new awards comes at a time when high-achieving British workers are catching up with American executives in what the New Republic has described as an 'existential crisis' of the modern work culture. 'Elites are "miserable" in their jobs. Millennials are burned out,' says the magazine.
The 'religion of work' is at the root of much of the mental health issues that many British firms, especially in the financial sector, are now having to deal with. One in four workers are now affected by such conditions as anxiety and depression according to mental health campaign Time to Change.
Last November, Quilter wealth management chief executive Paul Fenney admitted in an interview that he suffered from poor mental health. Fenney's admission follows the example of Lloyds CEO Antonio Horta-Osorio. Horta-Osorio became 'burnt out' from sleep deprivation and told The Sunday Times how he admitted himself to The Priory, in Roehampton. After treatment, he is now home and in bed by 10.30 pm. He now bans emails or calls between 7 pm and 7 am.  'And I became a better person, more patient, more understanding and more considerate. It was humbling but you learn'.
The highest-earning workers, it is now argued in America, regard their daily pilgrimage to their office temple in the same way that devout Victorian Christians attended church as a way of defining themselves and their values. 'But our desks were never meant to be our altars' and a culture that worships work is 'setting itself up for collective anxiety, mass disappointment and inevitable burnout,' wrote The Atlantic's Derek Thompson.
Behavioural Wealth is a private mental health service run by Addcounsel, and offers one of the world's most advanced healthcare assessments for physical and behavioural conditions. For more information, visit: behaviouralwealth.com
William Cash is founder and editor-at-large of Spear's
Related
Interview: Meet the Mayfair rehab clinic that's changing the face of addiction
William Cash: A call for mental health support for the wealthy
Wealth and addiction: inside the troubled HNW mind