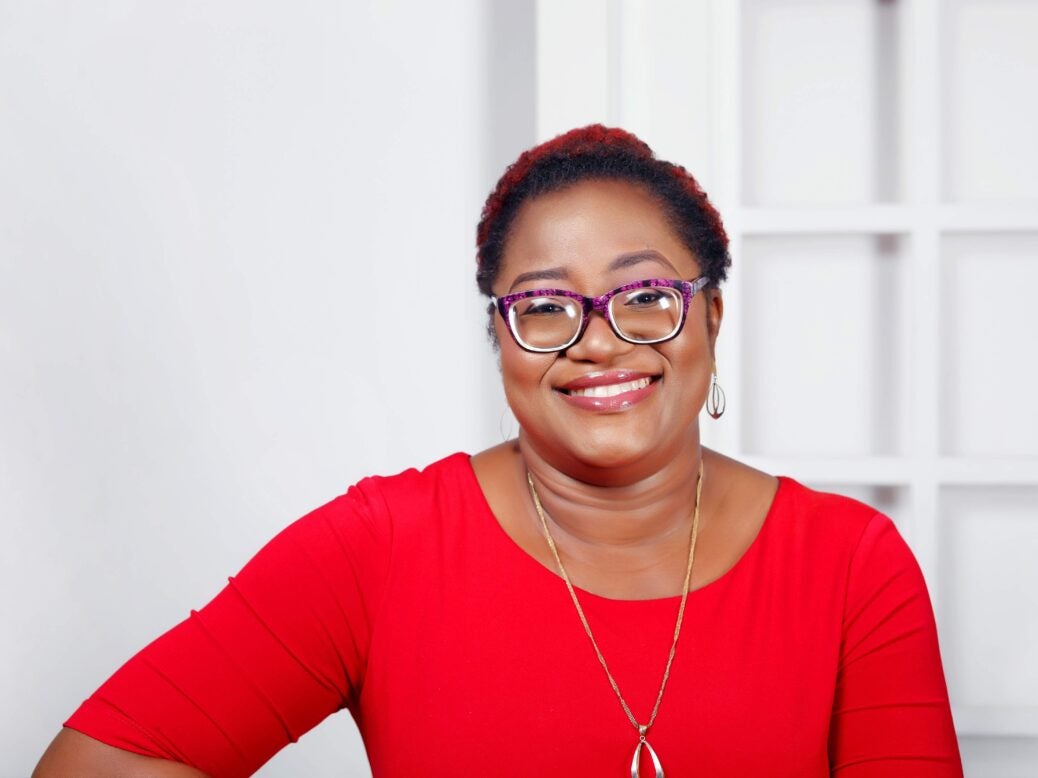 Cheluchi Onyemelukwe-Onuobia's debut novel both reflects current Nigerian life and hints at how it should progress, she tells Arun Kakar
Cheluchi Onyemelukwe-Onuobia is a lawyer, academic and – after the publication of her debut novel The Son of the House in January 2019 – one of Nigeria's brightest literary talents.
The novel won the Best International Fiction Book award at the Sharjah International Book Fair in October, a prize that counts bestsellers such as David Baldacci and Sorayya Khan among its winners. A sweeping novel spanning four decades, The Son of the House follows Nwabulu, a housemaid since the age of ten who dreams of becoming a typist, and Julie, a privileged modern woman. In a striking series of events, the two find themselves alone in a dank room years later, where they relate to their disparate lives in an intensely human drama that weaves together politics, gender and history.
Spear's recently caught up with Onyemelukwe about the state of the publishing industry in Africa and the themes in the novel, which is currently available in South Africa and Nigeria (a North American release is due soon)…
How did you arrive at the idea for the book?
The ideas behind it have stuck with me for a very long time. The more I talk in interviews about it, the more I realise that these are things I have, that I witnessed as a child in the past. Just looking at women in Nigerian society, Igboan [south-eastern Nigeria] women in particular struck me in more direct way.
I would say that the nexus of the story came from something that my mother talked to me about in 2011, something that happened that actually made me quite angry, that made me think: 'OK, this might be something to write about.' So in a sense the core of it is based on a true life story, but of course it's very much fictionalised.
Many Igbo people have said to me: 'This seems so real, the characters are so real to me.' It's because we've grown up around people like that and events like that.
Can you describe the literary culture in Nigeria when you started writing the novel?
When I first started writing it I was in Canada, but I have kept in very close touch with Nigerian literature over the years. At that time it was becoming quite vibrant, so we had Chimamanda Ngozi Adichie, who had just finished her second book [Half of a Yellow Sun] and won the Orange Prize for it. We had Teju Cole, a photographer and writer. His debut book in the English language, Open City, just burst on the scene.
Outside Nigeria, Nigerians who were looking to the international scene were starting to write for papers like the New York Times. In a sense we've always had an active literary scene. During the military regime it kind of went down, but there's been some kind of revival.
How have things changed?
In the earlier years, people were doing much more political writing, and then you had the military interregnum and people went back to writing about the way married people live and all that. Right now, some of the challenges we have are around publishing.
Most people who want to be published get their work not just out in Nigerian society but out into the world, because I guess you could say that's where most of the reward is. You have the broader reading public, and they can put you on the face of Vogue!
One of the challenges we've found is with publishing within the country, that even if we are not first published by the West, Africa can thrive on its own with African audiences buying them, with African festivals and so on.
We're beginning to see a bit of that and lots of publishers within the continent, within Nigeria itself, that then eventually go outside. My book is probably a prime example.
When I finished it, I shopped it around and had lots of rejections. It was eventually picked up by a Nigerian publisher [Parressia], and then eventually by Penguin Random House South Africa.
It's a home-grown book, and it's going to be published by a Canadian publisher that bought the North American rights. So it's going to go out into the world. That is so exciting for me to see us go not just from the outside in, but from inside to the rest of the world. Hopefully we'll see more of that exchange going on.
Your book spans four decades and centres around the changing role of women in Igbo society. How did those themes resonate with what you've seen in Nigeria?
I would say that things are changing but not as fast as I would want. People can still recognise my characters in their own lives and in the lives of others, so I guess you would say we have some way to go.
In my book I talk about the importance of marriage for women, the importance of male children in particular and having a son. It's not as simple as saying you need equality and all that, but to see how our cultures interact with these sorts of narratives. It's a bit challenging, but you probably need to think how we change but maybe do not completely sweep away the things we consider important to us as a people.
So you find in my book, trying to subvert some of the social constructs that you had at the time. Perhaps we could do that a little more openly, we could do that a little bit more with a view to humanising while challenging, so that in essence we're carrying people along. In my culture, Igbo culture, it's important to have a son carry on the name of a family – some families can go back years and tell you where they came from.
That in a sense is a good thing: it's a sense of history, the sense of knowing where we come from, and knowing that we are retreading more than today. But it places that burden of carrying until you have to and then giving back.
The sons are encouraged to go on and create, and the women are not able [to have] more children, the marriages fall apart. How do you keep a culture that is patrilineal, when you take away that son as the very important piece of it?
The interesting thing is they flow into other things, they flow into other aspects of society. If we say it is the son that carries on the name, then it's of course the son that gets to make sacrifices to the gods. Eventually, it's the son that gets to be the priest and it is the son that gets to become president of Nigeria.
It's more a question, and I would say things have changed quite a bit. We're having the conversations, but we've also been having the conversations for quite a while; we need to push a bit more. There is change happening, but obviously there's always room for more.
What has the reaction to the book been like since its release?
It's been received quite well. As a writer, you always want to know how your book will be received, but it's been received quite well.
I find that women – especially women of a certain age – tend to say to me that this is a really important conversation that we should be having and this is just right. I find that the men also really find it interesting.
They describe to me how traumatised they were over some of the things that some of the characters went through, but the women come to me with more of a recognition, so we're having these conversations. I work quite a bit in the gender area, and we are still asking about change.
In Accra, the rates of female genital mutilation have decreased, but it is a continuing practice, it is something that people still practise, including people who are educated.
That does tell you something. The conversations have been reasonable. Have they changed the world? It would be very presumptuous to say!
Three of Cheluchi's picks
Arrow of God (Chinua Achebe): 'Everyone must read an Achebe once in their lifetime, and this is my personal favourite.'
Every Day Is for the Thief (Teju Cole): 'Another gorgeous book about Nigeria, not as well known outside Nigeria as his other work.'
The Woman Next Door (Yewande Omotoso): 'A lovely, lovely book about two South African women – one black, one white.'
Read more
It's time to invest in an African future – inside the latest issue of Spear's
Why the future of the global economy is African
This is the start of a crucial decade for Africa
Why diamond mining in Africa is a double-edged sword
Mo Ibrahim: 'We invested in Africa…I made embarassing amounts of money'
Meet Jack Ma's favourite African start-up