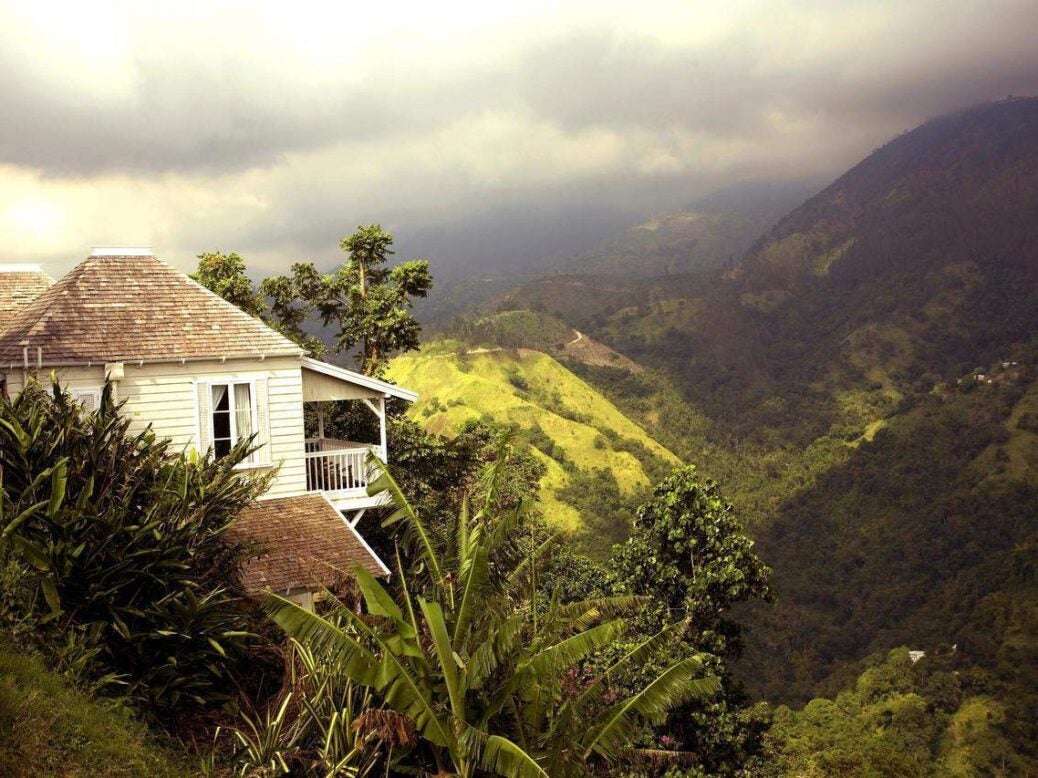 High up in the Blue Mountains, looking down onto Jamaica's capital city, Andrew Harris discovers a luxury retreat that's not only embedded into music biz legend, it also boasts some interesting historical connections
Considering Kingston is one of the oldest and largest conurbations in the Caribbean, and tourism one of Jamaica's primary industries, it's notable how far under the tourist radar this capital city manages to fly. Indeed, it's almost as if it's doing it deliberately. The all-pervasive all-inclusives along the north coast vie with the daily disgorging of cruise ship passengers, for the attentions of a tourist infrastructure tailor-made for sun, sand, and souvenir shops. Nothing wrong with sun and sea, of course, and Jamaica also boasts some of the most desirable places to fly and flop anywhere in the Caribbean. Not least Ian Fleming's former home, Goldeneye, is now a luxury hotel owned by former music mogul Chris Blackwell.
But it's at Strawberry Hill, Goldeneye's sister property, perched 3,000 feet above Kingston in the Blue Mountains, gazing down onto a twinkling nocturnal carpet of electric light that stretches across in a wondrous web of luminosity, that I ponder Kingston's curious lack of pulling power. Every bit as spellbinding in the daytime, this hypnotic panorama surely represents one of the most mesmerising hilltop vistas anywhere on earth.
Strawberry Hill, conventional wisdom has it, was gifted by royal decree in the 18th century, to Horace Walpole, son of first British prime minister Robert Walpole, who named it after his London home. Acid-tongued social diarist, grand tourist, and reputed lover of Thomas Gray, Walpole had constructed a wonderfully quirky, if not somewhat camp, neo-Gothic mansion on the banks of the Thames at Twickenham, which he'd named Strawberry Hill House. The archivist there, on a recent visit, certainly had no knowledge of Walpole ever visiting Jamaica, while at its Caribbean namesake they seem curiously uninformed about the wonderfully preserved house in England which supposedly lends its name to their beautiful Blue Mountain bolthole. Last year's conference at Strawberry Hill House, 'Horace Walpole And The Queer Eighteenth Century', isn't something you'd be likely to see the Kingston property hosting either, amidst a society where homophobic attitudes definitely aren't confined to the closet. Irrespective of its origins, and any connections to its London namesake, Strawberry Hill, in its current incarnation as luxury hotel, imprints its own indelible mark on anyone making the almost hour-long winding journey up from Kingston.
The Blackwell legacy
Chris Blackwell is renowned as the founder of Island Records and the man behind Bob Marley, whose legacy of reggae rhythms reverberates around the world. His father was heir to the Cross and Blackwell food empire, although it's his charismatic mother Blanche (née Lindo), whose refined tastes weren't conjoined with spaghetti hoops for long, as the marriage proved to be short-lived, who introduced Strawberry Hill to a young Christopher. Every bit as dynamic as her son, Blanche, part of a Sephardic Jewish heritage, evident in the Caribbean since the Inquisition, was in the habit of taking him up there for afternoon tea. It must have impressed Blackwell back then as much as it will impress anyone else now, for when the opportunity to acquire the property presented itself in 1974, it was immediately taken. Blanche, meanwhile, long-term lover of Ian Fleming and supposed inspiration for Pussy Galore, ended her days in Knightsbridge, tended to by three Jamaican maids and a social calendar oriented around chauffer-driven trips to the Mecca Bingo Hall in Cricklewood.
As with the hill stations of the British Empire in India, altitude was ever a deeply sought-after sanctuary, the higher (and cooler), the better. God knows how long it took them to get up there in the 18th century, but then as now, the sense of being delivered into a promised land of temperate tranquillity is palpable. After 20 years embedding itself into music biz legend, while anyone who was anyone passed through – not least Bob Marley, who sought sanctuary there in 1976 after the attempt on his life – Blackwell remodelled Strawberry Hill into a hotel in 1994, following extensive damage from Hurricane Gilbert in 1988.
The overall style projection is white wood plantation shutters, with interconnecting balconies delivering a laid-back organic feel as they meld into the hillsides, all gently caressed by puffs of swirling white cloud. It's a luxury hotel alright, but one that registers lightly on the glitz-ometer. Dubai it definitely ain't! It's more a high altitude perma-glamp-camp, embracing the scents and sounds of the natural world, whilst holding out the prospect of a little pampering. Or make that a lot of pampering.
Each of the cottages and villas deliver spectacular views over verdant, undulating coffee plantations or down onto Kingston and the curling spit of land jutting out into the Caribbean, at the tip of which lies the submerged remnants of the original settlement, Port Royal. Destroyed in minutes by the 1692 earthquake and subsequent tsunami, this dissolute pirate town, home to Blackbeard and Captain Morgan, had been one of the most significant, and also the most notorious, towns in the world.
Big four-poster beds enveloped by dramatic mosquito nets are enhanced by antique wooden furniture, all subsumed in a relaxed aura of romantic rustic chic. The only sounds are those echoing around the hillsides in a low-key concert performance celebrating their slow-paced way of life. Revivalist rantings interspersed with joyous singing float over from a tiny wooden church visible across the valley. Up at the precariously perched Newcastle parade ground, established by the British Army in the 1840s to instil healthy values in their recruits, and continually slipping in and out of the clouds, the discordant sounds of stamping soldiers amble idly down the mountainside. And always, always on this musically obsessed island, the relentless pulsating beats of reggae music, off in the distance, a backbeat to the twittering tropical birds busying themselves about the balcony. Simply sit there nursing a Blackwell own-brand rum in splendid isolation and feel the stress slowly being sliced off like sashimi.
Kingston's secrets
Over dinner with Diana Marley, Strawberry Hill's charming general manager, as laid back as Jamaica itself and married to the great man's cousin, we chew over Kingston's unique appeal by way of some exceptional Jamaican cuisine, our subject matter twinkling away 3,000 feet beneath us. In the morning, she hooks me up with local guide Carlo Less, a man who it transpires is able to roam around Kingston like a prince of the city.
In the mad melée of Coronation Market, Carlo navigates our way through mounds of scotch bonnet peppers, bananas, yams and every other conceivable Caribbean bounty, engulfed by shouts and smells in a wondrous snapshot of Kingstonian life. Untainted by any other outsiders, I appear to be the only one absorbing this authentic glimpse into the beating heart of Jamaica's capital. There's the occasional quizzical look or unintelligible bark, but nothing more concerning than that.
While the main Bob Marley Museum in uptown residential Hope Road, where he moved to, once fame and fortune had arrived, is well worth the visit, Carlo also leads me to the 'culture yard' in Trench town. Like everyone, I expect Trench Town to be named after a large hole in the ground, but it's actually a colonial-era social housing project named after original Irish landowner Daniel Trench. Marley's iconic songs such as, 'No Woman, No Cry' and its reference to the government yard in Trench Town suddenly deliver a deeper understanding from this makeshift tour put together by local residents in a Trench town that still disports a shockingly deprived veneer. It is as illuminating as it is unmissable.
When we arrive at the Shaare Shalom synagogue, the sounds of a service were drifting out into the stifling afternoon heat through open doors. One of only five in the world with a sand-strewn floor, all of them Caribbean, aside from one in Amsterdam, I'm immediately, and very hospitably, beckoned inside. Afterward, I'm given a condensed history of Sephardic Jewish life on the island in the small adjacent museum. Amidst the portraits and photos of Henrique's and Delgado's, it's not long before I encounter Lindo's, reputedly one of 20 families that effectively ran Jamaica from the 18th into the 19th century.
Halfway up the snaking road back to Strawberry Hill, Carlo stops off at his friend Ras Doe's roadside rasta cafe, where Doe has prepared a truly delicious vegetarian lunch, using produce grown right there in his Blue Mountain back yard. Gazing back down onto the city, something that's very difficult to stop doing, it's clear that Kingston, for all of its rough edges, conceals an underbelly of fascinating insights into Jamaican culture and history, for those prepared to seek it out.
Delivered back into the sanctity of Strawberry Hill's restorative embrace, ambling through hidden pergolas and pathways in search of the spa at the end of the universe, I encounter a multitude of glorious multi-coloured tropical plants, but no strawberries. Though I'm assured they're there. One can't help concluding though, that if Horace Walpole could ever have made it to this Jamaican hilltop, whose name he is supposed to be responsible for, his critical eye and attention to detail evident at Strawberry Hill House, and his well-honed appreciation of the finer things would have secured his unequivocal seal of approval. It certainly has mine.
Studio suites from $310 in low season. BA flies London to Kingston from £2,210 in ClubWorld. strawberryhillhotel.com
Read more