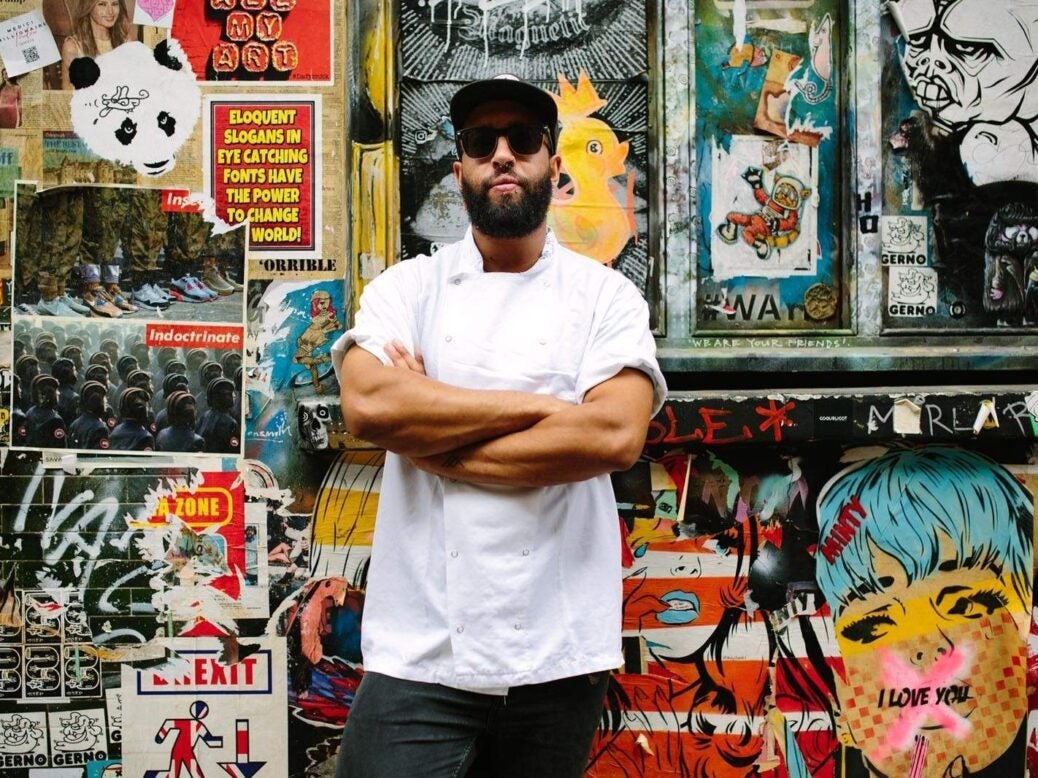 The Great British Menu winner's famous jerk spiced goat platter is worth a spontaneous evening in Islington, writes Rasika Sittamparam
I was naturally intrigued by an invitation to sample a chef's Scottish-Jamaican fare with culinary hints of Whitstable, in an Islington restaurant named 12:51. I was hesitant of the mishmash of elements on offer, not to mention the digitised name, but decided then to not to judge a book by its cover and accept.
Arriving at 12:51's doorstep on Upper Street, we enter a no-frills eatery which was once a Chinese laundry, now repurposed into two narrow oblong floors. 'It's quite casual here,' my dining partner remarks, while I sip a cocktail flavoured like cucumbered mojito – in a refreshing way. We learn more about the reasoning behind the venue's numbered name, which is loosely inspired by an indie song of the same name.
The restaurant's casual vibes turn serious the moment the food start arriving, one after the other. Indistinct flavours appear with every bite of Cochran's creations, which pay homage to not only his Scottish and Jamaican ancestry, but also to his birthplace in Kent. But this is neither a place for fuss pots who want the familiarity of flavours, not it is one that entertains the foodies who celebrate fusion (I normally fall into the former). A bite into the incredibly crunchy buttermilk rabbit with hints of tarragon, dipped into horseradish and pickled plum sauce, makes me not care for such culinary trifles. It is good food, made excellently, in my opinion.
The potato spaghetti arrives next as a small plate, which is a clear nod to Cochran's Scottish ancestry. A creamy pancake-like avatar of potato faces me, with the glint of cured egg yolk and shavings of truffle on top. I care at first that the dish looked nothing like spaghetti, but my concern disappears with the first bite. The softness of the potato disc complements the silkiness of the burnt butter cream. I am left with an aftertaste to remember: smoky, creamy truffle, salted satisfyingly. The dish is pure genius, but it is not even the one that made the chef famous.
In fact, what made Cochran prominent was his resplendent jerk spiced goat dish, which arrives on a plate large enough to display the various cuts of the meat. Here, Cochran is proudly Caribbean and peppers the nutty-cinnamony allspice over tenderly cooked loin, belly and shoulder, adding croquettes to the dish for more merriment. Coconut rice, black-eyed pea dhal and a portion of fruity scotch bonnet jam are wonderful accompaniments. Cochran deserves to win the Great British Menu, again, for the platter's delightful combination of flavours. The well-salted goat, the sweet and spiciness of jam, the tang of mango and the earthiness of dhal mix well without amalgamating into a single flavour.
After enjoying a well-executed custardy dessert, my dining partner and I get ready to leave, bellies full, as we encounter Cochran himself by the entrance – a huge, friendly grin on his pierced face. We thank him for hosting us and he becomes familiar enough to explain the reason why he had to use digits in the restaurant's name instead of his own. 'You can read all about it online,' he says, referring to the copyright dispute he's in with his former employer, who has inconveniently trademarked his name to sell the chef's recipes.
I hope Cochran wins the argument on this occasion, and I start making mental notes on my way out to ask some of Spear's top IP lawyers for an opinion. From what I have seen, experienced and tasted, I cannot believe that anyone who isn't James Cochran himself could display such culinary charisma. Cochran should be comforted by the fact that talent cannot be trademarked or sold. In fact, the digitised name exudes even more cool – a sign that the dispute is ultimately working in his favour.
Rasika Sittamparam is senior researcher at Spear's