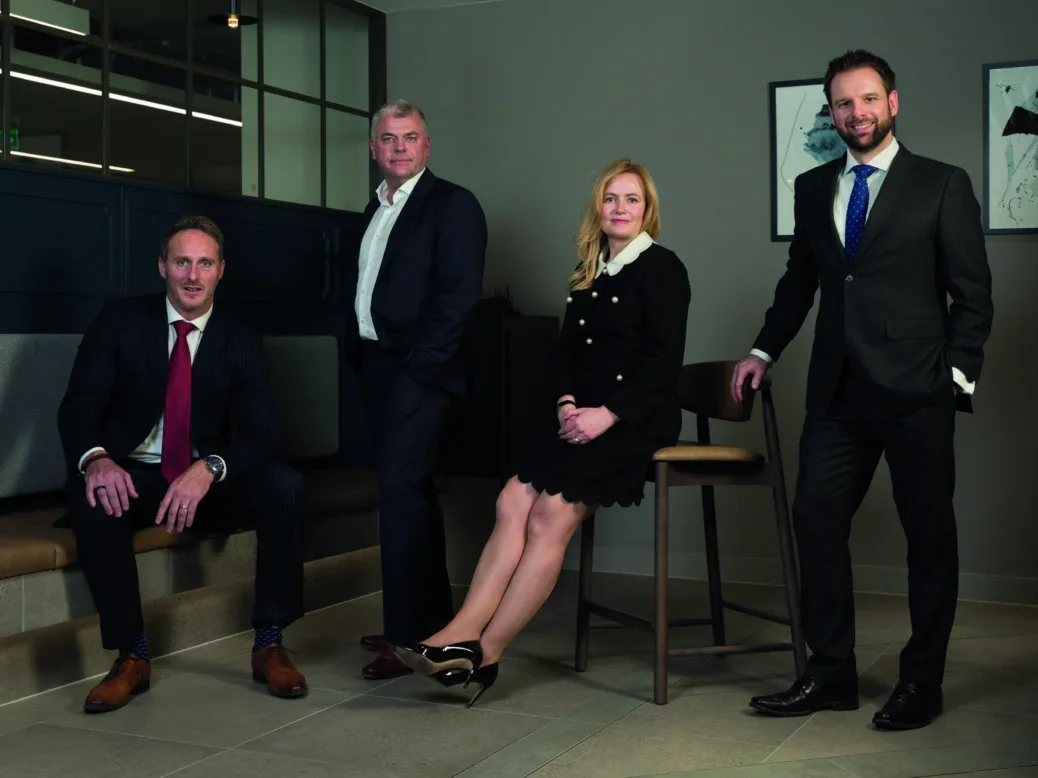 St. James's Place's combined partner practices are the private client industry's best-kept secret, with HNWs and UHNWs in particular recognising the wealth management firm's unique appeal
St James's Place manages £154 billion. Of that, a tidy £24 billion is managed for HNWs and UNHWs. For Paul Emery, the director of St. James's Place's private clients' division, the size of the firm's book means it occupies a 'number one position within UK wealth management in terms of the scale.'
Speaking with Spear's across a boardroom table in the firm's Knightsbridge office opposite Harrods, Emery adds: 'Over the years a perception has grown up around which segments we operate in – what we are keen to help the industry understand is that actually our scale in the HNW and UHNW market is significant and we have a strong offering and business model that suits those HNW and UHNW clients very well.'
At the heart of that offering is St. James's Place's (SJP) hub-and-spoke structure with the corporate headquarters in London and Cirencester managing the investment and wider product offering, sitting alongside 2,500 'partner practices', as the firm describes them, working in the field, each managing their own client relationships and running as their own business.
While most of the practices have a blend of affluent and HNW clients, over 50 are focused on serving HNW and UHNW needs. These practices are able to collaborate with several specialist SJP Private Client teams, including a dedicated HNW Wealth Structuring team of highly experienced Chartered Financial Planners, lawyers and tax consultants.
One of these wealth specialists is Gina Parker, a principal partner at SJP, who believes the firm offers a 'unique combination of the corporate and partner working hand in hand'. 'That is such a compelling proposition because on the one hand you've got the strength and skill of the investment teams managing over £150 billion of clients' funds, and on the other hand you've got this incredibly personal, deep relationship with the partner,' says Parker, who is based in Lombard Street.
More than this, the fact that the individual partnerships are discrete businesses in their own right ensures that customers are dealing with business owners. 'That relationship is very different from an account manager in another wealth manager,' says Trowlock Wealth Management founder Stephen Scutcher. 'I own the business, so the client I'm dealing with understands that we are going to be around; we're not going to change relationship managers, so they feel really solid and empowered. It's a partnership with that client rather than just a relationship.'
With financial autonomy comes operational freedom to deliver services as clients, not hierarchies, dictate. Scutcher says he begins by asking his clients to determine the service they want from him and his support team. 'If clients feel in control of that service, it changes the dynamic,' says Scutcher, who is based in south-west London. 'Advice is absolutely key. That's what drives value.'As a result, he begins by listening to his clients. 'We probably do two or three meetings before a product actually comes into focus,' he adds. 'How can you deliver a product or a solution until you know what your client is trying to achieve over the next 10 to 15 years?'
For Parker, the approach is advice-led and holistic. 'We really do try to wrap our arms around the clients and care for them deeply across the whole spectrum of their financial position, whether it's basic bank accounts or complex offshore investments and trusts,' she says. 'You get to hear the innermost thoughts and pieces of information about families, how they feel about life, what's happened in their life – it's so much more than just the money.'
Among SJP's wealth managers with an ear for the needs of HNWs is Jonathan Sands, director of Sands Wealth Management, whose practice is based in Leeds. While his stock in trade is helping clients manage their financial affairs, he highlights the importance the firm places on wealth preservation as a cornerstone of its investment management proposition.
'I say to our clients that we look for a steady appreciation in portfolio value between a five- and ten-year period,' says Sands. 'We're not there to make them get rich quick. We're dealing with good, hard-earned, solid tax-paid money, and that's how our funds are structured in the marketplace.'
The firm's investment management proposition draws upon external fund managers and allows partners to finely customise portfolios according to precise client wishes. The funds are overseen by SJP's director of investment, Robert Gardner, whose mantra is to create 'financial wellbeing in a world worth living in'. 'That's not about having a responsible investing fund option,' says Emery. 'It's about having those beliefs running through our entire range, actually working with our fund managers so the issues and concerns are front and centre of what they're thinking about.'
In recent years, both the performance and fees of St. James's Place's investment funds have come under scrutiny in the financial press. While the firm continues to stand by the rigour of its 'select, monitor, change' process with external fund managers, customers continue to vote with their feet, too – as shown by the unstinting growth in the firm's assets under management.
So what explains its relatively low profile in the HNW and UNHW private client field? 'If you rewound five years the number of private clients we looked after might only have been half of what it is today,' says Emery, formerly director of strategy at Coutts. 'St. James's Place has grown quickly because we've got a successful business model that works for partners and the clients, but what we've also really invested time in is building relationships with people in the early stages of their careers.'
As the entrepreneurial customer base has flourished, so has the firm's AuM. Parker notes she's been working on a referral basis for more than 20 years. 'I think when people do see this they'll take a step back and say, "My goodness, I didn't quite realise the depth and breadth of their presence in this market."