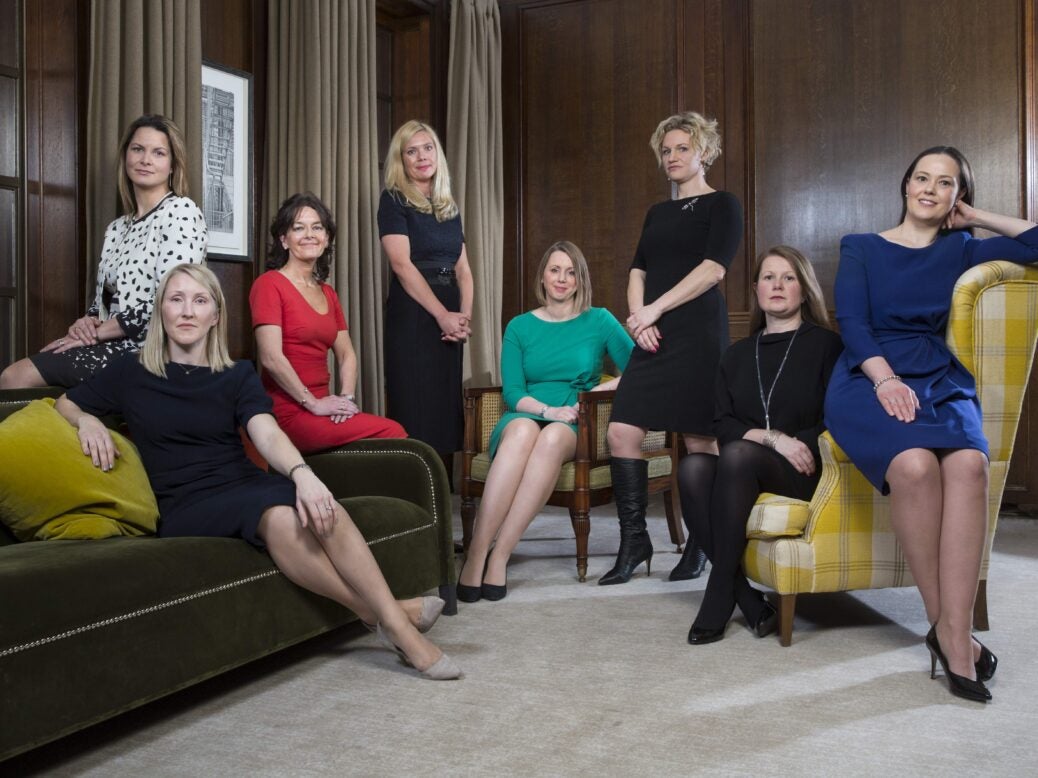 Keystone Law's family team bring emotional intelligence to their cases, alongside their considerable legal skills and experience
Keystone Law's family offering packs an impressive punch, with dedicated specialists who have worked with all the distinguished names in the divorce and family law sphere. Collectively known for their no-nonsense, direct approach to bringing conflict to an end either through litigation or other non-court based solutions, the team recognise that family proceedings are intensely personal and bring unparalleled levels of stress.
From left: Chrissie Cuming Walters, Charlotte Cuevas, Kim Marshall, Claudie Paddick, Hannah Budd, Zoe Bloom, Claire O'Flinn, Carolyn Bottomley, pictured at Ten Trinity Square
Consequently they are focused on results and concluding matters on the best possible terms. Recognising the importance of taking time to really get to know the complexities that come with wealth, the team adopt an individual approach to each situation, listening to clients and providing a bespoke pathway to conclusion.
The upshot is the creation of strong commercial relationships, generating the results for which the firm is so well known. This ethos is particularly attractive to entrepreneurial clients and those who are keen to protect their commercial interests. The firm continues to build on its reputation by assembling a team with an ability to marry a knowledge of investment and business with a solid understanding of trusts and tax law.
Many of the solicitors at Keystone Law have professional backgrounds wider than family law and bring a breadth of experience that is welcomed by those with commercial interests. Alongside this, they have a keen emotional intelligence – which is intrinsic to family-related cases.
The firm itself is innovative and modern. It has taken the best from traditional practices and eradicated anything that doesn't benefit clients. Targets and other internal pressures are replaced with a dynamic, personal working relationship between client and solicitor. This is particularly important for clients seeking assistance with their most private affairs. Unusually, Keystone's dedicated family solicitors do not conform to the usual working hours often found at conventional firms.
Instead they are available more flexibly, to ensure that clients can discuss their personal arrangements away from business or personal distractions. Costs are directly attributed to work undertaken by the client's solicitor of choice, who quickly becomes a trusted adviser.
Client feedback consistently comments positively on the relationships they have with their chosen solicitor. This is a result of the forward-thinking infrastructure provided by Keystone and the solicitor's dedication to clients.
Legal know-how, strategic thinking, commercial awareness and professionalism are a given, but these strong client/solicitor relationships really underpin the strength of the Keystone Law family team.
By talking to and understanding the client, the solicitors drive through successful results for clients, who are fully supported during the tumultuous days following a separation.
Photography by David Harrison