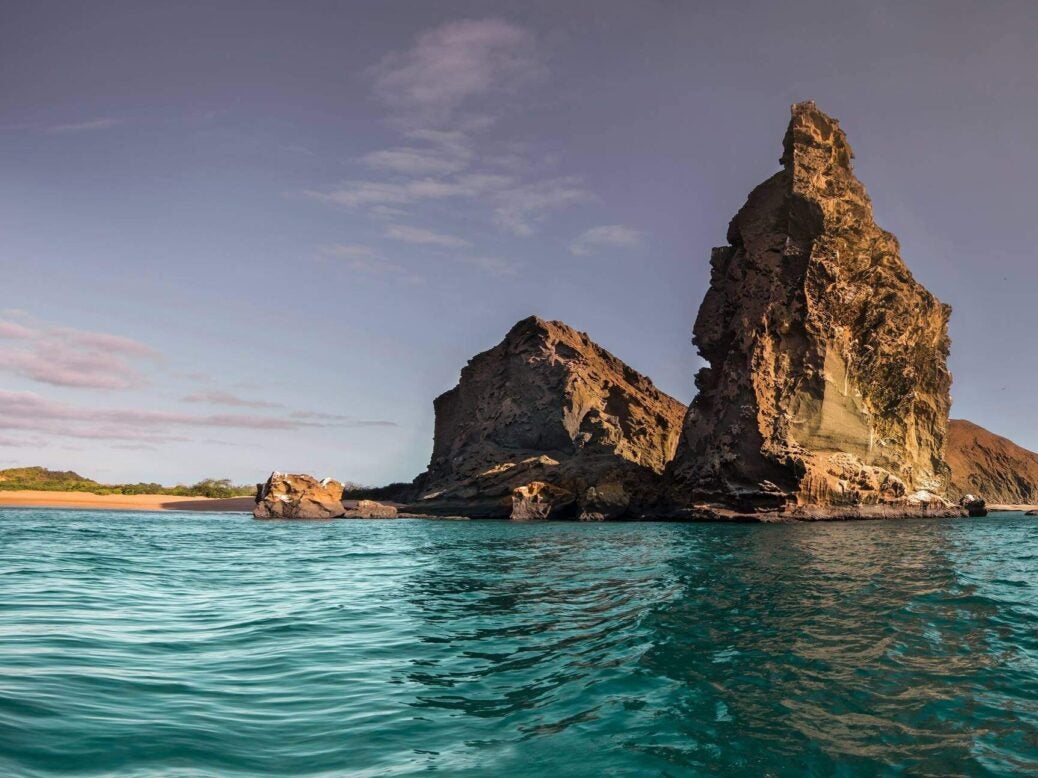 Reflecting the rise in demand for luxury cruise experiences in the Galapagos Islands, Ecuadorian boutique cruise and tour operator Golden Galapagos Cruises introduces their brand-new luxury mega-catamaran, the Elite. This is the newest vessel built specifically to cruise the Galapagos islands.
The sleek, twin-hulled 16-passenger Elite is 123.03 ft long, has just eight ocean view suites with contemporary bathrooms. Outside, there is a semi-covered sky deck on which multi-course dinners will be served al fresco, a bar and Jacuzzi sun terrace which includes a shaded area for outdoor BBQ's, or to enjoy a refreshing drink after a days cruising. The interior space comprises a large lounge complete with floor to ceiling glass windows in case of inclement weather.
The Elite joins the elegant Endemic, 115 ft, which set a new standard for luxury catamarans in the Galapagos Islands when it launched in July last year, becoming the first in the Galapagos Islands to feature panoramic ocean view suites with floor-to-ceiling glass sliding doors for a more immersive experience. Both the Elite and the Endemic have been custom designed and built especially for cruising the azure waters of the ecologically sensitive Galapagos Islands, home to awe-inspiring biodiversity and multiple species of wildlife. On both the Endemic and the Elite, each of the eight suites are fitted with personalised air conditioning controls, a balcony, spacious bathrooms and either a king-size bed or twin beds.
Each vessel has a dedicated Cruise Service Officer who takes care of the individual guests' requirements when on board. In addition, there is a Naturalist Guide who will create an itinerary for group excursions both on land and sea, based on the activities authorised by the Galapagos National Park. You may want to visit the jagged lava fields or volcanic explosions which are frozen in time. If guests wish to snorkel or paddle board in the clear water or simply to drift along in a transparent kayak taking in the marine life below, this can all be arranged.  Hand-selected local crew ensure customer satisfaction is guaranteed, with a guest to staff ratio of almost 1:1 enhanced by well-trained, friendly and knowledgeable naturalist guides.
Both mega catamarans feature state-of-the-art navigation computers and safety equipment and are Ecuadorian-flagged and crewed.
Two of the most modern and luxurious vessels to sail in the remote archipelago, the Endemic and the newly-launched Elite are the finest in the Galapagos with gentle curves mirroring their surroundings and bespoke, stylish interiors.
Their itineraries take guests to isolated islands and remote visitor points where extraordinary wildlife can be found, from sea lions and basking marine iguanas to blue-footed boobies and giant tortoises. To protect such amazing wildlife, they use a water purifying system, employ a waste management specialist and tag biodegradable and recycled items.
Such environmental practices contributed to Golden Galapagos Cruises winning The Latin American Travel Association (LATA) 2019 Achievement Award for Cruise Operator of the Year, recognising exceptional contributions to the development of travel to Latin America. The award recognises their strong growth during 2018, commitment to a high-quality cruise experience and in particular, reducing plastic water bottle usage by 25,000 bottles over 9-months.
www.goldengalapagoscruises.com