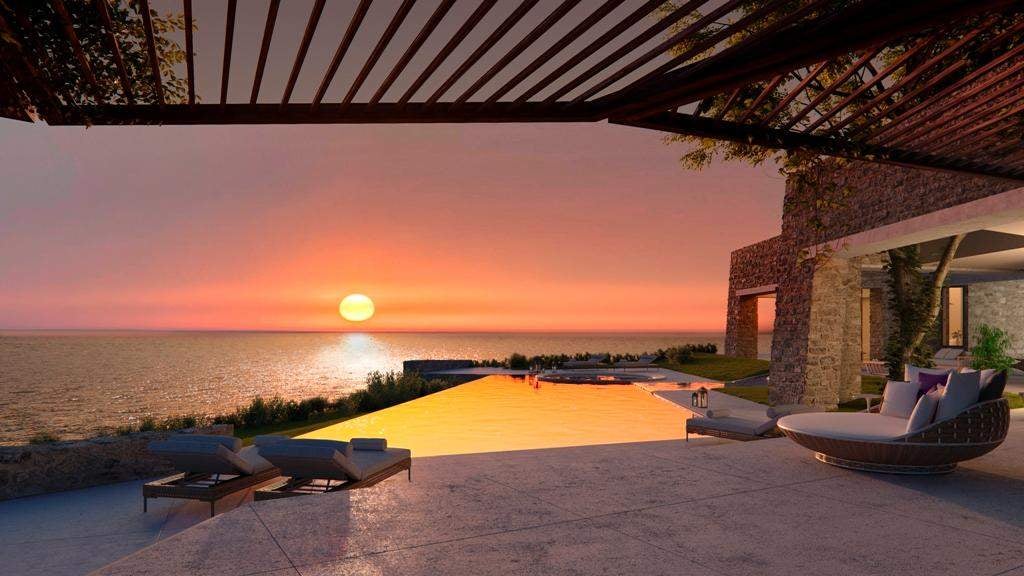 Discover one of the most up and coming residential destinations in the Greek Mediterranean
Costa Navarino has been described as 'a unique vision' and for once this is not an exaggeration. A sustainable luxury destination in the Greek Mediterranean, Costa Navarino has it all: a great location, perfect climate and superb resort facilities but also a dedication to a sustainable lifestyle and ethic that enhances the surrounding environment. The development includes Navarino Residences, a limited number of 3- 6 bedroom villas, some as close as 30 meters from the beach, which provide owners with unimpeded views of the sparkling sea as well as permanent access to award-winning spas, restaurants and golf courses.
Navarino Residences present a unique opportunity to acquire luxury freehold real estate at one of the last unspoilt corners of Europe. According to one of the world's largest real estate firms, Savills UK: 'The beachfront villas are unrivalled for their location in terms of resort property in Europe – there are no other resorts with branded hotel and golf courses, with villas right on a stunning beach.'
Those who have taken up the opportunity to purchase a villa at Costa Navarino recognise that Navarino Residences is doing something different. This is more than simply a great investment. It's a home for people who share an appreciation of the finest architecture, nature, art, culture, history and gastronomy, but who also want to play two of Europe's finest golf courses or spend the day on the beach with their family. Nick Churton, managing partner at London-based Mayfair International Realty, identifies the family-friendly lifestyle that make this residential project such a success. 'It isn't just the location, the facilities, or the sustainability, or climate, or award-winning architecture, or the beach, or the golf, or the choice of restaurants. You can find these features in other European destinations but you can't find them in one magnificent natural paradise. That is the secret of Costa Navarino.'
A core element of the Costa Navarino project involves demonstrating respect for the surrounding landscape, which is both beautiful and ecologically important. There is incredibly high biodiversity along this coastline, one of the longest in Europe, and the resort has been developed in a way that protects and sustains this, avoiding any degrading interventions. That is not just an exercise in box-ticking, it's a defining principle.
As a result, residences are being built with eco-friendly materials, implementing the principles of bioclimatic architecture and incorporating innovative landscaping that ensures aesthetic and architectural uniformity as well as the harmonious integration of the residences with the natural environment. This high-quality construction explains why Costa Navarino won the prestigious Europe's Responsible Tourism Award at the 2014 World Travel Awards. Other awards include being named 2017 European Golf Resort of the Year by the International Association of Golf Tour Operators (IAGTO), and being voted one of the best 20 destinations in the world to visit by National Geographic Traveller.
Significant investments have already been made in property at Navarino Residences, reflecting the fact the development provides both financial and emotional security. Purchasers are buying management services of the highest level, access to unique facilities and rewarding experiences, and they will be surrounded by neighbours who share their values and outlook. The resort is located near one of the fastest growing airports in Europe, with direct flights to more than 25 international destinations, providing the potential for further growth and the possibility of residents making a significant capital gain on their investment. Purchases can be facilitated by pre-approved financing from major banking institutions in Greece for up to 60 per cent of the total cost.
Ultimately, Navarino Residences is about quality of life. Villa owners can grow fresh fruit and vegetables from their kitchen gardens, or participate in the cultivation of the gated resort's olive groves and vineyards so they can savour their own oil and wine. The car-free environment enhances the sense of security, while the perfect climate of balmy springs, warm summers and mild winters means owners and their families can experience the joys of outdoor living all year round. This is a place where children can be children and parents can relax. Welcome to Navarino Residences.
www.costanavarino.com/navarinoresidences