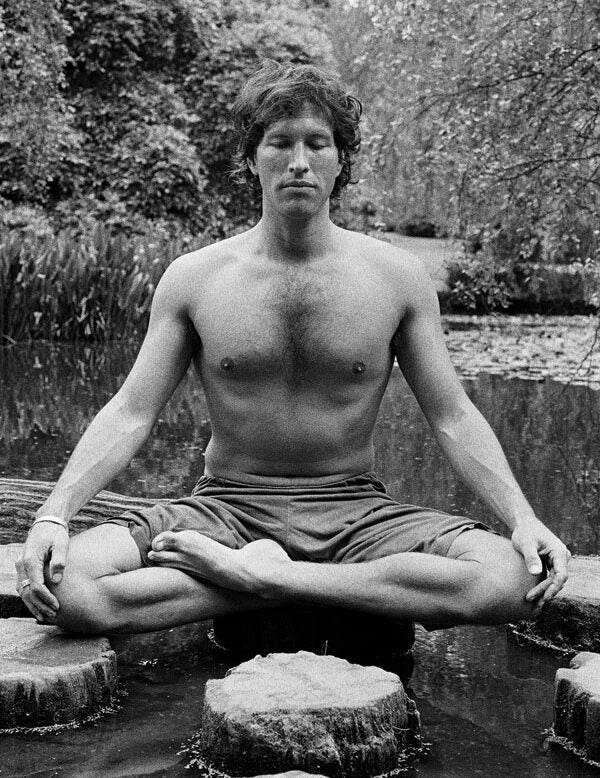 From top sportsmen to high-flying executives, men are taking yoga more seriously, but it isn't all about being 'bendy', says Spear's wellness correspondent Jo Foley
Way back in the mists of time in the ashrams of India, women were not allowed to practise yoga: they were thought easily distracted. But over the ensuing millennia things changed dramatically. For most of the past 50 years yoga has been perceived as a rather airy-fairy, hippy-dippy girly thing… in fact, everything it is not.
Yoga is an ancient discipline which focuses on strength, flexibility, balance and breathing, and while many of its devotees are female, more and more men are joining in. It's been a favourite with entertainers who value what it brings to both breathing and stamina; actors from Ralph Fiennes to Freddie Fox, Robert Downey Jr to Colin Farrell are unashamedly photographed with their yoga mats and gear.
But it was when it entered the world of sport that it attracted even more men. Ryan Giggs credited yoga practice for extending his playing career, and was so enamoured of the exercise that he released his own yoga video with his teacher Sarah Ramsden. Chelsea players have added yoga to training sessions, while tennis's Andy Murray has been practising Bikram yoga for five years and claims it has improved his concentration and flexibility.
Many chaps initially choose Bikram yoga, which is performed in 37C heat; Murray has described it as 'tough and ugly'. (Bikram is looked on as a parvenu by true yogis as it was devised in the US in the 1970s.) Ashtanga is another type known for its speedy sequence of asanas (postures) and is nicknamed 'athletes' yoga'. They are the two kinds most popular with men who are taking yoga up for the first time.
One of London's top yoga teachers, Jane Kersel, says this is mostly because men are results-driven and think this is the quickest way to feel the benefits of yoga.
In fact, she says, 'If you are an Ashtanga teacher and your newest student might be a 45-to-55-year-old who spends most of his time at a desk, you might be kinder to send him to a more general Hatha class, where he will learn slowly the different ways of getting into and out of poses and can build on that practice. It's better than being thrown in at the deep end and learning a set sequence of fast-paced movements that were originally intended for nubile adolescent boys with an over-stimulating amount of testosterone streaming through their bodies.'
Kersel has noticed more middle-aged men joining her classes and retreats, most of whom are encouraged by wives or partners. 'They usually start with "I'll be no good because I'm so inflexible," which is actually the wrong mindset to come to yoga with and has been proliferated by any number of instant media accounts showing beautiful women doing a kind of "Cirque du Soleil" style yoga, which has zero to do with yoga and much more to do with acrobatics.'
First, those men need reassurance that being 'bendy' isn't necessarily the way to go, which is why Kersel begins with breathing which helps the body to start to relax into very simple postures.
Chris James (pictured) offers bespoke service to rugby players as well as chief executives. 'Men take up yoga mostly for two reasons — either remedial to deal with stress, anxiety and tension in the body, or performance-related, which is when sportsmen come to me,' he says.
James has been working with an Ironman contender preparing for the world championships in Hawaii; the subject is also a senior player in the City. And while James offers classes, he is a firm believer that a one-to-one is preferable in the early stages.
Loten Dahortsang, who teaches Tibetan yoga and meditation during the summer at the Chedi Hotel Andermatt, underlines the importance of balance and breathing to help energise the body. He expounds the value of Tibetan yoga as a self-healing practice and says it can help with insomnia, back pain and headaches. His yoga classes are based around five simple postures which should be practised each day.
One international banker who travels more than 260 days a year claims to have cured his own back problems caused by endless hours with a computer or on planes. He has been practising yoga for several years and now adapts asanas to his own needs 'rather than blindly following a prescribed set of exercises, even if they have been given to me by a yogi guru'.
His fellow titans of finance, says Jane Kersel, need to learn that what works in the boardroom doesn't always suffice on the mat: 'The problem is people often approach one area of their life like all the other areas — so if they take a dynamic approach, they tend to bring that to the mat with them, whereas yoga is all about balance for both mind and body.'
WHERE TO LEARN
ghmhotels.com (Loten Dohortsang)
Four Seasons Resorts offers special yoga retreats, including Four Seasons Safari Lodge Serengeti for meditation walks and laughing yoga, and anti-gravity yoga at Four Seasons Landaa Giraavaru Maldives
Six Senses offers Discover Yoga and Yogic Sleep at several of its resorts at Zighy Bay, Oman; Alpina Gstaad, Switzerland; Ninh Van Bay, Vietnam
YOGA VARIETIES

Hatha
A generic term referring to any type of yoga teaching physical postures.
Ashtanga
A faster, very physical practice using a specific sequence of poses in the exact same order. Demanding.
Iyengar
Uses props such as belts, blocks and bolsters to help beginners get into poses with the correct alignment.
Kundalini
An energy-awakening practice using chanting, breathing and meditation.
Yin
A slower form where each asana is held for 3-10 minutes to increase flexibility in the hips, lower spine and pelvis. Good for athletes who need to release muscle tension and for beginners.
Vanyasa or flow yoga
A vigorous practice where each movement flows into another. Not for beginners.
Bikram
A sequence of 26 poses performed at high temperature designed
to strengthen muscles, rinse organs and 'sweat out' toxins.