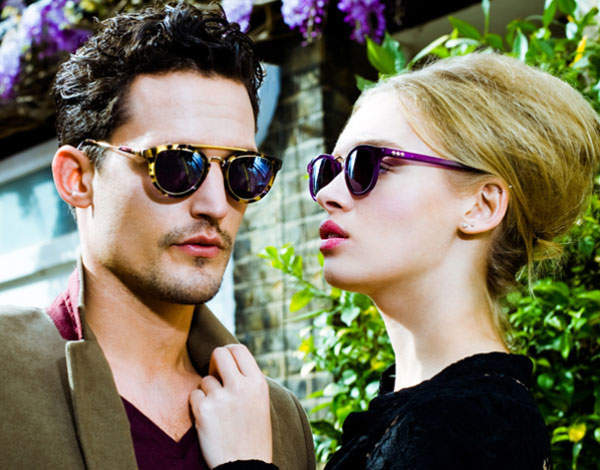 For those squinting as the summer sun shines bright, glaring off the Walkie Talkie or reflecting off shop fronts and speeding cars, look no further. London has in its streets and design centres some of the best eyewear brands, and as another heatwave, with accompanying rays, rolls over London, there isn't a better time to treat yourself. All it requires is a little focus and potentially the right prescription.
Glasses are a facet of your personality and a creative outlet in the same way as clothing, jewellery and watches. Eyewear is identity.
First up on an optical journey through London is Black Eyewear, located on Goodge Street. Perfect for the media man with his neatly cut oversized beard, high buttoned shirt and funky brogues, the shop features dozens of styles and most importantly, is bang on trend, offering colours galore. Fancy channelling your inner Elton? Check out the 'Artie' frame in Sherry Red, Transparent Blue or Shiny Marmalade.
Hit any decent eyewear store and check out luxury staple Ray-Ban's newest range of specs, covered in soft-touch velvet. Named 'Chris' and 'Erika', they feature a texturised frame adding something unique to traditional sunglasses; they are ill-advised, however, if you are afflicted with the occasional sweaty face.
If you can stomach the tourist trail and a few tight back alleys, heading to General Eyewear in Stables Market in Camden is an absolute must. Vintage frames litter dozens of cabinets, displaying classic looks from yesteryear, and despite the high price points on many of the frames, they are worth a browse for something unique as you hit Sardinia or Ibiza this August.
Lots of frames this summer have been playing on that all too familiar Instagram 'Sepia' effect. (It's amazing how social media trends impact niche markets like luxury eyewear to such an extent.)
If you are the sort of person that likes to be en vogue and doesn't mind supporting the post-reality-TV career of 'Made in Chelsea' lothario Hugo Taylor, take a glance at Taylor Morris Eyewear, who display a variety of re-worked classics now being paraded up and down the King's Road.
Finally, for a truly hidden gem, make the trip up north to Belsize Park to check out The Eye Place. Kitted out in dark wood and giving off a subtly industrial vibe, the store is home to a treasure trove of frames, designers and hard to find specs.
With so many options, there is no need to be screwing your eyes up on your way to your destination. Grab some of London's coolest home-grown frames and your pained blinking will be gone.