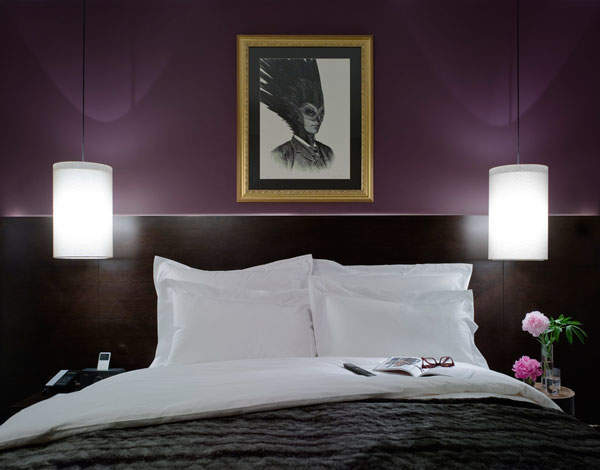 You know you're staying somewhere different when you slide open a drawer above the backlit mini-bar in your hotel room and find a handmade hangover kit in its own dinky pouch. Luxuriously presented and humorously packaged, it contained enough pills and nutrients to fill a chemist. Perfect for the morning after.
Laying invitingly beside was a soft cloth bag bursting with organic lubricant, condoms and an erotic feather. How cheeky. Fingering through the goodies, I wondered as I stood in the heart of Moorgate, was the South Place Hotel meant simply for business?
Business hotels can often be condescending to the corporate traveller – function over fashion, utility over experience, simplicity over sensuality. Many lack imagination, and given the quick turnaround of guests, require few amenities and soft touches that add personality to an overnight stay. The executive business traveller needs to eat, shower and sleep, all in an unfussy, premium package, right?
Not so, says South Place Hotel, a beacon of life, art and high-end design. For the business traveller, this hotel is a breath of fresh air. With a lobby full of eclectically curated modern art and a bar buzzing with life, how refreshing it must be to roll out of a sterile corporate environment into a relaxed, dark, sensual playhouse.
The brooding suite interior was bedecked with luxury skins and throws, leather cladding, B&O audiovisuals and a late-night-party-sized bathtub. Just a few moments in the room and you understand why the hangover and naughtiness kits were provided. The City has never been this sexy.
Up a flew floors on the roof was gastro-orgasmic cuisine at the Michelin-starred Angler. Smoked salmon with beetroot jelly and horseradish cream, followed by a delectable risotto of artichoke, thyme, aged port and pickled girolles were one of the highlights of the evening. The food was so flavoursome and original it felt a shame the restaurant is mostly wasted on corporate diners during the week.
It was fantastic to enjoy an evening high up as London hustled and bustled below. Sommelier Diego lavished guests with an original and diverse array of France's finest vintages, and by the end of the night, you almost forgot you were sitting on a glass-wrapped rooftop in the heart of the capital. Moving outside with heaters and cashmere rugs, you can imagine many a banker sitting smugly as the painful, halogen lamps of the surrounding offices burn bright into the night.
Every Friday a different guest DJ comes to spin the decks at the hotels bar, and South Place have just launched a private members' club, SPIES. With Christmas approaching, they're about to set up a champagne-fuelled retro hot tub in the secret garden, channelling the après-ski vibe of Verbier with a winter wonderland themed terrace.
With so much fun in the heart of the city, who actually wants to work?
South Place Hotel, 3 South Place, London EC2M 2AF
southplacehotel.com