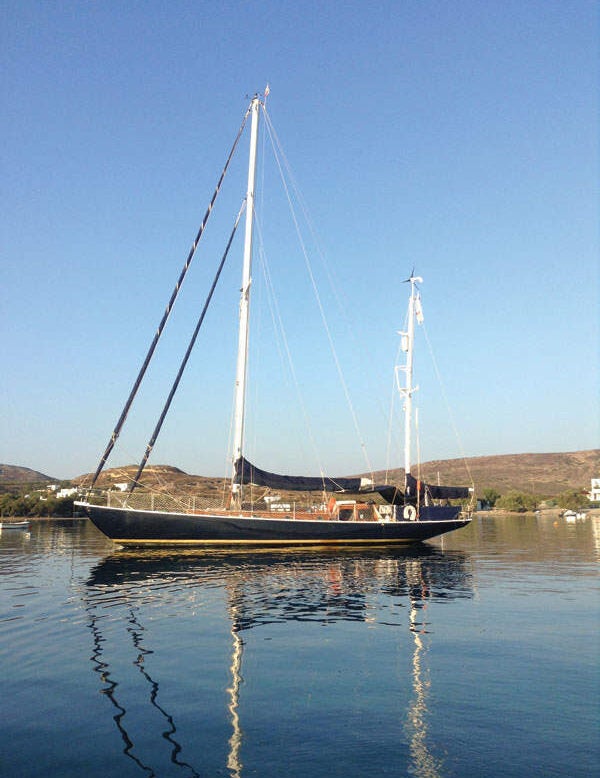 One of my earliest memories is of fear — upon being bundled into the forepeak of a tossing boat. I was frightened not by the rough sea, but by my mother's palpable fear. And so I grew up on and with boats: a cadet prone to sinking, a capsize in front of the Yarmouth ferry, junior fortnights, coming second last in the public schools championships (we failed to make the morning races, better only than a girls' team that failed to make any races) and a very twitchy Fireball sailing dinghy.
Family holidays were spent cruising up and down both sides of the English Channel to Cornwall. It took us a surprisingly long time to work out it was better for mother to travel by land and for the rest to take a pedigree sailing boat, rather than any of the motorised or catamaran compromises we tried. One major benefit was that working a boat with a common purpose (and interest in survival) proved to be a good source of father-and-son bonding.
I bought a classic day-racer in Cornwall but tried to avoid owning a yacht. I was lucky to be able do some deliveries for my brother covering Brittany, Ireland, Scotland, Holland, Denmark, Russia and Finland, free of ownership responsibilities. Then my resolve cracked after competing in the classics regattas in Cannes and St Tropez, where many of the most beautiful boats still sailing come together. Just as I was wondering how best to occupy a long sabbatical, I fell in love with a spectacular yacht passing by Cornwall.
Cape Horn was built in steel by De Vries Lentsch in Holland in 1949. I question who had the money to build a gentleman's yacht straight after the war, but the perfect 50ft steel ketch appeared to be within my reach (pictured below) — except she proved hard to track down as she had moved on to Scotland, and it took time to persuade the owners to part with her. The deal was finally done in September 2008, just as large banks were crashing into taxpayers' hands.
In the following five seasons she has sailed to the top of the outer Hebrides and down to Cornwall, to Malta via lots of recession-hit periphery Europe, to Greece via Croatia, Montenegro and Albania, and around many Aegean islands to and from Turkey.
I have enjoyed the company of many talented friends (and friends of friends) on board, and they have had some memorable experiences. I started sailing with a crew of four, but I found that three are enough. The sister of a friend quickly emerged as the natural first mate that year, and later became wife and mother of our son and heir/cabin boy. The sabbatical was well worthwhile.
Before the steam train, seas and rivers were our main thoroughfares, so much of mercantile Europe's history revolved around the Mediterranean, and cruising it is an effective way to understand it better. Likewise seeing the poverty in Portugal, the over-building in Spain and the attitudes in Corfu are much more vivid than reading about European economics from a desk in London.
The obvious benefit of the crisis is that, in the eastern Med, you can call a qualified marine engineer to the boat and after 40 minutes of fixing something the bill comes to €20. The less obvious thing about driving a small yacht is that it is a good deal harder than running a small bank. I have had to learn plumbing, electrical skills and mechanical engineering and to turn my hand to all manner of troubleshooting in order to stay afloat. But there's always a problem you can't solve; happily, fellow yachtsmen are remarkably generous at helping one another fix our messes.
We have had a gale in Biscay (happily a following wind), various gales at anchor or moored and a strong gale off Albania. The times I have been most frightened have been not at sea but in, or approaching, harbour. The only collision we have had was stone-cold sober at 11am on a normal day in Cork. As luck would have it we hit a brand new, stationary boat, but the oddities of insurance are such that my no-claims bonus was unaffected. Now, with a baby on board, we are more cautious.
We are not always sober, rarely life-jacketed and always well fed. One benefit of the lifestyle is that I invariably lose weight and gain strength (no electric winches). Another benefit is that decent breaks from work, while always in touch, yield greater insights than the normal working pattern — and relieve my colleagues of my frustrated sailing energies. Finally, although the sailing is fun, it is always a small relief to return to the comfort zone, the tides and currents of the bank.