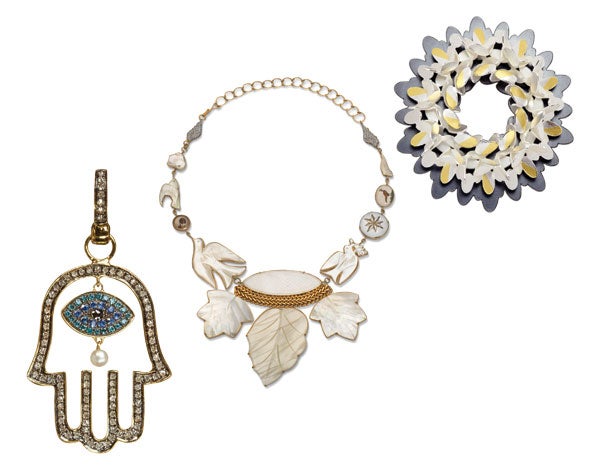 All through history, jewellery has been much, much more than the sum of its material parts.
The ancient Greeks and Romans thought diamonds were tears of the gods or splinters from falling stars. All the ancient lapidaries were transfixed by stones and their mysterious power, and in ancient times they were often worn as protection against dark forces.
Amulets and talismans were part of every jeweller's armour. It was Pliny who wrote that 'for many in no department does Nature arouse more wonder… For very many people a single precious stone can provide a matchless and perfect view of Nature.'
Today's young jewellers are often just as captivated by the beauty, wonder and cultural associations of the stones and precious materials as they are by their intrinsic worth.
Though usually lacking the superstition that often surrounded the earliest lapidaries, they love to create pieces that have meaning, that tell a story. Looking, for instance, at some of the new pieces that were on show at the annual Gold- smiths' Fair in London (it ran from 22 September to 4 October), one quickly understands that nothing is exactly as it seems.
Grainne Morton's charming Birds necklace (£850, right) is as pretty a piece as you could hope to see, but for Morton it is more than an adornment. Though it is made of mother of pearl and 18-carat gold-plated silver, she sees her work as being almost a cultural artefact. She is much influenced by traditional crafts, folklore and fairy tales, and many of her pieces incorporate parts from 'found' items, which she then teams up with more precious materials.
Misun Won is inspired by traditional Korean patch-worked wrapping cloth (known as jogakbo) and its basis in fractal geometry. Drawing on this cultural history, she creates a Circular Ovals brooch (made from 24-carat gold foil and oxidised silver; £840, left) and describes her meditative making process as 'an act of prayer for the wearer'. She tries to imbue her jewellery with auspicious qualities in exactly the same way as ancient Korean housewives did when they made jogakbo for their families.
For Alan Craxford, jewellery is deeply connected to ancient alchemy. He seeks to transform basic materials into objects of great beauty. His Hidden Gold pendant (£6,000), for instance, made from hand-engraved silver, natural heated diamonds and grey rhodium, he sees as holding almost magical powers, a token of great fortune.
These, then, are the way some of our most avant-garde and innovative young jewellers are thinking, but even grand designers for the most famous houses now realise that most of today's customers like to think that there's something more to their gems than mere material worth.
Coco Chanel, for instance, was very superstitious, as well as courageous and innovative, and almost all her maison's jewellery ranges take the codes that Mlle Chanel herself so loved — the cosmos, the constellations, the stars, the moon — and explore them in different ways.
This summer, Chanel called its latest collection the Talisman range, and Benjamin Comar, its international fine jewellery director, says it was designed to do more than just look pretty. 'We wanted to convey this sense of empowerment,' he told me. To this end, the house came up with some ravishing pearl necklaces, in particular the Charismatic, a very long necklace interspersed with baby pearls and finished off with a pink and blue sapphire (€245,000), as well as an arresting topaz ring inspired by one that Mlle Chanel herself used to wear.
Jewellery in ancient times was often used to ward off the 'evil eye', and modern jewellers have picked up on this theme.
Cartier, which sees its jewellery as 'precious alchemy', has a collection named Amulette de Cartier: a series of personal charms or talismans all made from mother of pearl, onyx, yellow gold and pavé diamonds. They come in varied forms, as pendants, charms, stackable bracelets and sautoirs (necklaces with a suspended tassel or other decoration), and range in price from £1,290 to £55,500.
Annoushka Ducas has a whole series of amulets which are inspired by traditional Russian fairy tales. Her Mythology Cockerel amulet (£1,900) comes as a pendant in 18-carat gold and was inspired by a tale of a golden cockerel which kept watch over the Tsar's lands, while the Hand of Fatima amulet (£1,800, above) is a powerful protective symbol believed to have been derived from the Phoenicians.
The Kokku brand, founded by Andrea (who is Sardinian) and Ansula (who hails from Sri Lanka), is named after a Sardinian amulet that is rumoured to protect infants against the evil eye. They use recycled 18-carat gold to make delicate filigree pieces, of which the Fedele rings come in a variety of sizes to be collected and worn separately or stacked. Prices start at £308 and go on up to £606 for the fattest of them.
Van Cleef & Arpels always likes to tell a story, and this year's creations are inspired by the Voyages Extraordinaires of Jules Verne. They have taken their cue from four of his key novels: Five Weeks in a Balloon, which evokes the African savannah; Twenty Thousand Leagues under the Sea, a search for the mysterious inhabitants of the ocean depths; From the Earth to the Moon, a journey to the heart of the galaxy; and Journey to the Centre of the Earth, which explores the marvels that lie beneath our feet.
Not only does this tie the whole collection together, giving it a theme and a focus, but it also results in some extraordinarily imaginative pieces. Whales are fashioned out of sapphires and diamonds, elephants out of diamonds, and a monkey made of diamonds hovers round a great big topaz. As Van Cleef & Arpels points out, it has placed the idea of 'the journey centre stage: the journey becomes a guiding principle and an escape from mundane reality'.
Bulgari, deeply rooted in Rome, also sees its jewellery as being much much more than pretty gewgaws — they are almost like cultural icons carrying the codes of that ancient city. Echoes of its architecture, mosaics, streets, bridges and ceilings can all be seen in the rings and the necklaces, the pendants and the brooches. The domes of its cathedrals and churches are replicated in the cabochon gems; the travertine junctions of the pavements inspired the celebrated Parentesi motif; and it was Roman inscriptions that were behind the lettering of the BVLGARI logo.
The topiary of Roman gardens is reflected in many of Bulgari's most sumptuous brooches, while the octagon — found in the Baptistery of Saint John Lateran and the courtyard of the Pope's Villa Belvedere in the Vatican — makes a regular appearance in its collections. The ellipses it uses in many of the stones for necklaces and rings were influenced by the changes of the 17th century, when architects such as Francesco Borromini and sculptors such as Gian Lorenzo Bernini moved away from classical circular temples and began to devise other shapes.
Dipping into the jewellery box will never seem quite the same again.
SAY CHEESE!
Bulgari, as we've seen, is one of the grandest names in haute joaillerie. In November, Bulgari has a pop-up shop at Harrods where there will be not only the usual splendid jewels but (more importantly) a little fun along the way.
Pop into its VIP lounge (email bulgari@harrods.com) on any Saturday in November and a portrait photographer will take pictures of customers wearing its finest jewels; Bulgari will give you the photo as a present.
And if you're in the mood to buy, there will be some limited-edition pieces to savour — most lust-worthy is the Serpenti Forever handbag in grass-green crocodile with a clasp of pavé diamonds set in 18-carat yellow gold (an eye-watering £105,000).
More affordable is the Diva pendant made from malachite and set in 18-carat pink gold with pavé diamonds (£3,150).