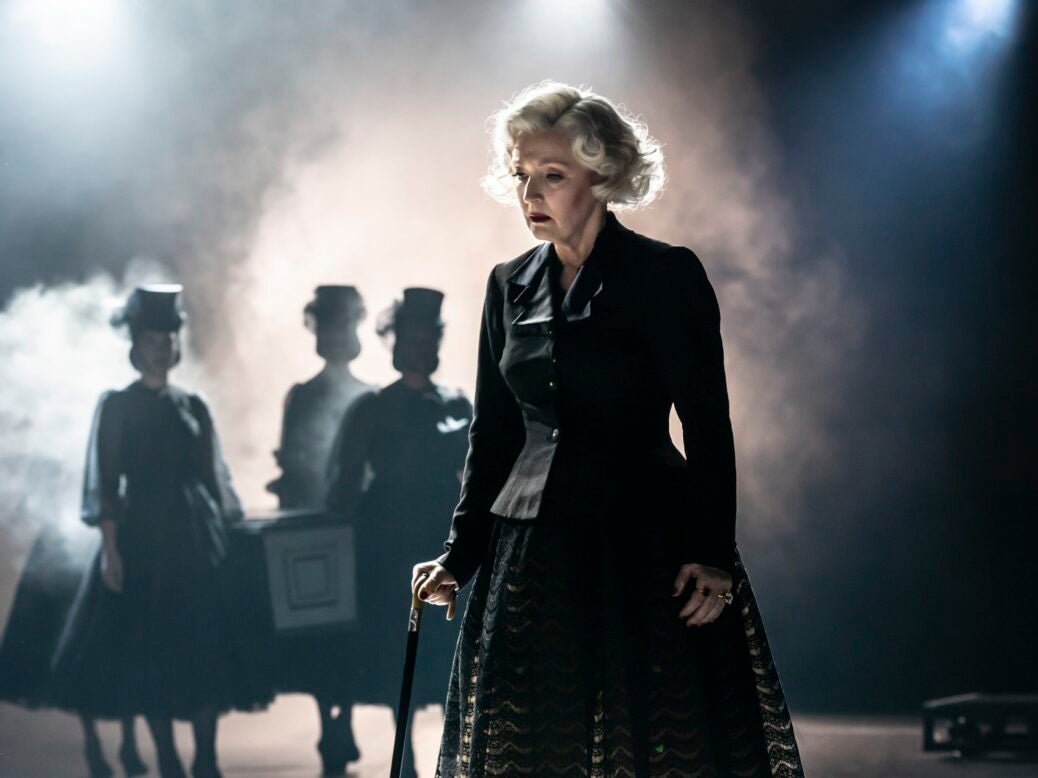 Tony Kushner's latest at the national theatre a scathingly powerful reflection of society and the influence that money creates, writes Laura Plumley
Express trains rattle through the dilapidated, down-at-heel town of Slurry in New York State. Grime and hopelessness hang over the opening scene of Friedrich Dürrenmatt's The Visit. The new adaptation by the Pulitzer Prize-winning Tony Kushner has just opened at the Olivier Theatre.
The stage setting by Vicki Mortimer evokes the death of post-war towns in the US where townsfolk didn't have two cents to rub together. This is the setting for the 'love' affair between Claire Zachanassian – now the world's richest woman – played by a magnificently malign Lesley Manville and Albert Ill, played by a superbly blustering Hugo Weaving. The cast is large and strong, and the two leads are captivating.
The adaptation has been developed into a Greek tragedy of sorts, and although long (more than three hours), the narrative speeds like an arrow towards its awful, inevitable ending once the course has been set.
Claire feels she has been wronged by the townsfolk of Slurry throughout her formative years there, and in particular, by Alfred Ill.
After impregnating her as a teenager, he refused to acknowledge paternity, ruining her good name. The resulting little girl died as an infant but Claire has been scarred for life and returns to seek revenge.
The star of this piece is undoubtedly Manville, whose magnetic performance as Claire arouses both fear and pity in the audience. Manville seamlessly merges steely determination and ruthlessness with vulnerability and pain to create an unstoppable force of a character.
Claire's appearance greatly adds to the effectiveness of this characterisation. Her immaculately constructed outfits – the ornate silver prosthetic legs and bejewelled false left hand add a delicious macabre touch – and her sweeping white bob make her seem like a cross between Marilyn Monroe and Miranda Priestly.
By hook or crook, she has become the wealthiest woman in the world, weaving her way strategically through various husbands in order to make her fortune. But she is the devil incarnate when she proposes her Faustian deal of a billion dollars for the life of Alfred Ill to the people of Slurry.
They cannot resist and she knows that they won't. From the moment she and her money enter the town, Claire has complete control over it, like the Fates in a Greek tragedy. Her godlike status is constantly acknowledged and it's represented particularly effectively in the scene where, elevated on a platform metres above the main stage, she calmly watches the chaos unfurl below.
This play emphatically reinforces the saying that 'everyone has their price', and, while at times unsubtle in its aims, it is nonetheless a scathingly powerful reflection of society and the influence that money creates.
The Visit is on at the National Theatre until 13th May
Images © Johan Persson
Read more