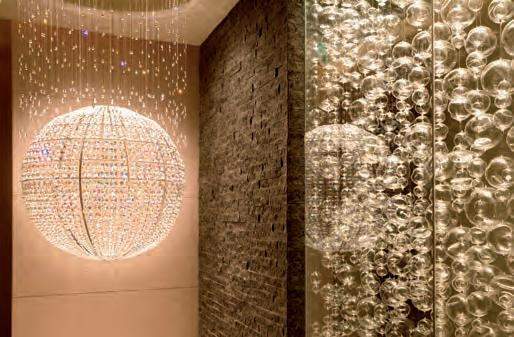 The St. Regis Singapore is a five-star luxury retreat at the heart of the shopping and business district of the city state. It may be as shiny and modern as tomorrow on the exterior, but inside it is the epitome of an age of elegance with its art deco-style rooms, vast chandeliers, sumptuous sofas and one of the finest private art collections in the area. More than 70 pictures and culptures of museum standard are placed throughout the building highlighting works from Picasso, Chagall and Miró among contemporary Asian artists and sculptors such as Georgette Chen and Li Chen.
Throughout the rooms and suites and the three restaurants, the service is exceptional. In fact the standard of service even starts at the airport, where guests are met by one of a fleet of bronze Bentleys to take them to the hotel. The Remède Spa, which is the first of its kind outside the US, comes with seven treatment rooms, a eucalyptus steam chamber, an aqua reflexology path and a cedarwood sauna, as well as its own spa garden. Treatments are accompanied by tea rituals, champagne if so desired and chocolates. There is also a tropical spa pool and indoor tennis.
WHO
Travellers and tourists breaking longer journeys with a couple of days to enjoy the sights, sounds and tastes of Singapore. Business travelers wishing to refresh and revive before or after meetings, couples on short breaks from nearby Kuala Lumpur, Bangkok and even further afield from Australia and the United States.
WHEN
Almost on the equator, Singapore has a tropical climate with temperatures mostly hovering in the thirties for most of the year. There are heavy showers in the evening from March to May, but there really isn't a dry season. Tropical showers, however, rarely last for long.
HAVE
The philosophy of the Remède Spa understands that no two faces or bodies are alike, so each treatment is customised to the individual, and there is a wide choice of envelopments, massages, scrubs and facials that use Laboratorie Remède or Dr Babor products, both high-performance skincare lines. The latter has had extensive clinical tests in cooperation with dermatologists and cosmetic surgeons to help with skin rejuvenation and regeneration. Water and steam play an important part in the treatments available here, with a number of bathing rituals involving either warm scented milk or Dead Sea salt waters. In the Oriental hamam, a scrub includes olive, eucalyptus and black soap. Signature treatments here include a warm Jade stone massage, a cooling Jade facial and a newly developed Definitive men's facial, which includes a fruit acid peeling followed by deep cleansing and nourishing massage. There is also a Pedi:Mani:Cure Studio by Bastien Gonzalez, where magic is made and health returns to feet and hands.
DO
Make sure you see the hotel's own art collection (one of Asia's largest in private hands) before you leave, but in the meantime the Botanic Gardens are almost next door and worth a visit, as are all the retail revelations of Orchard Road and its myriad of shopping malls, just minutes away. More than anything Singapore is renowned for its food — Chinese, Indian, Malay and their very own cuisine, Nonya, all of which are worth investigating — after which you may need a detox at the spa, or spend some time in the fitness centre.
BEST
For men, it has to be the new Definitive Men's Facial, which helps to remove all the damage that modernday travel, air conditioning, traffic fumes and so on hasve visited on the skin. Otherwise a Bastien Gonzalez holistic pedicure not only revives the feet, but they will look wonderful afterwards too. Follow that up with the Warm Jade Stone Massage, which will relieve any aching muscles and accompanying tension.