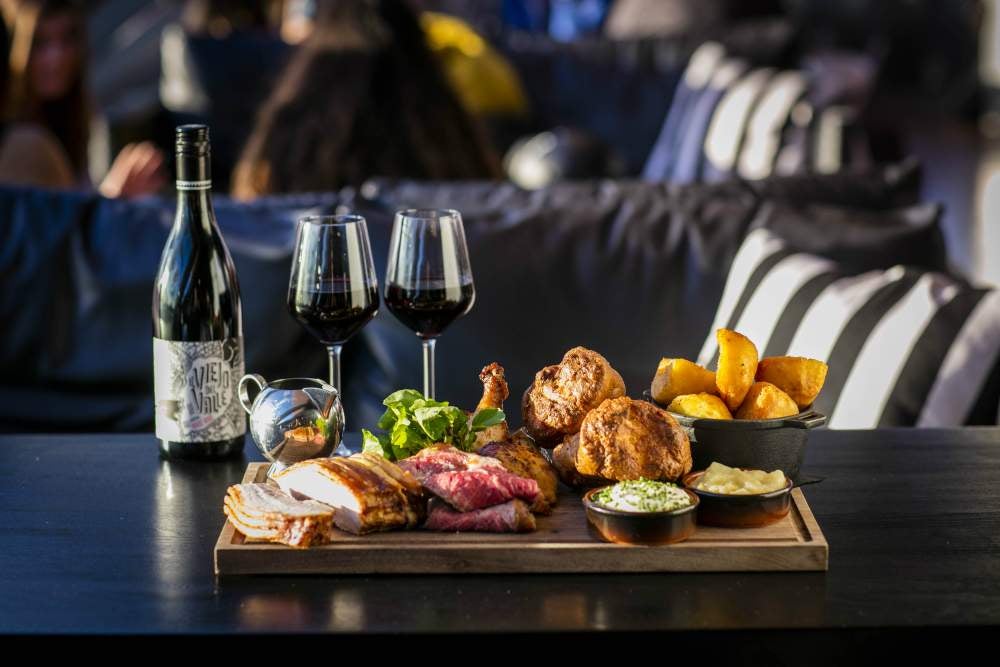 Sarah Bonfield visits Madison and finds the perfect classic Sunday roast paired with beautiful panoramic city views.
Making our way through a grey London on a Sunday afternoon almost seemed wrong. Shouldn't I have been tucked away at home, tea in hand, the TV on, waiting for Monday morning? Instead, I head up to the sixth floor roof terrace of One New Change where a roast dinner at Madison is waiting for us.
Madison looks out through slanted glass windows straight on to the cupola of St Paul's. With a panoramic view of the city – I'm reminded of how charming London can be.
Escorted straight to our seats – next to a raucous family no less – we begin to assess our surroundings. Sleek black leather sofas and chairs adorn the room with exposed filament light bulbs. Classic and simple, much like the Soul Sunday menu on offer.
For starters I opted for the butternut squash soup with a blue cheese beignet. Personally, soup can be a hit or miss starter but the beignet enticed me and it did not disappoint. It gave the bland butternut squash some additional flavour and a welcomed texture that provided the illusion of a home cooked, hearty meal. My companion decided on the smoked ham hock and pigs trotter fritter – I'm assured it's nicer than it sounds. Served with carrot puree, pickled carrots and roasted oats, the plate was scraped clean, and not thrown on the floor like the children at the table next to us.
To accompany our main Sunday roast beef, my companion and I share a bottle of Nero d'Avola – Sicily's most important red wine grape. Compared to a New World Shiraz, the sweet plum flavours complemented the tender meat, crispy potatoes and Yorkshire pudding the size of the plate. Madison really does achieve a deliciously indulgent roast dinner.
Trying to ignore the family now attempting to compose the children – dessert arrives to save the day. We order sticky toffee pudding and the chocolate fondant to share. Sweet, but by no means sickly, this is the highlight of the meal.
After thanking the staff and struggling to stand, we escape the chaotic table next to us and make our way outside to look at the sun setting over St Pauls. I will definitely be back – just hopefully sat elsewhere.
Sarah Bonfield is Editorial Manager at Spear's