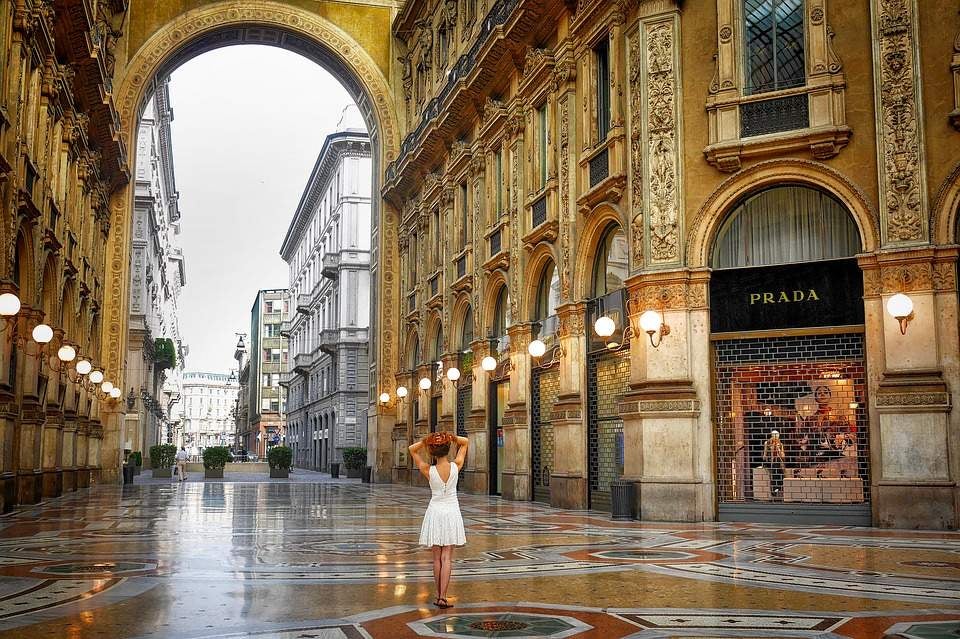 Italy's northern powerhouse offers a pleasing blend of history and modernity, writes Sarah Bonfield
While much of Italy's charm is rooted in its history and rustic ambience, Milan – Italy's second city with a population
of 3.3 million – is just the opposite. A northern powerhouse in fashion, finance and football, this city is more comparable to London and Paris, but with the Italian flair.
This is apparent before we arrive at our hotel and take comfort in the Mandarin Oriental's refreshing air-conditioned lobby. Just steps from La Scala, the hotel spans four elegant 18th-century buildings to combine a chic Milanese design with subtle Eastern details.
Our room is not ready, so we are upgraded. Grinning, we wait in the serene Bar & Bistrot courtyard, where locals and tourists take refuge from the active streets for a Milanese aperitivo. The tradition is a great excuse for a pre-dinner drink.
Early evening in Milan is therefore the best time of day – we make haste. The Brera and Navigli districts host an array of bars and restaurants filled with people enjoying cocktails and snacking on Italian delicacies – olives, mini-pizzas, meats and cheeses. Brera is sophisticated – it's often compared to the streets of Montmartre. With cobbled streets and narrow alleyways, romance and art ooze as you roam every charming corner. We stop in a secluded bar for an Aperol spritz and wonder why the aperitivo isn't a tradition in London.
A drink and a ten-minute walk later, it becomes apparent that Navigli is very different. Dating back to 1179, it has five canals that were constructed to connect Milan to the nearby lakes. When Leonardo da Vinci came to the city to work on The Last Supper, he also helped design the canal locks for the Vaviglio di San Marco basin. Lining these canals are trendy, young Milanese workers who party long into the night – something we join in with, and regret the next morning.
Now, you simply cannot visit this fashion metropolis without indulging in a shopping spree. Connecting the Duomo and the Teatro alla Scala, Galleria Vittorio Emanuele II, built in 1865, is Italy's oldest shopping arcade, covered by an impressive arching glass and cast iron roof. Down the road is Via Montenapoleone – the city's luxury shopping mecca and reputed to be Europe's most expensive shopping street. Prada, Gucci, Louis Vuitton and Dolce & Gabbana… as you would expect, it's all here.
Also not to be missed is the climb to the 70m-high terrace of the breathtaking Duomo di Milano. With its pinnacles, spires, statues and gargoyles, the remarkable sight from below is even more mind-blowing up close. On a clear day, beyond the urban lands of Milan, you can see the Alps glinting in the distance.
For a break from all the walking; the sophisticated Armani Hotel, in the heart of fashion district Quadrilatero della Moda, is the perfect spot for dinner. Michelin-stared and seven floors high, it looks out over the city, offering a panoramic view of the Duomo – perfect for the setting sun. It showcases contemporary Italian cuisine with an international twist – do have the slow-cooked lamb served with creamy Garfagnana spelt, carrot and ginger. The creamy risotto with saffron pistils is good too.
Milan's contrast of history and modernity is infectious and calls for sensible shoes to explore all. Unfortunately, my friend didn't get the memo, and with feet torn to shreds and sunburned shoulders we ended our weekend at the hotel's spa with a rejuvenating full body massage and a nap by the fragrant pool. In a city filled with luxury, it would be rude not to.
Sarah Bonfield is editorial manager at Spear's