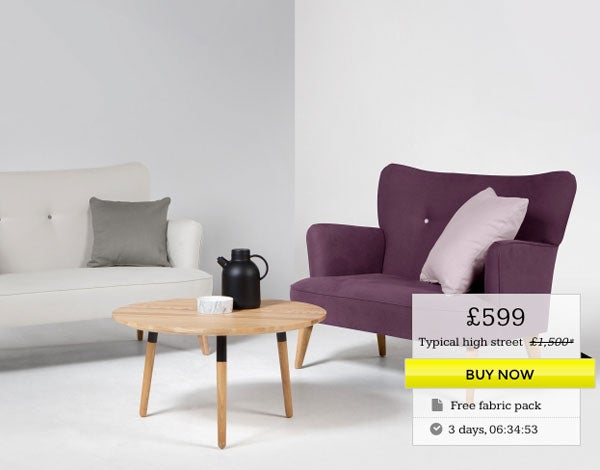 Interior design has undergone a digital revolution over the past couple of years with the advent of numerous new online retailers promising youthful, cutting-edge design. They are taking the fight to traditional homeware and lifestyle brands and are successfully offering Generation Y the aspirational lifestyles they crave at prices they can afford.
From Architectural Digest to ApartmentTherapy.com, House & Garden to houzz.com, print and digital, Londoners are constantly on the lookout for interiors that make them feel current, comfortable and – especially in their first homes – help them stand out from overused standard IKEA-esque furniture. With time a scarce resource and careers to forge, the capital's design-forward crowd are heading online in droves and, as a result, are changing living rooms forever.
What makes some of these new entrants into the interior and homeware industry so successful is the combination of affordability, breadth of style, discounts and 'limited-run' offerings.
SwoonEditions.com offers an eclectic ultra-current range of industrial-chic items, from dining tables to storage trunks. What adds to the cool factor is that each item has a limited run, sometimes as low as single-digit editions. If you were to purchase their on-trend Babar Mango Wood Trunk for £299, you would be one of only twenty lucky owners, giving the purchaser a distinct, rare and affordable piece of furniture.
By becoming one of their 'insiders' and getting weekly email blasts about the newest trends, SwoonEditions are helping to turn furniture into fashion, and simultaneously allowing a consumer to be part of something exclusive. Let's face it: everybody likes to be made to feel special.
One of the largest online retailers of bespoke affordable furniture is made.com, who market another unique aspect of interior design. Rather than pay retailers' and importers' mark-ups, they connect consumers with designers and manufacturers directly, allowing the public to gain access to styles and items that would otherwise be unaffordable.
Its recently opened flagship Soho store, set up like a trendy Argos, allows customers to browse the hundreds of furniture options currently on offer and, with new items added weekly, the range remains fresh and relevant.
On a similar platform, notonthehighstreet.com gives an e-commerce portal to small retailers. Local boutiques and handcraft specialists are given the opportunity to offer their wares to a much larger audience and, in turn, the site takes a small commission for the artisanal back-alley folk they use to source their wares.
Other retailers like monoqi.co.uk pride themselves on sourcing the best of the world's design and then offering their findings to their network at time-limited discounts. What makes Monoqi fun is that it combines furniture with the accoutrements needed to 'dress up' side tables, with barware, art and lifestyle accessories.
For those looking to go online and upmarket, the high-end retailers have responded accordingly. amara.com and houseology.com both offer 'by room' services, where from the bed to the bedding, crockery to appliances, living spaces can be 'luxxed up', all from the comfort of that Timothy Oulton Chesterfield. And if you don't like it, they'll come and collect it. With so many online retailers competing for your living room, who needs to ever leave it?