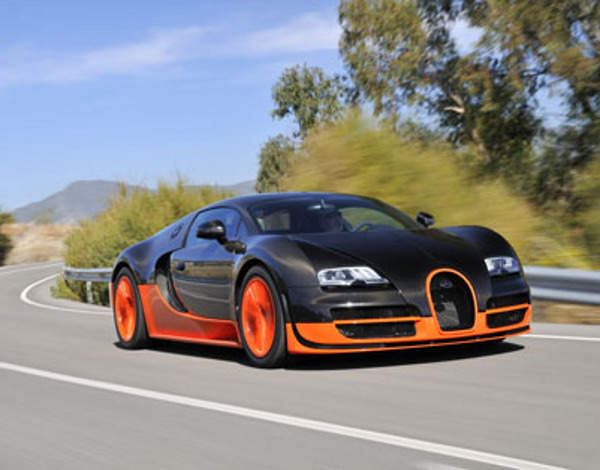 Author: Peter Matthews

Only a handful have been built each year ever since its inception in 2005, with the Volkswagen-produced sportscar owned by an elite club of a few hundred individuals across the globe. Not surprising, when you also factor in a base price of £1 million plus.
Despite some controversy with Hennessey claiming in 2013 that its Venom GT was the fastest car, the Super Sport version of the Veyron has recently been re-certified as the speediest production motor by Guinness World Records, with an astonishing top speed of 431kph.
Meanwhile, the 'standard' Bugatti Veyron EB 16.4 boasts an incredible 1,001 horsepower and an ability to accelerate from 0 to 100 kph in just 2.46 seconds. Impressive stats, we're sure you'll agree.
But it's not just speed that the world's wealthiest are attracted to; it's also the fact that a Veyron is so tricky to lay your hands on, with a lengthy waiting list – even for some of the world's most affluent and powerful consumers.
The Bugatti brand has always been synonymous with exclusivity ever since it was established in 1909, producing just 8,000 cars until the company initially met its end half a decade later.
Volkswagen bought the rights to the name in 1998, with plans to revive the glamorous brand, famous for its sports racing success throughout the Twenties and Thirties, and the first Bugatti Veyron prototype was completed in 2003.
Aside from its speed and elusive qualities however, there is another factor which sets a Bugatti Veyron apart from other supercars: its iconic look.
The company's founder, the legendary Ettore Bugatti, once said: 'Rembrandt wanted to be an engineer and build locomotives. I wanted to be an artist, but I was no more gifted to art than he was for mechanics.'
The Bugatti Veyron honours the brand's visual legacy with its bombastic appearance and prospective owners can even order bespoke versions of the supercar for an additional price. From a gold chrome exterior to a spraypainted finish, with the Bugatti it seems, anything is possible – no matter gaudy some personal designs might appear to some.
Various special editions and versions of the car have been launched through the years. In 2009, the Bugatti Veyron Grand Sport – a swish open-topped version of the super motor – entered the market. Similar to its parent car, the Vitesse version of the Grand Sport has been confirmed as the fastest street-legal roadster on earth and can reach an eye-watering top speed of 408.84 kph.
But enough about the car, what about its owners? To have a Bugatti Veyron you not only to be able to afford one; you also need the confidence to carry off driving this attention-grabbing auto with aplomb. From actors, to rappers to sporting stars, read on discover some of the Bugatti Veyron's highest profile advocates…
>