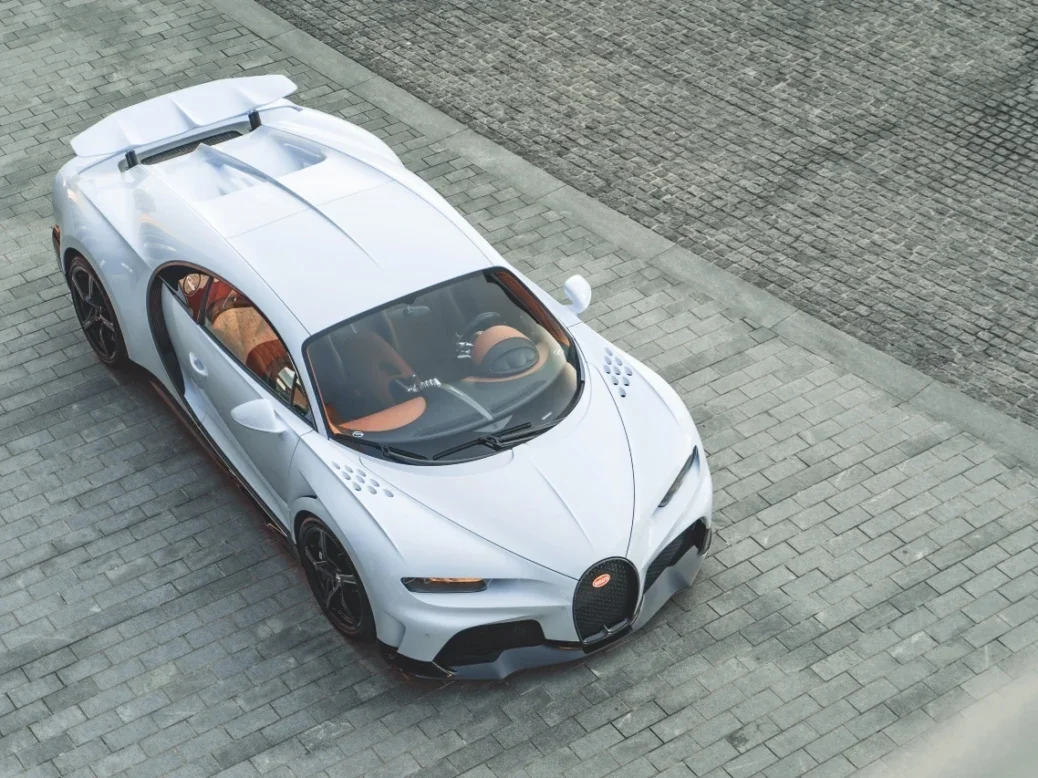 Even by Bugatti's high standards, the Chiron Super Sport stands out, moving from supercar to hypercar. Alec Marsh takes it for a spin
There's rarely a good moment in life to admit that you had to take four tests to get your driving licence. As I stand before the sculpted mass of the Bugatti Chiron Super Sport – yours for a cool €3.2 million 'plus local taxes' – which I'm about to test-drive, I realise that this is not one of them. 
In the 30 years since the last-but-one examiner seized the steering wheel midway through a roundabout and swore like Gavin Williamson looking for an upgrade at the Queen's funeral, I have owned four cars. The Bugatti Chiron hunched before me on the immaculate gravel outside the Bugatti château in Molsheim, Alsace, has more than three times as many horses as all of them put together.
Yet while I've test-driven lots of powerful cars, including several Audi R8s and the 200mph Bristol Fighter, the Chiron is not any old supercar. It's a genuine hypercar, as in hyperactive, and the distinction hasn't really occurred to me until this moment. Housed within the delectable exterior before me is an engine the size of a Mini Metro that can deliver an astonishing 1,600hp. It will get you from 0-60mph quicker than a fly can sneeze. 
From supercar to hypercar
The first thing you notice is the sound: at tick-over the Chiron – named after one of Bugatti's racing greats from the 1930s (and something of a ladies' man, too, apparently) – purrs like a boat.
As well it might: this is a carbon-fibre, aluminium and titanium tiger capable of 273mph – and that's electronically limited. (Get the key and you get it to 300mph.)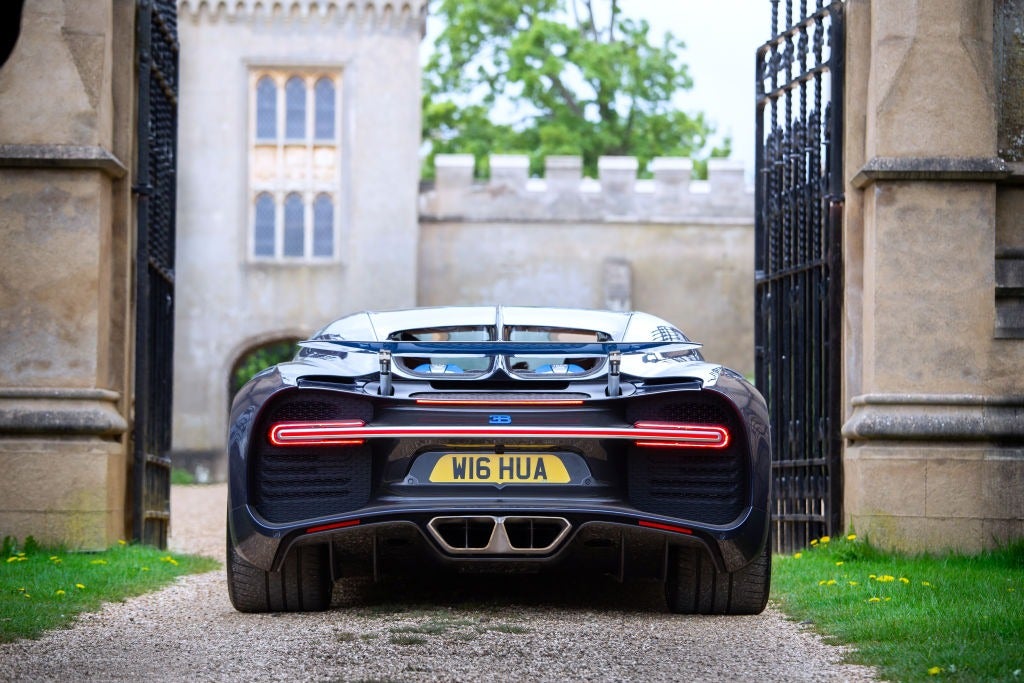 To show me what it can do is former Le Mans-winning racing driver Andy Wallace. We drive away and Andy talks me through the controls; the engine makes a magnificent sound, even with double-thickness glass in the windows.
Reaching an open stretch of road, he slows to a virtual walking pace, dabs the button to change down to first gear (eliciting delicious spits and roars from the Chiron), and casually floors it. 
I'm slammed back into the upholstery, my stomach pressing my spine. The soaring noise of the engine steps through the gears like a pianist working up the octaves. And it doesn't stop, as it's an impossible 8ft-wide Steinway. 
Quicker than an astronaut blinks, we are flying. It's terrifying, delighting… as my widening eyes zero in on the tiny digital speedo I see it register 219kph. Andy brakes.
I surge forward, braced by my seatbelt, and my stomach feels like it's passing through my mouth, or sternum. Suddenly we are crawling along. The really good news is I haven't thrown up. That braking sensation is what 2G feels like, says Andy.
The Chiron, meanwhile, will pull 1.5G while accelerating (so somewhere between plus 2 and minus 1.5 is where my gag reflex is). A single 1G is defined as the sensation you would feel in leaping from an aircraft and freefalling. 
Getting a taste of power
Andy throws me the keys: now I'm in the driving seat. I put my foot on the brake and press the 'engine' button, summoning the Kraken. Like a rookie lion tamer nudging open the gate, I touch the accelerator – hearing the first low growl – and we move off.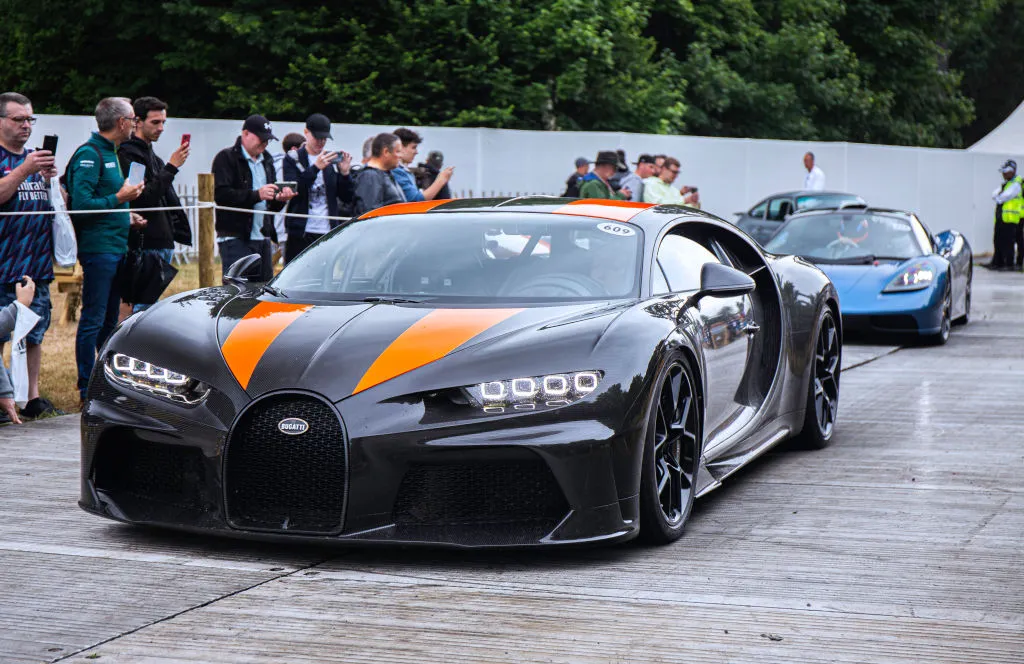 Turning from the car park I press a mite harder and the cry grows. Soon I'm navigating French roadworks, roundabouts and more – conscious of the Chiron's 211cm width – and then we come to a straight bit. Go on, says Andy, put your foot down.
There are grassy fields either side, and trees. Good visibility. I slow up, knock it down to first, and put my foot down – all the way to the floor. The roar unfolds, my head is jammed back and I stifle a 'whoop' like a kid on a rollercoaster.
The road ahead becomes a tunnel of reality outside of which nothing exists. Objects flash by as the tarmac vanishes beneath the bonnet. I daren't take my eyes off the road to look at the speedo. Meanwhile the car keeps accelerating, the power keeps coming.
What €3.2 million plus taxes feels like
But the ride is rock solid – the only thing shaking is my elbows. I brake. The Chiron decelerates fast, helped by wind brake at the tail. There's zero lateral movement and you almost feel the prow rising, like a Riva coming to a rest outside Harry's bar.
 

View this post on Instagram

 
We've gone from 40mph to 120mph and back again in under four seconds. And that's when the rush hits me. Let's do that again. And I do.
This, then, is what €3.2 million 'plus local taxes' buys you. It's more than a private rollercoaster, it's the definition of excess in car form.
I walk away from the Bugatti Chiron knowing at last what the Autobahn was invented for, and that any lingering ghosts of long ago driving tests have now been expunged.
Top image / Bugatti
Order your copy of The Spear's 500 2023 here.
More from Spear's: