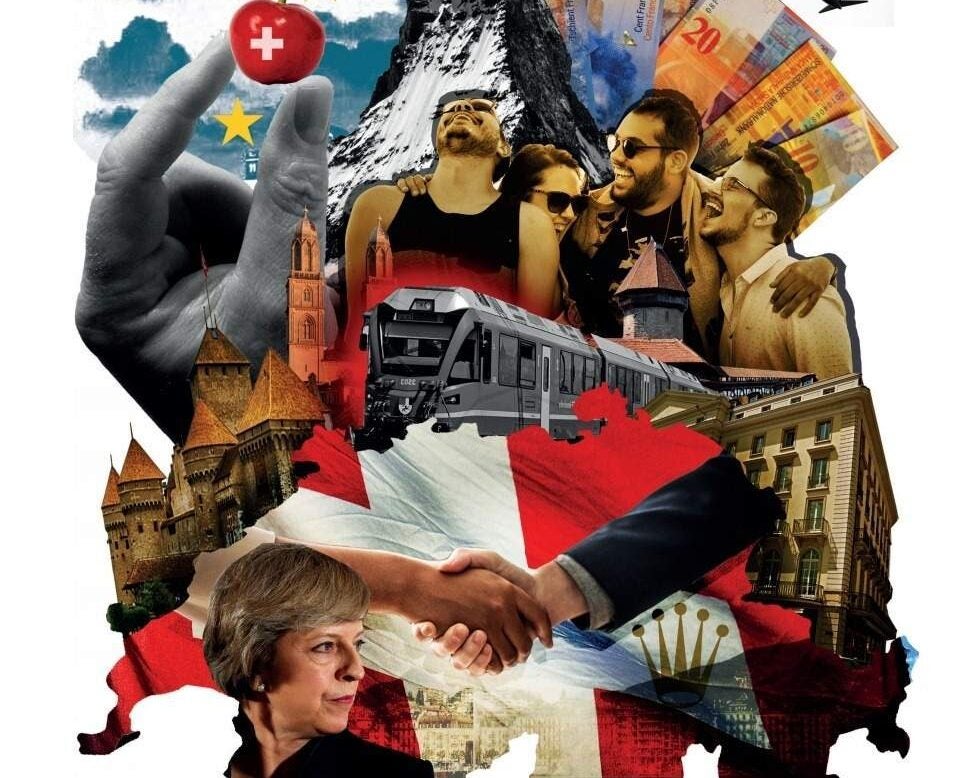 The UK doesn't have a monopoly on uncertainty: David Dawkins heads to Geneva to size up another European power at a crossroads in its relationship with the EU. 
'Switzerland sits in the heart of Europe,' says Lars Wagner, the well-travelled manager of the Mandarin Oriental Geneva over a mid-morning pot of tea. 'You can breakfast in Geneva, lunch in France and dine in Italy all in a single day.'
The hotel is fully booked with busy suits filing past into the queued taxis outside. There's a key Afghanistan summit in town, just one of the thousand upon thousand of meetings that the United Nations Office at Geneva hosts. Bearing folders and files, they carry themselves with importance, like members of the Swiss private client world, except for their nervous energy and occasionally undone shoelaces.
One man, obviously from the British delegation, struggles with an overburdened Tesco bag for life. The flurry of activity is part of what Wagner describes as Geneva's vital yet 'understated role' at the 'centre of Europe'. But Switzerland – a major European player but never a part of the European Union – has a problem, which has now forced a rethink of the Swiss relationship with Brussels.
In 2014, two years prior to the UK's own Brexit vote, the Swiss sent Europe a warning. A 'federal popular initiative' or referendum 'against mass immigration' sought to limit the free movement of people from EU member states. The vote was accepted by 50.3 per cent of voters. This mild-mannered European business centre seemingly has a problem. It is an issue increasingly knitted into both the major social and political themes consuming Europe, drawing inevitable likenesses among those looking at the misleadingly titled 'Swiss model' for Britain's own Brexit negotiations.
The current chapter of Switzerland's European opus begins in 1992, when the Swiss voted against joining the European Economic Area (EEA), encompassing the EU plus Iceland, Liechtenstein and Norway, again with 50.3 per cent of the vote. A rejection – yes – but the conversation continued and over the years a number of treaties – most notably Bilateral I (1999) and Bilateral II (2004) – allowed for the Swiss to adopt EU law and thus join the union's single market. Switzerland has a free trade agreement with the EU which gives it access to the single market for most, but not all of its industries.
However, and importantly regarding the UK, it does not have full access to the single market for its banking sector and other parts of the services sector. Although the Swiss relationship points to a degree of flexibility – or even 'cherry-picking' – the part missing from the 'Swiss model', banking and services, makes up around 80 per cent of the UK's economy.
Yet Switzerland at the very least offers hope to the UK that deals with the EU can be done, running contrary to former Greek finance minister Yanis Varoufakis's claim that Brexit negotiations are a non-starter. 'You do not negotiate with the EU because the EU does not negotiate with you,' Varoufakis says. Switzerland is proof that it often does.
Former Swiss state secretary for foreign affairs Michael Ambühl went toe-to-toe with Brussels for three years as part of the Bilateral II agreement, thrashing out Switzerland's accommodation over the sensitive subject of Schengen membership. How did they do it? 'I've heard it often claimed that the Swiss were cherrypicking. This is really wrong,' he tells Spear's. 'If it is an agreement, then by definition both sides have accepted the balance of pros and cons.'
He adds: 'The EU insists on "no cherry-picking". Fair enough. They were saying, "You cannot have market access for only the areas you are interested in; we must find a balanced result."
In particular you have to take the four freedoms [the free movement of goods, services, capital and persons within the EU]. All or nothing.' He warns: 'They knew of course that we have a certain scepticism vis-àvis the free movement of people. It was clear from them – you won't get a deal without the free movement of people.'
Ambühl adds: 'Every negotiator chooses the cherries. If you are a negotiator, being a cherry-picker is not necessarily a bad thing. It would be strange if the cherry-picker only picked the pips. It has to be a balance of cherries and pips. This is how you negotiate.'
Model Citizens
Having played a part in the development of what's become known over here as the 'Swiss model', Ambühl is keen to stress that if the UK is to learn from Switzerland it must accept that the Swiss 'way' is not a model like Norway's – it is an 'approach' to tackling a problem.
'The Norwegian model is a single, cohesive and given agreement which you could just sign and have a result,' he says. 'The so-called Swiss "model" is not really a model as such, but merely a path. That's why we call it in Switzerland the bilateral "way".'
He says Theresa May's Chequers plan 'has the same spirit. You start with goods and you add chapters and categories – this is the "Swiss way".' Why, then, did Switzerland reject the EU in 2014? After all, these are some of the world's happiest people, according to the UN's World Happiness report, having come top in 2015, second in 2016, fourth in 2017 and currently sitting in fifth place. So why reject the status quo?
'I'm not convinced that this was a clear ''anti-EU'' vote,' says Ambühl. 'In 2014 the issue was immigration or ''mass immigration''.' He points out that in one year Switzerland welcomed 80,000 migrants. 'That is like a medium-sized city like Lucerne arriving every year,' he says. 'If this was scaled to Germany, which is around ten times the size, you have 800,000 migrants arriving in a single year. If 800,000 migrants arrived in Germany in a single year you would have a problem. The same goes for the UK.'
For Switzerland, the worst-case scenario following on from the 2014 referendum against free movement of people is potentially grave, because it directly challenges the Bilateral I package. This package has seven agreements: free movement; trade barriers; agricultural products; public procurement; air transport; land transport; and research. These are all legally tied together. If Switzerland abandoned one agreement (ie free movement), then the other six would also fall.
'There is a legal article linking all of them together,' says Ambühl. 'Of course, the denunciation of this Bilateral I package would be a big blow to our relationship.'
Growing Gains
And that relationship seems to be working well for the Swiss. Over a lunch of steak and chips at Geneva's Cafe de Paris with Veronica Weisser, senior economist at UBS, I hear a very positive assessment of Switzerland's economic fundamentals. Growth was 3.2 per cent year-on-year in the first half of 2018, and core inflation remains low while wages per employee are on the increase.
While other countries struggle to end 'the era' of austerity, Switzerland boasts a current account surplus exceeding 12 per cent of GDP in 2018. The country is doing so well, says Weisser, that when it comes to the budget for the country's infrastructure, public bodies actually struggle to spend the money they have.
But is it all too good to be true? Francois Savary, CIO of investment management and consulting specialist Prime Partners, tells me something's not right. 'Amongst my friends there is an impression that everyone you know is so wealthy and going great. But then every time I go shopping I always ask the staff, "Are you selling a lot right now?" And they say, "No, it's terrible," And it's not just this season, but for the last 18 months.
'It puts a big question mark in my head because I cannot relate the economic numbers with the real retail economy – we all know that it's not possible for the country to grow 3 per cent next year. There is a limit. We have an economy that should grow around 1.5 per cent and not 3 per cent.'
And this is an expensive country. My alcohol-free steak meal costs CHF78 – around £60. I think any carnivorous Spear's reader would agree that for that price it had better be good.
But Geneva is more than just a pricey place to live; it's a long-standing capital for global wealth. 'Switzerland has exceptional political stability, a strong currency, reliable institutions and high quality of life, which are all pull factors for wealth,' says Weisser. UBS Switzerland – the 'largest wealth manager in the world', no less – puts this down rather more conversationally to two things: tradition and innovation.
'There's no contradiction in this,' adds Weisser. 'The two go side-by-side.' Traditions, she says, 'act as a tried-and-tested framework', and through this framework the quintessentially Swiss innovation works its way through. Walking along banks of Lake Geneva, gazing back at the city, this excellence is very much on display. Almost every rooftop is adorned with a neon crown – Rolex and J Safra Sarasin on one side of the lake, Patek Philippe and Julius Baer on the other. Private banking and watches – what happened to this city being an 'understated' capital of Europe? Lift the hood and you'll find in Geneva the inner workings of an incredibly confident city.
 Self-Belief
A living embodiment is Nicolas Mirabaud, the seventh generation head of the wealth management group, which this year celebrates its 200th birthday and has £26 billion in AUM. A sort of private-wealth Kennedy, he exudes a certain type of knowing, quintessentially Swiss self-belief.
'We don't focus on what others are doing,' he tells me over coffee in the art-gallery-like meeting room at Mirabaud's office. 'We listen to the market, we listen to our clients, but we avoid following the crowd.'
Accordingly, Mirabaud describes his office in a similar way to how one might grasp the difference between the City of London and New York on one hand, and Geneva on the other. And in the instant, he again seems to be summing up the Swiss approach to the EU and the world beyond.
'Among the big ones we are a small player. Among the small players we are a big one. We have the flexibility and capacity to offer tailor-made services because we are still a small boutique, but we have a large network and power due to our international presence… Allows us to be very competitive.'
Perhaps that's the biggest takeaway from Spear's stay in Geneva: no matter how tumultuous its relationship with the EU has been, Switzerland has always found a way to remain competitive.
With the Swiss watching and waiting for Brexit to unfold before their own relationship with the EU can be renegotiated, Tim Focas, director of financial services at Parliament Street, a think tank, believes that as a country that has only ever known life outside of political union with Europe, Switzerland understands exactly why the UK can look positively to the future.
'Switzerland has long realised that the EU is fundamentally against free-market capitalism,' he says. 'Enforcing unnecessary rules such as the EU bankers' bonus cap runs counter to the low-tax and high-skilled Swiss economy.'
For Ambühl, Switzerland's destiny is knitted into Britain's Brexit negotiations: 'All in all we all want to have good cooperation – as much market access as possible, but at the same time as much autonomy to make decisions. T
his is the key question, but we don't debate it – how much market access versus sovereignty? How do we find a balance? I have followed this for many years – you can't have it both ways.' This is a country that for hundreds of years has operated with precision, tradition and modesty.
As Graham Greene wrote, 'In Italy, for 30 years under the Borgias, they had warfare, terror, murder and bloodshed, but they produced Michelangelo, Leonardo da Vinci and the Renaissance. In Switzerland they had brotherly love; they had 500 years of democracy and peace – and what did that produce? The cuckoo clock.'
But the alarm bells are now ringing. After more than five years of impasse in their relations with Brussels, it's time for the Swiss to come out fighting – to show the EU just how much it has to offer.
Related…
Interview: Lloyd Dorfman on UHNWs: 'You don't see a huge number giving'
Interview: Guy Hands, reign of Terra
Interview: Yanis Varoufakis on the end of Europe — and capitalism 
David Dawkins writes for Spear's 
image credits: Pixabay/Ouled Zaoui, Wikimedia Commons