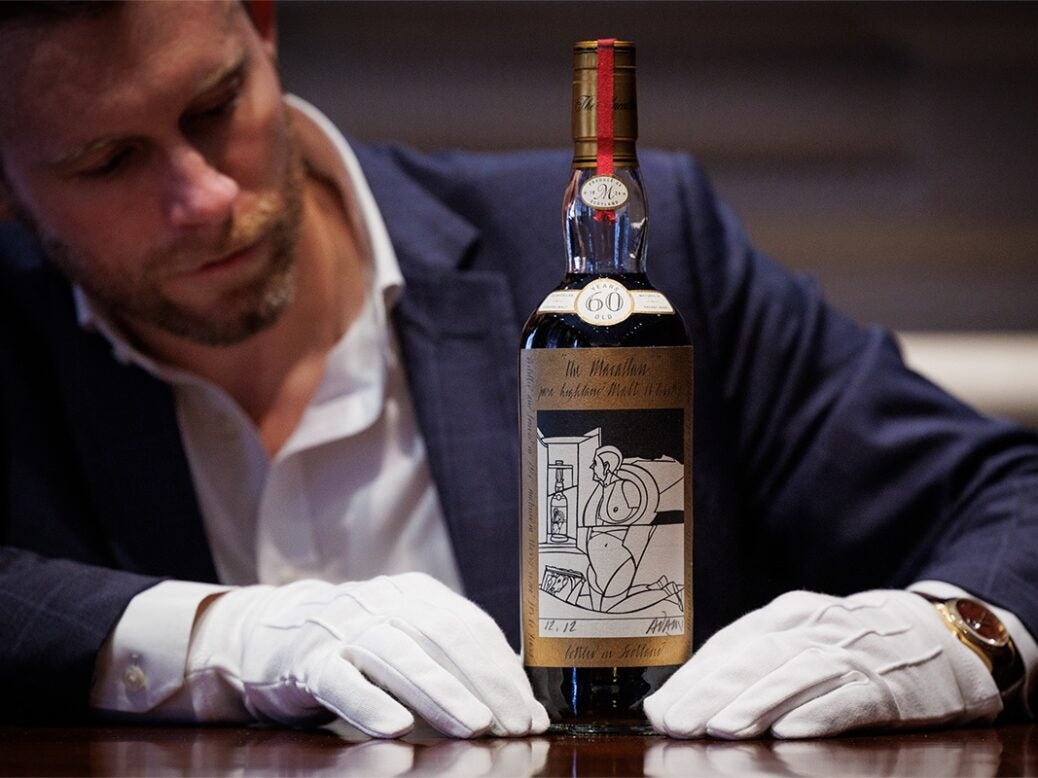 One of the rarest bottles of whisky in the world – from the highly regarded Macallan 1926 bottlings – will go to auction at Sotheby's London, next month, and is estimated to fetch between £750,000 and £1.2 million. 
In 1986, Macallan disgorged Cask 263 from 1926 – a single malt aged for 60 years in a single sherry cask. Evaporation ('the angel's share') over six decades meant that just 40 bottles remained. They were not immediately sold, however. Over the following decades, the whiskies housed in blank bottles were labelled and offered in small batches to Macallan's private clients.
The first batch of 12 was illustrated by Sir Peter Blake in 1989; then a further 12 were finished in 1993 with labels designed by Italian pop artist Valerio Adami. Fortnum & Mason commissioned one bottle to be hand-painted by Irish artist Michael Dillon and another was reportedly personalised by the client. The remaining 14 were held back until 2002, when they started being slowly released as part of the Macallan Fine & Rare collection, which also includes whiskies from the 1930s and 1940s.
[See also: Best whisky advisers for high-net-worth individuals in the UK]
With so few released, these Macallan bottles are very much the Ferrari 250 GTOs of the whisky world. No one is exactly sure how many of the 40 remain – one was reportedly destroyed in the Tōhoku earthquake; at least one reportedly simply consumed and enjoyed.
According to Geoff Kirk, channel director secondary market at The Macallan, this lot being auctioned by Sotheby's is bottle 12 of 12 from the Adami batch. It was part of the collection of the late American collector, Richard Gooding, former CEO of The Pepsi Bottling Group, Inc.
A painstaking reconditioning
Distilleries are usually not keen to be involved in the secondary market, but Macallan agreed to recondition this bottle before auction, 'due to some wear and tear on the original capsule', because of the single-owner provenance, and having the opportunity to take a tiny (1ml) sample to authenticate the liquid contents.
[See also: Ghost stock Brora among ultra-rare whiskies at Distillers One of One Sotheby's auction]
Kirk explained: 'The validation was successfully completed through a number of technical tests conducted by [Macallan owner] Edrington's Liquid Quality team. A new cork closure was used to re-seal the bottle, the gold capsule was replaced with a replica in the original design, and some minor label restoration work completed with a pair of very steady hands.'
Another record-breaking Macallan sale
The last time a Macallan 1926 came to auction, it was a Fine & Rare bottle – at another Sotheby's auction in 2019 – and its £1.5m hammer price broke the world record for a single bottle of whisky, previously set the previous year by the Dillon-painted Macallan 1926 (£1.2 million). So, is the £750,000 to £1.2m estimate an indication of a calming of the rare whisky market, or merely modest understatement from the Bond Street auction house?
[See also: How to secure the latest edition of Diageo's 'rare' Prima & Ultima whisky collection]
Jonny Fowle, Sotheby's global head of whisky says: 'The last time we offered a 1926 whisky, it sold at over four times its low estimate. The fun of auction is having some room for bidding and also placing some risk into the process. This bottle could sell for much less or much more than the previous sale. I suppose we will find out on the day.'
'Exceptional' demand and increased volume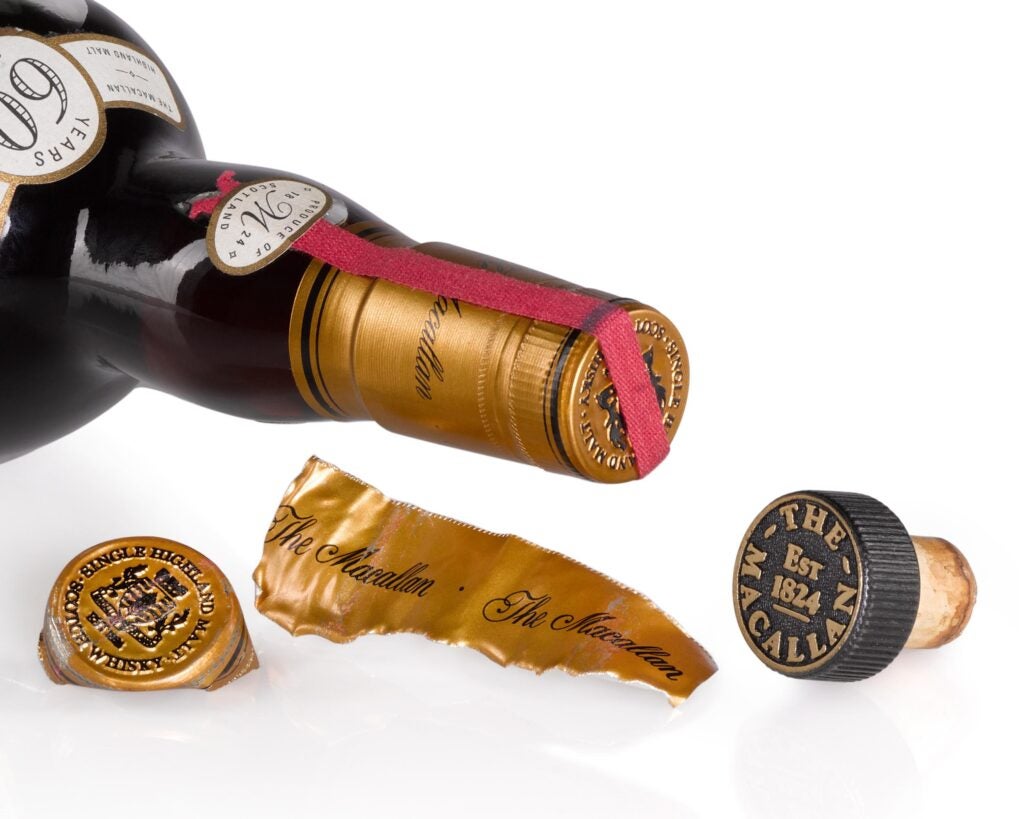 He does agree, however, that the general trend in sales of rare whiskies has continued to be upwards. 'Absolutely… at the top of the market, it has been exponential,' he notes. 'More whiskies are being traded and there's been an increase in whiskies of 40-year-old-plus released by distilleries. Single malt is still a very new category for collectors – it's been around for just 40 years and only properly collectable for the last 10, so we are seeing a natural of migration of interest from buyers around the world that is increasing year-on-year.'
[See also: An Expert's Guide to Buying and Collecting Whisky]
It is no longer easily predictable where the majority of interest will come from, says Fowle. 'If you asked me in 2019, before the record was set on the Fine & Rare 1926, I would have told you exclusively Asia,' he continues. 'Today, as markets are maturing around the world, I anticipate a much more global bidder pool with interest from Asia, Europe and America.'
Why Macallan above all others
Macallan continues to be the most collectible – and most tradable – distillery there is, consistently at the top of lists of auction sales. Fowle notes that this is due to 'a number of factors', as well as 'some sort of incalculable alchemy'. 'First, it barely closed during World War II, meaning you can collect its vintages consistently going back for decades. Second, The Macallan had the foresight to release vintage-specific single malts via [independent bottlers] Campbell Hope & King, Gordon & MacPhail and a number of Italian importers more than 50 years ago.'
'Finally,' he jokes, 'It's easy to pronounce! That is one of its most marketable assets against some of its Scotch whisky competitors!'
Macallan 1926: To drink, or not to drink?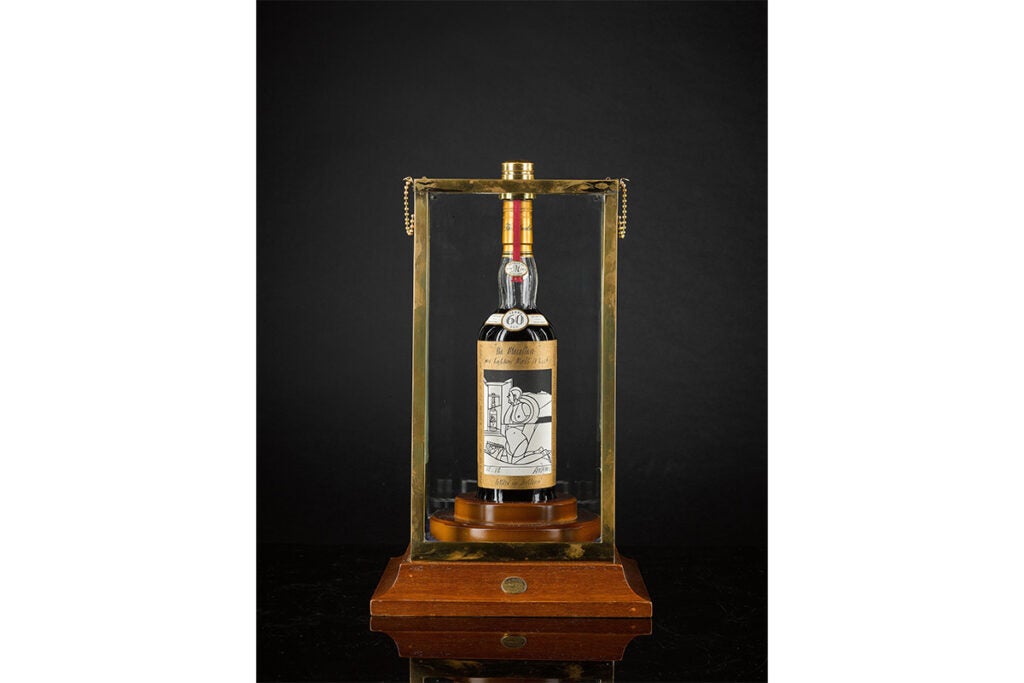 A bottle such as this sparks another round of the debate over whether it has transcended the world of whisky to become an artefact. (Even though, if it reaches its reserve price, it will have gone for three times higher than any actual Adami artwork.)
'We do know clients who are interested in drinking this bottle if they win it,' says Fowle. 'But most likely it will be hailed as someone's proudest possession and the centrepiece of their collection. At this stage it transcends the whisky industry and is more a talisman in Scotch's history.'
[See also: The story behind Orkney's new £39,000 single malt]
Any buyer who chooses to open the bottle is in for a treat. As well as undergoing analysis through processes including gas chromatography-mass spectrometry, the tiny sample was organoleptically tested, too. Fowle adds: 'I am lucky enough to have nosed this during the reconditioning process and can attest to its rich character of oak and dried fruit.'
As a Macallan master whisky maker, Kirsteen Campbell has more detailed notes on the aroma: 'The whisky had an incredible depth of character – rich dark fruits, black cherry compote alongside sticky dates, followed by intense sweet antique oak, which is for me a recognisable note of such aged Macallan. Dark chocolate, treacle, ginger… the notes go on and on. It was a very special moment to experience the opening of this iconic 60 Years Old single malt, first bottled 37 years ago.'
Advance bidding will begin on 1 November; register to bid at sothebys.com
Click here to discover the best whisky advisers for high-net-worth collectors
---
Discover more from Spear's: Inside the Spear's Awards 2022