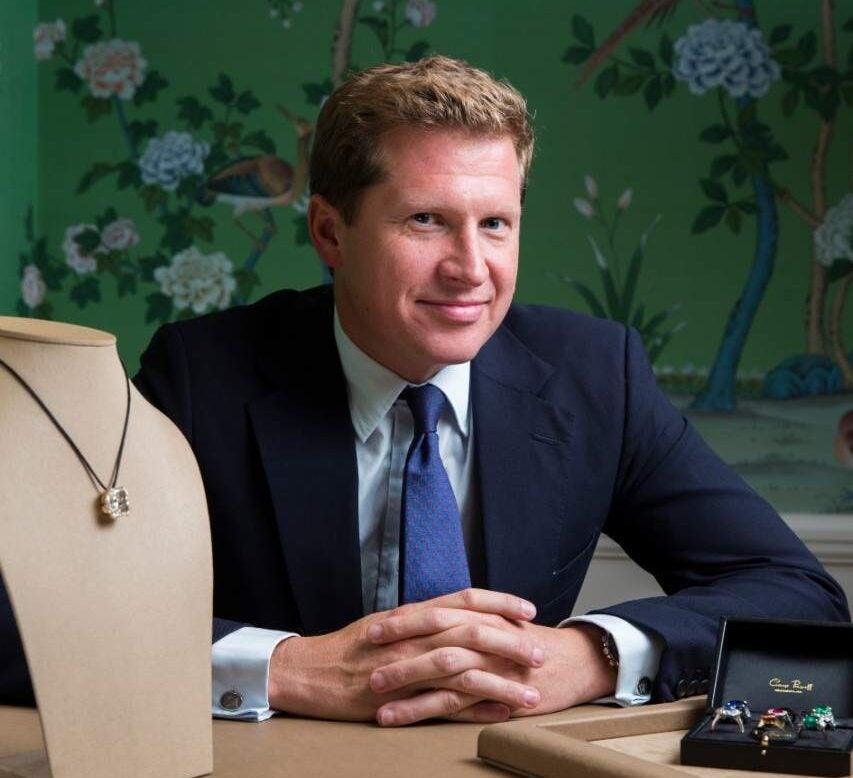 Our broadest category covers everything from guns to Goyard, in the name of collectibles. Whether its Old Masters or Omega watches, we've got you covered.
In this section we features the likes of Charlie Pragnell of Pragnell, Isabelle de La Bruyere of Christie's, Angus Barnes of Loyton sporting and more.
Click here for the Spear's Luxury Index 2019 homepage
Arthur DeMoulas: The Boss boss
Arthur DeMoulas, scion of an American supermarket family, passes the Victor Kiam test with fl ying colours. He loved venerable British bespoke gunmaker Boss & Co's products so much he bought the company – lock, stock and barrels. Still operating in Kew, the firm dates back to 1812, and prides itself on the quality of its craftsmanship – with barrel-makers, actioners, stock-makers, engravers and finishers all under its roof. 'All the other English makes are now owned by luxury conglomerates and have branched out into clothing, accessories and lifestyle,' DeMoulas said recently. 'We'll never do that as long as the company belongs to me. Boss & Co makes guns – and nothing else.
Jonathan Green: Old master of Mayfair
Richard Green, the family-run gallery and advisory service, has become a Mayfair institution. Dating back to 1936, it operates out of two locations on Bond Street and is now helmed by Jonathan Green, Richard's son. It specialises in high-quality painting from the 17th century to the 21st and continues to see remarkable works pass through its doors, such as Caspar Netscher's Woman Feeding a Parrot (1666), which was sold to the National Gallery of Art in Washington DC in 2017.
Thierry Stern: Ticking along
Patek Philippe has remained an independent, family-run business since 1839. Fourth-generation scion Thierry Stern is now in charge, having taken over from his father Philippe in 2009, and on the basis of the brand's slate at this year's Baselworld, the second decade of his tenure has begun brightly. Among the debuts was an evolution of the Grandmaster Chime, which features 20 complications. Stern Jnr has said that one of the best pieces of advice his father ever gave him was 'not to rush, to always think about the product first, to take the time to excel and be creative, and to offer the one thing our customers really want that may not exist in our line.
Victor Vescovo: Plumbing new depths, in style
Private equity investor turned explorer Victor Vescovo set a new record for the deepest dive ever recorded earlier this year when he took his submersible craft to 10,927 metres below the surface of the Pacific, to the floor of the Mariana Trench. On his wrist was an Omega Seamaster Planet Ocean, but the expedition also provided an opportunity to test Omega's newly developed Planet Ocean Ultra Deep Professional. Three of these watches were attached to the outside of the craft and, despite being only 28mm thick, they emerged from the depths in perfect working order. The watch isn't yet available to buy, however – the company says much of its boundary-pushing technology will be 'industrialised'. Expect to see it in a commercially available Omega dive watch soon.
Luisa Beccaria: Fairytale story
With its whimsical, fairytale aesthetics, Milan-based Luisa Beccaria has become the wedding gown designer of choice for the more bohemian royal bride. Lady Gabriella Windsor and actress Cleopatra von Adelsheim, hereditary princess of Oettingen-Oettingen, both chose Beccaria's designs for their weddings and the Argentina-born Queen Maxima of the Netherlands regularly appears at functions wearing Beccaria's gowns. Her first haute couture collection was shown in 1991, but the brand has undergone a renaissance of late as timeless, classic designs have usurped trend-led labels and are now – ironically – firmly back in fashion.
Philip Mould: Art world supersleuth
Art sleuth Philip Mould has a remarkable knack for uncovering seminal lost pieces, including some of Gainsborough's earliest known works and lost Van Dycks. A leading expert on British portraiture and an art adviser to the Palace of Westminster for 20 years, he is also co-presenter of BBC1's Fake or Fortune? with Fiona Bruce. He describes his three-storey Pall Mall base as 'the gallery of my dreams' and has filled it with everything from Tudor panel landscapes to some of the world's most desirable Old Masters. Personally, he has a 'soft spot' for Sir Cedric Morris, the tutor of Lucian Freud.
Angus Barnes: The shooting host
Guns and their guests at Angus Barnes' Loyton Sporting shooting establishment on Exmoor enjoy the finest hospitality – and some of the best high-bird shooting in the business. Overseen by the genial Barnes himself, formerly of the arms and armoury department at Bonhams, this family-run concern operates a portfolio of some of the finest partridge and pheasant shoots in the country, including Haddeo and Combe Sydenham, both hailed by organs such as The Field as among the best in Britain. Barnes himself is a class act – charm personified – and the food, drinks trolley and luxurious lodge are a cut above. Just ask the well-heeled international clientele. Bang on.
Tom Davies: Bespectacled visionary
With customers including singer Ed Sheeran and culinary impresario Heston Blumenthal – as well as Clark Kent (as played on screen by Henry Cavill) – bespoke eyewear specialist Tom Davies is quite simply the best person to make your glasses. Five minutes in his company will convince you of it: he founded his company in 2002, driven by a desire to make people love wearing their glasses and the realisation that few of us are lucky to have truly symmetrical faces. With a range of offerings from fully bespoke to customised and off-the-peg, Tom Davies glasses are handcrafted with passion at his West London factory – a process that's underpinned by a digital platform Davies himself designed. Make no mistake, when it comes to vision, Davies, 45, is the man to watch.
Isabelle de La Bruyère: The art of the deal
Christie's senior director and head of client advisory for Europe, the Middle East, Russia and India has enjoyed another packed year. As well as the 'incredible' George Michael sale in London, Isabelle de La Bruyère's calendar has been filled with the guitars of Pink Floyd's David Gilmour and the remarkable Maharajas & Mughal Magnificence sale in New York, which fetched $109 million in June – the highest total for any auction of Indian art and jewelled objects.
'This was an incredible auction for me, and an exhausting one, which lasted over 12 hours in front of a packed room and with phone and online bidders from all over the world,' she tells Spear's. Christie's client advisory team is staffed with senior specialists who work with private collectors across various categories and locations, at both auctions and private sales.
De La Bruyère has also overseen a number of initiatives designed to make collecting more accessible, including one that enables collectors to bid at auctions from their mobile phones. Indeed, despite stubborn popular perception, business at Christie's isn't all about the hammer falling on big-ticket items. 'It's not a fair reflection of the real market, or what my team and I spend most of our day talking to clients about,' says de La Bruyère. 'We do a great deal to try to motivate people to come see exhibitions and works of arts in person, and usually they are pleasantly surprised about the diversity of what we offer and the variety of price points too.'
Annoushka Ducas: The Midas touch
Annoushka Ducas's mother ran a fish business that supplied produce to London restaurants. One day she asked her daughter to make 60 pairs of fish-shaped cufflinks as a gift for clients. Ducas, however, decided to make twice as many and sold the additional cufflinks to a buyer at Harvey Nichols. That laid the foundations for Links of London, and then in 2009 she launched her current brand, Annoushka. Whereas Links specialised in silver jewellery, Annoushka focuses on gold.
Charlie Pragnell: A family jewel
'Ours is a business of individuality,' Charlie Pragnell explains to Spear's. 'Jewellery is about embodying emotions, it's about beautiful physical articles whether that be other people, memories, or milestones.' That philosophy explains why Pragnell is one of Britain's most admired jewellers. The family-run firm was founded in 1953 and continues to develop under the stewardship of Charlie (the third generation of the family). A combination of business acumen and an ability to bring rare items to the market have been instrumental to its success. 'I recently acquired a lock which has in the back of it, Napoleon's hair,' he beams.
Pragnell has overseen the expansion of the firm's Stratford-upon-Avon flagship and the transition into its Mount Street store, which opened two years ago. 'We're building a discerning customer base which typifies that part of Mayfair,' he says of the premises. Clients span everyone from A-list actors to 'African tribal leaders' and every client-facing staff member is required to have at least five years of experience and embark on a further five years of 'very rigorous' training upon joining.
Ralph Taylor: Contemporary champion
'It has been a brilliant and exciting year,' says the cordial Ralph Taylor, global head of Bonhams' post-war and contemporary department. A particular highlight, he tells Spear's, has been an exhibition of unseen works by Richard Lin in Hong Kong, in association with the artist's family. 'At the moment people are much more open to new ideas. There seems to be less of the devotion to a tiny canon of artists and more of an appetite for art from unexpected geographical locations and cultures,' he says, pointing to a 'steady demand' in the world of Polish Op artist Wojciech Fangor and an 'increased interest' in work by female artists. Taylor has been crucial in establishing Bonhams as an international player in a highly competitive sphere. The secret? 'If you present quality at auctions, people are drawn in from all corners of the world.'
Sabina Belli: an Italian gem
Pomellato founder Pino Rabolini grew up in a family of goldsmiths, but he innovated rather than conformed in 1967 when he launched a brand that was casual enough to wear every day, yet also incorporated stunning stones and settings. In the introduction to the jeweller's 50th anniversary book, Rabolini (who died last year) described how the idea for the brand was born at Bar Jamaica, a hangout for Milanese artists where he was inspired by the women he met there – the singers, actresses and ceramicists – and decided to create jewellery that paid homage to their independence. Since Sabina Belli took the reins as CEO in 2015, Pomellato has enjoyed steady, year-on-year growth.
James Nicholls: The modernist
If you want to invest in a piece of contemporary or modern art, book in a meeting with James Nicholls, chairman of the Maddox Gallery, which has five outposts in London, Gstaad and Los Angeles. Just four years old, his Mayfair-based outfit has swiftly risen to the top tier of the field thanks to its knack for enlisting smart, trendy art. 'Maddox Gallery offers in-depth knowledge of the art world combined with wealth management expertise,' says Nicholls, whose CV includes advising British Airways. 'By identifying works with both visual and financial appeal, Maddox Gallery helps collectors to acquire great art that acts as a valuable investment asset.' It's been an eventful 12 months: the gallery has had success with emerging talents such as Spanish artist Coco Davez, and hosted heavyweight names including Jean-Michel Basquiat and Tracey Emin.
Jean-Frederic Dufour: One to watch
Rolex may have been going since 1905, but under CEO Jean-Frederic Dufour the bluest of blue-chip Swiss watchmakers is retaining its appeal with aplomb. Competition for rare examples is particularly intense. The Rolex Sapphire Rainbow Daytona with embellishments by Parisian customiser MAD was released in April and already commands several times its retail value of £64,000 among collectors.
Max Levai: The finest of the fine
Andy Warhol? Check. Paul Cézanne? Indeed. The calibre of work on Marlborough Gallery walls around the world – from Mayfair to New York, Barcelona and Madrid – is impeccable. These days, that premier cru reputation rests with Max Levai, the son of chairman Pierre Levai and great-nephew of founder Frank Lloyd. He formally took over the reins as president this year and, despite what he describes as 'a complicated time for galleries', is forging ahead: 'While many are seeing a decline in attendance at the gallery… we are communicating with more and more open-minded collectors from different parts of the world than we ever have before.'
Brian Duffy: The royals' jeweller
The Duchess of Cambridge wore a pair of Mappin & Webb white gold and diamond Empress drop earrings for Princess Charlotte's christening in 2015, but the company has been curating and creating luxury silverware since 1775, when Jonathan Mappin opened a workshop in Sheffield. Queen Victoria granted Mappin & Webb its first royal warrant as silversmiths in 1897. To this day, under CEO Brian Duffy, the brand holds royal warrants as silversmiths, goldsmiths and jewellers to the Queen, and as silversmiths to the Prince of Wales. Long may they reign.
Prince Michael of Kent: Crown jewels
Your wristwatch may be very nice. Perhaps it was made by a storied Swiss marque. But is it encrusted and embellished with up to 535 individual diamonds? Was it inspired by London's regency architecture, and designed in partnership with a member of the Royal Family? Unless the name on the dial reads Backes & Strauss, the answer is likely to be no. Under CEO Vartkess Knadjian, Backes & Strauss has blazed a trail, and inviting Prince Michael of Kent to work with the brand was a masterstroke. The Royal Kent collection, which His Royal Highness helped to design and which bears his coat of arms, is proving a hit around the globe.
Tom Dodd Noble & Adam Macmillan: Leather leaders
Smythson and Aspinal might be better-known, but Noble Macmillan has been quietly producing high-quality leather goods for the grandest families in England for more than 30 years. Founded by friends Tom Dodd Noble and Adam Macmillan (a grandson of former Prime Minister Harold Macmillan), the brand has recently branched out into popping colours, reportedly inspired by the Queen's penchant for vivid hues. Our social sleuths spotted its burgundy Cyclamen Tassel Pouch tucked under the arm of the Countess of Wessex at the 2019 Duke of Edinburgh Awards.
Anne-Lise Cremona: Scents with sensibility
'We are haute couture perfumers because, like couturiers who make a single dress, we can make a one-off scent for quite some time', says Anne-Lise Cremona, CEO of Henry Jacques and granddaughter of Henry Cremona, who founded the company in 1975. For many years, the only way to acquire a bottle was by invitation, from Salon Monceau in Paris. These days, however, it's stocked in Harrods' remodelled perfume department, where its crystal bottles are presented in varnished wooden cases embellished with gold leaf
Nicholas Snowman: London's Fabergé
The Duchess of Cambridge's wedding ring – a plain, slim gold band – was made by royal warrant holder Wartski. Since Morris Wartski opened his first shop in Bangor, North Wales in 1865, the company has also become a valuable resource for Fabergé enthusiasts around the world. In 2018 chairman and proprietor Nicholas Snowman, Morris Wartski's great-grandson, oversaw a relocation of the flagship store from Grafton Street to 60 St James's Street. One customer lives in a modest bedsit, diverting every penny he owns towards building his Fabergé collection. 'He is a joy to deal with,' says managing director Kieran McCarthy – even if his payments come in protracted instalments.
Jeremy Morris: The London jeweller
Paris-trained jeweller Jeremy Morris took the reins of his father's business David Morris more than a decade ago, but he still says he retains his dad's eye for detail. All his pieces are designed with great care, but some can gestate for more than six months while others appear on his sketchpad within 30 seconds of analysing the stones. Oneoyster was recently spotted on Elizabeth McGovern at the Downton Abbey film premiere, but Spear's pick is the Paraiba Tourmalines collection, which accentuates the electric hues of a rare stone unique to Brazil's coastline.
Caroline Burstein Wedding belles
Better known for founding Molton Brown in 1970, Caroline Burstein, daughter of Browns Boutique grandees Joan and Sidney Burstein, set up Browns Bride in Marylebone in 2004. Its edit of the very best wedding dresses runs the gamut from established designers such as Valentino to up-and-comers like Alice Archer, and the store has been credited with launching the careers of bridal designers across the globe, including Marchesa, Israel-born Lihi Hod and American designer Lela Rose. If you're on the quest for the ultimate dress, it should be your first port of call.
David Crisp: Heaven scent
Boadicea the Victorious is a purveyor of the most luxurious scents made by British artisans. Its scents are instantly recognisable by the elaborate Celtic designs on the bottles, some of which are gilded in rose gold and studded with diamonds. It launched exclusively at Harrods ten years ago and since David Crisp, the CEO, bought the company in 2010 it has built up a client base that encompasses Arab, Russian, Chinese and European consumers. Crisp has also pioneered a service to allow clients to create their own individual scent
Jean-Michel Signoles: Trunk calling
Although Goyard is not a household name, the 164-year-old label remained in the Goyard family for five generations, attracting clientele such as Cristobal Balenciaga, Coco Chanel, Marilyn Monroe and Pablo Picasso, in addition to a roster of Rockefellers, Romanovs and Grimaldis. Jean-Michel Signoles first stumbled on a Goyard trunk in 1974, igniting a spark that led to an interest in collecting the brand, and eventually to buying the whole company.
'When I bought the company in 1998, it was barely making €500,000 a year, with one salesman in the store,' Signoles told the New York Times. In 2009 Goyard opened its first London boutique in Mayfair, followed by a branch in Osaka to add to its outlets in New York, Boston, San Francisco, Beverly Hills, São Paulo, Seoul, Tokyo and Kyoto.
Toshiyasu Takubo: Best-case scenarios
Globe-Trotter exists today thanks to David Nelken, who founded the suitcase company in 1897 and then moved his offices from Saxony to the UK in 1932. The creations we see today are the results of Nelken's vision for the brand. Each piece is handmade by artisans in Hertfordshire, using Victorian methods, and materials such as the tough-yet-lightweight vulcanised fibre board. The products were so sturdy that the Queen hand-picked a Globe-Trotter for her honeymoon; James Bond carried a handsome brown one in Skyfall. CEO Toshiyasu Takubo is a modernising force who previously founded the British Luxury Brand Group in Tokyo. Spear's top picks include the ivory-navy-red version in its St Moritz collection and most of the deliciously black Caviar range.
Click here for the Spear's Luxury Index 2019 homepage
More from the Spear's Luxury index 2019:
The Spear's Luxury Index: Homes and Design
The Spear's Luxury Index 2019: Hospitality and Travel
The Spear's Luxury Index 2019: Watches, Accessories and Collections
The Spear's Luxury Index 2019: Planes, Trains and Automobiles
The Spear's Luxury Index 2019: Fashion