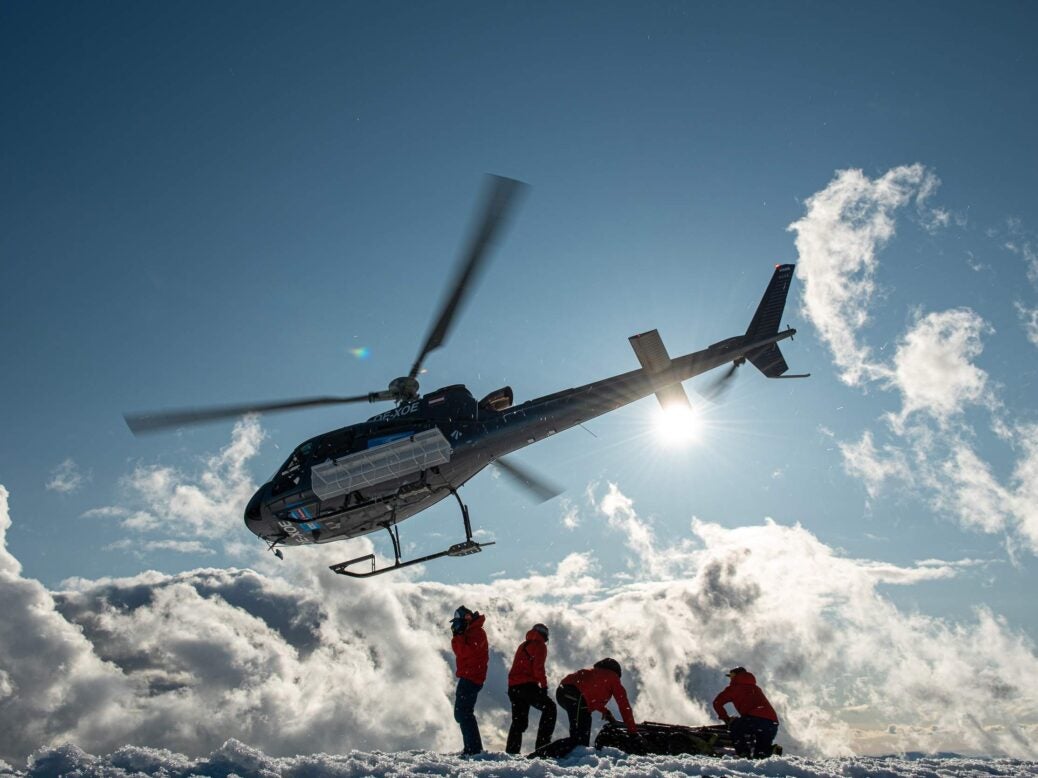 At a time where exclusivity is prized more than ever, we've scoured the world of hospitality to find the figures that guarantee the extraordinary, whether you're after an endurance holiday or just a country retreat
This section features the likes of Robin Birley, Annastasia Seebohm of Quintessentially and Sir Rocco Forte.
Click here for the Spear's Luxury Index 2019 homepage
Olia Sardarovae: Pulling no punches
When Olia Sardarova teamed up with Britain's heavyweight superstar Anthony Joshua to launch BXR in 2017, the Marylebone boxing gym-cum-private members' club was a genre-bending success. The beautifully appointed 12,000 sq ft space is notable for having a full-size Ringcraft boxing ring at its heart, but also incorporates studio training classes and thoughtful touches such as Sweat Maid. (The laundry service provides time-poor members with clean kit in their own personal lockers, just 24 hours after they drop it off.)
Sardarova recently opened a new outpost in Canary Wharf that focuses on boutique studio classes, including BXR's own concept: a climbing machine-based workout that is estimated to burn 800 calories in 45 minutes. Demand for membership and classes has been strong enough to prompt Sardarova to open another club that will be announced soon. Seconds out for round three.
David Morgan-Hewitt: Hotelier by royal appointment
For three decades, David Morgan-Hewitt has offered a commanding presence at the Goring hotel in Belgravia. Mr David, as the managing director is known, is the named grantee of the royal warrant bestowed by the Queen on the hotel in 2013. It was a favourite of the Queen Mother's and is also where Kate Middleton and her family spent the night before her wedding in 2011. Morgan-Hewitt –a bon viveur and larger than life personality – is himself among the hotel's biggest assets, from the top of his head to the tips of velvet-slippered toes.
Robin Birley: Mayfair magician
What makes 5 Hertford Street so good? The private members' club is beautifully designed and decorated, of course. Its Mayfair location isn't bad either. Then there's the clientele, which (as our story on page 42 explains) is made up of names and power-brokers of the highest order. But ask its members and, time and again, they will point first to the staff and the service they provide. According to Spear's contributor Nick Foulkes, the effect that's created puts him in mind of the sci-fi  writer Arthur C Clarke. 'Any sufficiently advanced technology,' Clarke wrote, 'is indistinguishable from magic.'
Oliver Smith: Lake District luxe
The Samling is an outstanding Georgian Gothic revival hotel in the heart of the Lake District, presided over by general manager Oliver Smith. After arriving by their preferred mode of transport (there's a helipad on site) guests might opt for a dip in the hot tub with views of Lake Windermere, a glass of wine and several deep breaths. This is where you find the cleanest air in Britain.
Kirsty Edwards: Winter wish-granter
Only the most serious snowsports enthusiasts need apply for a place on the new ski trip from high-end travel specialist Scott Dunn. The tour costs £123,000 (for two people) and lasts 35 days. Intrepid ski bunnies will complete a circumnavigation of the globe, flying first-class all the way. The tour, devised by head of ski Kirsty Edwards, begins in Zermatt in the European Alps and finishes in Iceland, stopping en route in Aspen, Whistler and the Japanese resort of Niseko, famed for its deep powder. The highlights of the expedition, however, might turn out to be the two heli-skiing sojourns.
James Perkins: Soul of the party
James Perkins cut his teeth organising acid-fuelled raves in the early Nineties for a generation of disaffected youth. These days, however, he caters to a classier clientele. The proceeds of his seriously successful rave business Fantazia paid for Aynhoe Park, the Grade I listed 17th-century Northamptonshire country mansion that has been the scene of celebrations from Noel Gallagher's 50th birthday to Jade Jagger's wedding. Perkins has filled the house with all manner of curiosities including a stuffed giraffe wearing a bowler hat and a giant statue of Hercules in the hall. As Grayson Perry once said, 'Everything James does… is no different from what aristocrats would have been doing when they had all the money and they were the tastemakers in Britain.'
Astrid Harbord: Director of fun
If you could sum up Mayfair private club Annabel's in one word, says membership director Astrid Harbord, it would be 'fun'. Harbord, who admits to having been 'a little bit' of a party girl in her twenties, has helped to establish a 50:50 split between male and female members – something that many other private clubs could only dream of. But on the subject of applications for membership (which comes at a cost of up to £3,250 per year), she will only offer one hint: each applicant must be proposed by an existing member, 'and if they're a more regular member of the Birley clubs, then that speaks for itself.'
Adam Sebba: Spirit of adventure
Whether it's testing new runs in the world's most northerly heli-skiing spot, braving a ten-hour ascent to a hidden village in Bhutan or taking a martial arts trail through Japan's remote forests, Adam Sebba's clients are after one-off experiences. The Cookson Adventures CEO explains that he deliberately starts conversations with clients by being location-agnostic: 'For us, it's asking, "How do you want to feel when you're on holiday?"'
Christopher Wilmot-Sitwell: The travel guru
Tailored travel expert Christopher Wilmot-Sitwell, co-owner of Cazenove+Loyd, has a great mantra: 'We begin with the person, not the place,' he tells Spear's. With 1,000 clients a year, the Fulham-based firm, which was founded 26 years ago, curates inspirational bespoke holidays and itineraries for HNWs, typically from the UK, US and Europe. But each journey begins with a conversation. 'We can find what you need in Africa, Asia and Latin America and we don't own anything, so we're not selling you into something. We're completely objective,' adds Wilmot-Sitwell, who expresses dismay over the lack of thought that some people put into their precious vacation time. Highlights last year included a private train tour for 40 clients in South Africa of Boer War battlefields with Sir Nicholas Soames MP, grandson of Winston Churchill. Full steam ahead.
Shai Weiss: Sky-high comfort
Shai Weiss recently took over the controls from Craig Kreeger as CEO of Virgin Atlantic – a seamless transfer for the former soldier, who has known Richard Branson since 2004. He's just launched the new, more energy-efficient Airbus A350 (see page 46) in competition with British Airways. Virgin's prototype sports a pearlescent sheen on the outside, and a stylish lobby-style entrance with an eight-seater bar for Upper Class cabin passengers. The stools are swapped for lounge seats with seatbelts, so you can be strapped to the bar from London to Tel Aviv or Sao Paulo if you like. Now we know who's really ahead in the jet-set.
Charlie Gladstone: Alternative festival
If you're looking for a festival with a little more joie de vivre, the Good Life Experience, an annual event that began in 2014 and has been dubbed 'the Port Eliot of the North West', is the one for you. As well as music and literary gigs, activities include dog shows and competitive hammer throwing. It all started when Peddlers, which began as a bric-a-brac stall on Portobello Road, found a more permanent home when its founder, Sir Charlie Gladstone (great-great-grandson of the 19th-century Liberal prime minister), inherited Hawarden Castle. Now the Welsh pile is not only home to inordinate quantities of vintage paraphernalia, but also provides the site for the festival.
Giandomenico Scanu: Good afternoons
When a hotel describes its afternoon tea experience as 'the finest slice of life', it's natural for Spear's to do a taste test at The Ritz London's Palm Court. The salmon pink room is in full swing as we arrive on a weekday afternoon. The musical ensemble takes a moment to bow mid-note, before continuing. We are greeted by Giandomenico Scanu, an indefatigably charming Italian. He is the Ritz's certified tea sommelier – the only one operating in a hotel in the UK. A flute of Champagne Barons de Rothschild Ritz Reserve nicely complements the assortment of delicate but flavourful sandwiches and a palette of dainty tarts. The aromatic Ritz Chai is recommended with the trolley-loads of moussey cakes and scones you will be offered. Tealicious!
Andrea Scherz: King of the Palace
It should come as no surprise that The Grand Budapest Hotel is Andrea Scherz's favourite film. If you've been to the Gstaad Palace in Switzerland, you'd know. The helicopter-flying, classic-car-loving general manager of this family-owned establishment exudes a rare passion and forensic attention to detail in his pursuit of excellence for his guests – matched in equal measure by his superb staff. That it's all wrapped up in an effortless, charming exterior, ensures that his hotel remains at the apex of Europe's elite hotels, having for decades been the winter destination for A-listers and royalty.
Bradley Calder: No worries atoll
'Guests will enter a place filled with moments of magnificence,' general manager Bradley Calder says of Kudadoo Maldives Private Island, a unique hotel in the blissful Lhaviyani Atoll. 'Everything that Kudadoo offers is available any time and anywhere on the island.' Anything on Kudadoo can be made private. Its 15 over-water ocean residences showcase the mastery of designer Yuji Yamazaki and its hospitality team sincerely believe in 'limitless luxury'. Kudadoo gives UHNWs a new ability to 'redefine time and reimagine freedom', summarises Calder. 'It's our promise in a fast-paced world.
Chad Pike: Turning it up to Eleven
As you'd expect, the senior managing director and vice-chairman of Blackstone's Tactical Opportunities fund has an eye for value. In the wake of the financial crisis, Chad Pike began building a portfolio of luxury properties around the world – from ski chalets in the French Alps to a villa in Barbados and a lakeside lodge in Colorado. This impressive collection is now the foundation of Pike's luxury travel company, Eleven Experience. The firm's aim is to 'custom-make experiences that impact the people who impact the world' and, with activities ranging from mountain-biking across Icelandic tundra to fly-fishing in the Marquesas, there is no one that caters better to the adventure capitalist crowd.
Annastasia Seebohm: At your service
'Are you a sharer?' asks Annastasia Seebohm when she meets Spear's for lunch. 'I always over-order,' she adds, merrily selecting prawn carpaccio, octopus, chargrilled squid, taramasalata, tzatziki, various breads and a whole sea bass. The venue, a Greek restaurant in Fitzrovia called Meraki, was her choice – appropriate, since the 32-year-old CEO of Quintessentially is half-Hellenic. While Seebohm was still at Cardiff University she read an interview with Quintessentially co-founder Ben Elliot and thought the business he'd started was such a good idea that she applied to work for it. Before long, she had a job at its office in Athens.
'Then I left,' she says, 'and, like all good Greek girls do, I went into shipping.' Soon, though, she was back at Quintessentially, this time in London. Her ascent to the top job at the 1,000-employee, $100 million turnover company must have made her ears pop. How did she rise so quickly?
'Er… I think it's good, old-fashioned, just very, very hard work,' she says. In the past six months, though, she has tried to moderate that work ethic: 'There was a life event and a health issue that made me reconsider.' Happily, 'making the most of your time' is what her company is all about, and she tells Spear's that she saves three hours a week by having someone come to her New York home to do her hair in the mornings while she takes conference calls and answers emails. The business has three main pillars: the lifestyle management and concierge business; a luxury travel concierge; and the 'agency', a B2B operation that works with brands owned by the likes of Kering, Richemont and LVMH to 'put together experiences for their top clients'.
Seebohm says the founders of Quintessentially 'pioneered lifestyle management' and were among the first to tap into the 'experiential economy'. Under her leadership, the company will capitalise on this, adding 'specific products'. A digital platform built with millennials in mind is already 'in testing' but remains under wraps. She has other goals for the company but adds that she has come to understand, with help from her friend Ariana Huffington, that life – and her career – is a marathon, not a sprint. 'I've gone fast for ten years,' she explains. "The next ten years need to be more thoughtful and strategic.'
Sir Rocco Forte: Hospitality aficionado
Sir Rocco Forte, 74, has had a busy year. In 2019 he opened his 13th hotel (his second in Rome) and planned a 14th, which is due to open in Shanghai next year. He intends to double the size of his portfolio while maintaining impeccable standards across the board, including at Brown's Hotel in Mayfair and the Balmoral in Edinburgh. The company is a family affair, with his sister Olga Polizzi and three children active in the business. As he tells Spear's, he doesn't have an 'exit strategy' and has never wanted one: 'I'm not in it to make a quick buck. I'm in to develop something which is meaningful and which will go on for a long time.'
Click here for the Spear's Luxury Index 2019 homepage
More from the Spear's Luxury index 2019:
The Spear's Luxury Index: Homes and Design
The Spear's Luxury Index 2019: Food and Drink
The Spear's Luxury Index 2019: Watches, Accessories and Collections
The Spear's Luxury Index 2019: Planes, Trains and Automobiles