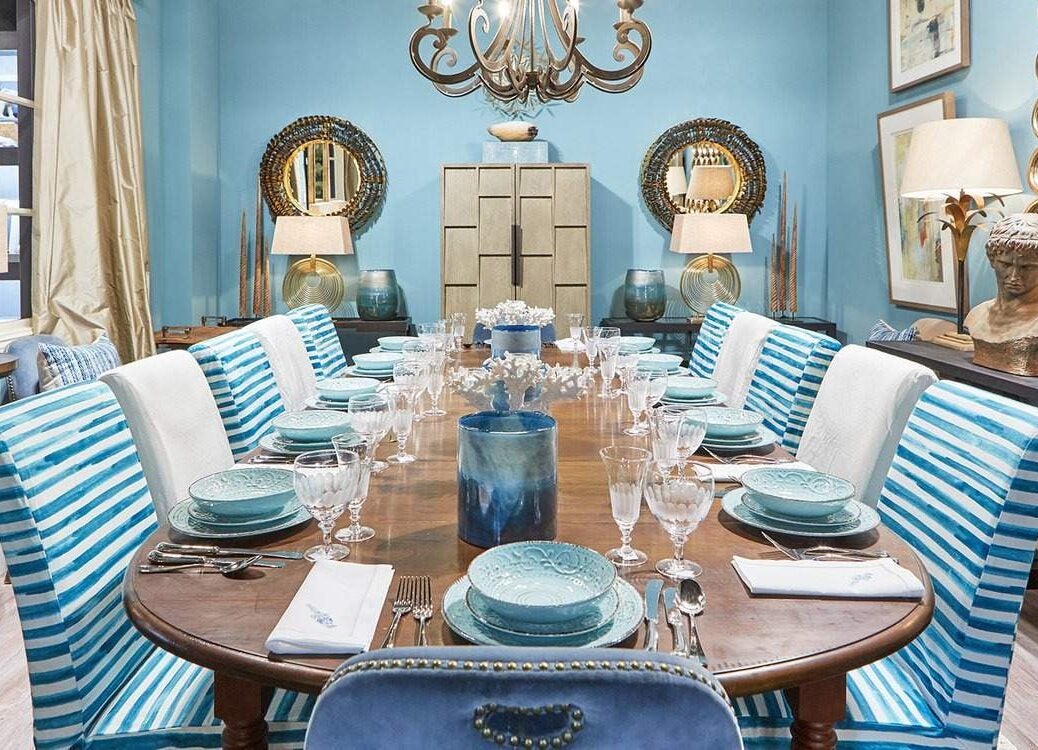 These purveyors of style are always one step ahead of the trends. From ceiling to floor, this is what the future of living looks like.
This section features the likes of Edward Bulmer, Shazma Maladwala and Nina Campbell
Click here for the Spear's Luxury Index 2019 homepage
Martin Brudnizki: Internal affairs
With the Ivy, Scott's, Annabel's, Soho House and Eden Roc St Barths on his CV, it's no wonder that Martin Brudnizki is everyone's first choice of interior designer. The Swede's designs are often unapologetically maximalist, a style most famously rendered in the new Annabel's at 46 Berkeley Square, which features pink bathrooms covered in silk flowers and a hanging unicorn sculpture. Brudnizki moved to England in 1990 and loves to incorporate 'the spirit of English eccentricity' into his work. His most recent project, Matteo's, the new Italian restaurant in Annabel's which opened in October, pays homage to the original club's decor, much to the delight of those of us old enough to remember Annabel's in the Eighties.
James Fowler: To the manor born
The affable James Fowler is director of Fowler Architecture & Planning in Wiltshire, which his father Mike founded 38 years ago and which focuses on country houses, mainly across the south of England. 'We avoid London like the plague,' Fowler tells Spear's. 'We understand country houses.' The firm is working on 20 'really lovely' projects, from extensions to new builds – modern and neo-Georgian – through to refurbishments. 'The key thing is it's houses, not hotels or offices, and 95 per cent of our work is one-off projects. It's a family business and we're instinctively interested in family life.'
Nina Campbell: Light touch
Nina Campbell, the heart sunglass-wearing doyenne of English interior design, is known throughout the world for her sophisticated colour palettes, tailored upholstery, whimsical antiques, and clever use of light. Clients include the newlywed Duke and Duchess of York, Ringo Starr and Rod Stewart. Her best interior design tip? 'Pay no attention to grand, sweeping opinions,' she told one interviewer. 'I heard someone say, "Brown wood is boring," when of course a beautiful, well-looked-after piece of brown furniture can be pure heaven.' In recent years she's become known for her popular collections for Osborne & Little, and she takes on commissions that cross continents and cultures.
John Pawson: Designs for life
John Pawson's motto of 'simplicity in architecture and design' has made him one of Britain's most influential living architects. His minimalist aesthetic runs through Calvin Klein's flagship store in New York, the RIBA prize-winning Sackler Bridge, and London's Design Museum. Soon, he will unveil the West Hollywood Edition hotel – a collaboration with the legendary Ian Schrager, who was responsible for Studio 54 and, more recently Public, the new standard-bearer for pared-back luxury hotels. According to Spear's luxury editor John Arlidge, the pair are together 'redefining hip hotels'.
Nigel Hadden-Paton: The digital private members' club
At any private club worth its salt, prospective members must be proposed, seconded and, finally, approved before being welcomed into the fold. But for an email newsletter? Peculiar as it might sound, Nigel Hadden-Paton's members-only digital circular, Radio H-P, has been a tearaway success. It started when the former Blues and Royals officer was trying to help his son, who was then in his twenties, to find a job in the City. In the process, Hadden-Paton Snr discovered his talent for making connections and, before long, had created an indispensable resource for 'PLUs' looking for Tuscan villas to rent, pure-breed puppies to buy or CV-boosting internships for their children. Hadden-Paton's missives are now received by more than 6,000 people – but that's just a fraction of the number who wish their name were on the list.
Sue Jones & Annabel Astor: Part of the furniture
OKA has been winning hearts and hearths in the Home Counties since the homeware brand was founded two decades ago by a trident of female entrepreneurs. Annabel Astor (Viscountess Astor), Sue Jones and Lucinda Waterhouse successfully distilled what Lady Astor has described as the 'essence of Englishness' into tasteful interiors, furnishings, crockery and much else besides. Now, as the company marks its 20th birthday, it's going from strength to strength. 'It's an incredibly exciting period for the brand,' Jones, OKA's creative director, tells Spear's, pointing to new owners, plans to expand to the US and innovative collaborations. One such union of creativity is with the industrial designer Ron Arad, whose striking AKO chair (pictured) has been produced in a limited edition of ten. It can be yours for £18,000.
Edo Mapelli Mozzi: Prince of property
Edo Mapello Mozzi, who recently proposed to Princess Beatrice, acts as a real estate trusted adviser to a large book of HNW clients. Wedding plans notwithstanding, he has had a busy year launching 13-19 Leinster Square, a collection of eight expansive apartments, five maisonettes and two penthouses behind a stucco façade. Banda Property, which Mapello Mozzi founded in 2007, has grown from a small developer to a multi-disciplinary practice and has overseen more than 40 developments in London worth over £600 million – with projects including a former brewery and a Victorian bakery. It has even developed a personalised furniture range, made mainly with marble.
Edward Bulmer: The great indoors
While Farrow and Ball may still be the big name in high-quality paint ('Dead Salmon' for the drawing room, anyone?), Edward Bulmer is fast gaining a reputation among those in the know. The art historian and interior decorator produces a range of ecologically friendly paints made solely from 12 natural earth and mineral pigments. 'I regard pigment as my grammar and colour as my vocabulary,' he told Spear's, stressing the importance of tonality for achieving a happy and harmonious interior. Modern acrylic paints, on the other hand, appear 'lifeless or too dense' in comparison. The Herefordshire-based Bulmer is a scion of the cider family but is forging ahead with his own colourful career. New colours for 2019 include 'Pompadour' and 'Naples Yellow', so perhaps a 'Scrumpy Gold' could be on the cards for 2020?
Shay Kelly: Furniture's second life
Samantha Cameron moved into Number Ten with a canary yellow sofa reupholstered by Shay Kelly, the proprietor of Revival London. Notting Hill-based Kelly is up with the trend for reusing and recycling, and specialises in bespoke furniture restoration, renovation and repairs – but only for those in the know. He has revived pieces for everyone from Elton John to Jarvis Cocker (who came in with a piano stool in need of a revamp). 'Shay is that rare creature: an artisan who loves his work and doesn't charge a fortune for it, says one customer. 'The chair is now possibly the most beautiful thing I own.'
William Asprey: British cra­ftsmanship
A seventh-generation member of the Asprey family, Willam Asprey opened his own store on Mount Street in 1999, having worked in the family jewellers for more than ten years (where he was responsible for the silverware in the Officer's Mess at the Royal Green Jackets). Most of the goods on offer at William & Son are British-made: handcrafted shotguns, serious watches, ice buckets, Wellington boots, fine jewellery, cufflinks in the form of tiny hot dogs. In 2015 the brand relocated its flagship store to Bruton Street. 'The new building has certainly raised our profile and enabled us to display our products in a much better way, which is what luxury goods need,' Asprey said after the move.
Andrew Dunn & Alex Michelin: A developing story
The Candy brothers may have found their match in Finchatton's Andrew Dunn and Alex Michelin. They are the masterminds of the design, management and financing of more than 60 global developments, including the refurbishment of the former US Navy HQ at 20 Grosvenor Square into Four Seasons residences. As well as orchestrating projects such as the £1 billion reinvention of Whiteleys shopping centre, the modernist luxury developers also create 'superhomes' for UHNWs with Finchatton Private, which focuses on personalised commissions.
Shazma Maladwala Minister of the interiors
As Queen Rania of Jordan's personal interiors expert, Shazma Maladwala oversaw the renovation of the Royal Palace in Aqaba. So when she started her own firm, Mokka Design, in 2004, word travelled quickly. She has since worked on private jets, superyachts, Belgravia residences, a beach villa in Barbados and the redesign of a Palace Garden property in Kensington. When it comes to meeting UHNWs' design briefs, few can match her CV.
Alexandre Assouline: Publishing with panache
Family-run publisher Assouline started life in 1994 when founders Prosper and Martine Assouline published Colombe d'Or, a book on their favourite Provençal hotel, from their basement in Paris. Today, under the watchful eye of Alexandre Assouline, the Cartier-wearing vice-president who is the son of the founders, the brand has its own high-ceilinged concept stores, which double as old-world bars and are delighting bibliophiles from Piccadilly to Miami Beach and Dubai. What's more, for UHNWs seeking a place to publish their memoirs, Assouline Private is at your service. So, if you don't like any of the stories for sale, you can write your own.
Click here for the Spear's Luxury Index 2019 homepage
More from the Spear's Luxury index 2019:
The Spear's Luxury Index 2019: Food and Drink
The Spear's Luxury Index 2019: Hospitality and Travel
The Spear's Luxury Index 2019: Watches, Accessories and Collections
The Spear's Luxury Index 2019: Planes, Trains and Automobiles