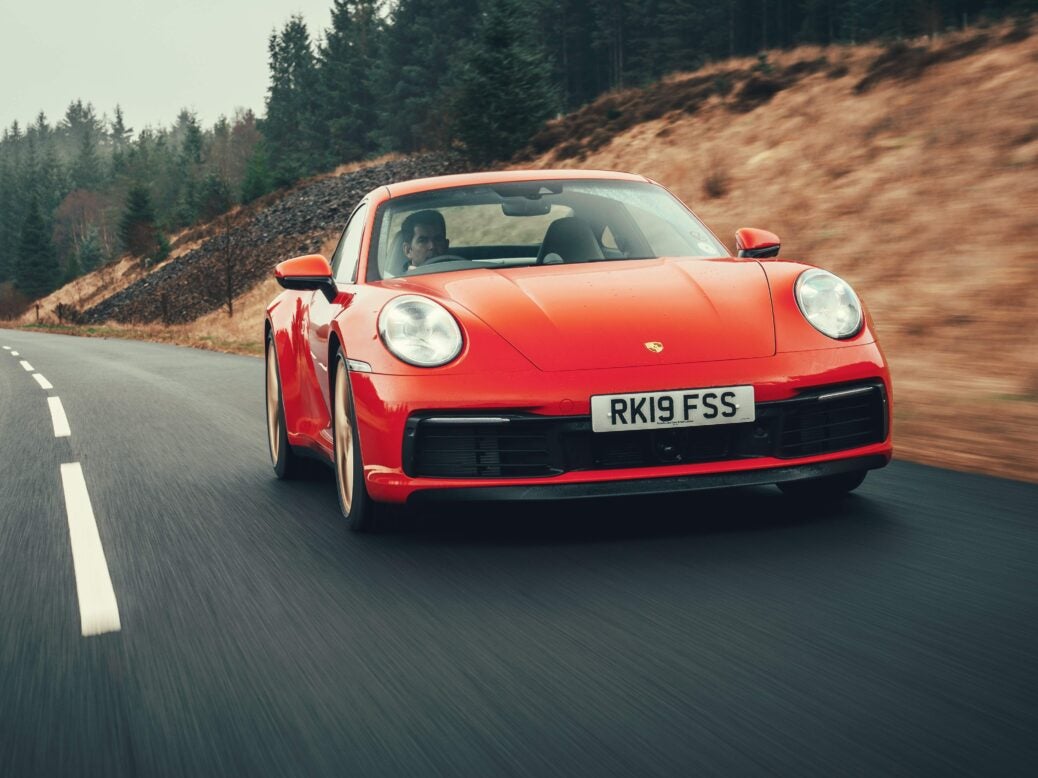 Porsche's 911 is already a timeless automotive icon, and the new 992 generation is more polished than ever, writes Gareth Herincx
Porsche prefers evolution over revolution, especially when it comes to the iconic 911. Originally designed by Ferdinand Alexander Porsche, grandson of the company's founder, and launched in 1963, it's now in its eight generation and still oozes ancestral DNA, from the instantly recognisable silhouette to its rear-mounted engine.
Also known by its internal code number, the 992, at first glance the new 911 doesn't look much different from the outgoing model. The reality is that it's an all-new car, and the fastest and most technologically advanced 911 yet. It's made of more aluminium than ever, it's fractionally bigger, has a new interior and eight-speed PDK automatic gearbox, and the familiar twin-turbo flat-six has had a 30bhp power boost to 444bhp. Plus, for the first time, the front and rear wheels are different diameters (20 inches at the front and 21 inches at the rear).
In terms of styling, the new 911 looks more muscular, the matrix LED headlights are mounted within wider front wings, the door handles now sit flush within the body when the door is closed, and it features vertical bonnet lines that hark back to earlier models. At the rear, there's a new active spoiler, while the LED lightbar runs across the width of the car just like its Panamera, Macan and Cayenne siblings. Inside, there's more retro genius with a combination of Porsche's classic five-dial driver's display and a superb 10.9in infotainment touchscreen in the centre console.
An analogue central rev counter is still ahead of the driver, though it's now flanked by two smaller, frameless digital screens on either side, highlighting everything from speed to drive mode and satnav to night vision.
There's also a new multi-function steering wheel. The list of active safety systems now available is impressive and includes autonomous emergency braking, lane-keeping assist, adaptive cruise control, blind-spot monitoring, traffic sign recognition and new Wet Mode, which senses water spray and tweaks engine and gearbox settings, as well as alerting the driver.
In short, it's very clever and aquaplaning should become a thing of the past. I tested the Carrera S and 4S models, which now share the same wide body (previously, rear-wheeldrive models were narrower than their 4×4 counterparts). A Cabriolet has also now joined the family, with a Targa (a hardtop with a removable centre roof section) on the way.
Quiet confidence
Priced from £93,110 for the S and £98,418 for the 4S, a 911 has become an expensive toy, especially when you start ticking the substantial options list, which takes it well north of £100,000. At this price point it has more rivals than might first spring to mind. Many, like the Audi R8 V10, Aston Martin Vantage and McLaren 540C, are more expensive, while others are cheaper but are no match for its dynamism and sheer quality. The 911 is more understated, yet confident in the knowledge that it's still the world's best sports car.
Together with its new dual-clutch gearbox, the Porsche's 3.0-litre twin-turbocharged engine powers the 911 from 0-62mph in 3.7 seconds for the Carrera S and 3.6sec for the Carrera 4S – 0.4 seconds quicker than the outgoing model. These times are shortened by a further 0.2sec if you opt for the optional Sport Chrono Package, which brings launch control and faster gearshifts. It's behind the wheel that you fully appreciate the new 911, however.
As ever, the build quality is exemplary, while the cabin itself is comfortable and beautifully designed – a perfect mix of tradition and technology. Move the petite gear selector to Drive, dip the accelerator, and you're in no doubt that you're driving a 911. Not only is that flat-six soundtrack instantly recognisable, but also the engine is responsive and remarkably flexible – equally happy on track heading towards 200mph, weaving along country roads at the legal limit or toddling along in a 30mph zone.
Unlike some of its rivals, which sometimes seem ridiculously fast for everyday roads, the 911's performance seems to grow organically in direct proportion to your confidence and ability. The slick new gearbox changes crisply. Select Sport and Sport Plus drive modes and it becomes quicker to respond and more lively as a result.
Just sit back and enjoy those glorious down-changes, the roar of the engine and those infectious pops and crackles. As you'd expect from a 911, it feels nimble and stable, while traction is superb, especially in the 4S, though despite all the driver assistance aids, all-wheel-drive and rear-wheel steering, it still needs to be treated with respect, especially on wet roads.
Easy rider
More than a million 911s have rolled off the production line at Stuttgart over the past 56 years, and though it has undergone continual development, the basic concept has remained unchanged.
With bags of power in reserve and blessed with the ability to stay incredibly flat and composed through bends, the new 911 is supremely capable. Feeling as one with a car is a rare and magical experience, yet it achieves it with ease. An agile pussycat one minute and a roaring lion the next, it's a car that does everything you want and more, and never ceases to surprise.
Porsche itself is in rude health. Believed to be the most profitable volume car maker in the world, it enjoyed record sales in 2018, shifting 256,255 vehicles. Sales were led by the Macan (86,031) and Cayenne (71,458) SUVs, followed by the Panamera performance saloon (38,443), just ahead of the outgoing 911 (35,573). China, the world's largest car market, swallowed 80,108 of the new Porsches.
The latest Porsche 911 will sell superbly, because it is, quite simply, the best yet. Whether you opt for the Carrera S or 4S, you're buying a thoroughbred sports car that's versatile, easy to drive, safe, packed with technology and as rewarding as ever. Few of its rivals share the rich heritage status of the 911, and none is as accessible – both as a daily driver and a wickedly fast 2+2.
Read more