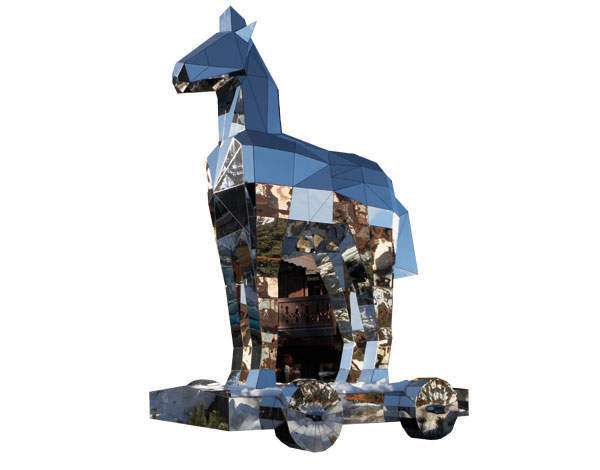 Author: Chloe Barrow


BOUTIQUE HOTELS
Set on the highest and most prestigious section of Courchevel's four-tiered ski resort, six-star hotel Cheval Blanc is easily spottable thanks to a mirror-glass horse outside, reflecting the blue sky and the white snow in its gleaming panels. I can't help but think of insidious associations with a similar equine offered to the Trojans shortly before their demise. Could Cheval Blanc be a Trojan horse for LVMH, which owns it? Has it smuggled disaster into its portfolio — or is this the gift that keeps on giving?
The hotel is an ultra-deluxe ski-in-ski-out resort. Standard rooms are large and airy, featuring personalised mattress and pillows, and facilities include the two-Michelin-starred 1947 restaurant headed up by chef Yannick Alléno. Another highlight is the spa, which, as well as being adjoined to an irresistible cavernous pool and Jacuzzi area, provides Guerlain-based treatments specifically designed for post-winter-sports relaxation.
Read more on travel from Spear's
The service is all executed with a pleasant yet controlled French délicatesse, and the staff specifically aim to pre-empt what you need. I was impressed to discover, following a throwaway comment one evening about my skis being a little too short, that my equipment had been altered when I arrived to collect it the following morning.
Cheval Blanc — recently joined by sister hotels in the Maldives (where the Duke and Duchess of Cambridge recently holidayed) and St Barts — is part of a trend for 'designer hotels' created by the world's most famous luxury brands. Bulgari, Armani, Versace, Missoni and LVMH have all tried their hand at conceiving their own deluxe hotel collections. They have realised that luxury need not necessarily be something you wear — it is, for many, a way of life.
Mutual interests
The luxury groups tend to join forces with a hotel operator in order to create and run their branded hotels. For instance, Bulgari and Marriott have created hotels in Milan, Bali, Shanghai (due in 2015) and London. Armani, though its flagship hotel in Milan is owned by Giorgio himself, established a Dubai resort in conjunction with developer Emaar.
Versace built a Palazzo Versace resort on Australia's Gold Coast with a local partner, while its much-delayed Dubai project (expected to open later this year) also has a local partner. And last year Versace announced a new partnership with Asia's biggest casino company, SJM, to build a hotel in Macau.
Sometimes one group is capable of doing both parts: Starwood Capital Group owns hotels — including the Lanesborough — and the brand — Baccarat crystal — which it is cross-fertilising to produce Baccarat Hotels and Resorts. According to The Wall Street Journal, Baccarat crystal museum pieces will rotate through the lobby, so those with clumsy tendencies best edge their way carefully.
However, not all unions were designed to last. Italian fashion house Missoni is due to end its five-year partnership with global hotel company Carlson Rezidor in June, meaning the Edinburgh and Kuwait Missoni hotels will be rebranded.
But just because you appreciate Baccarat glasses or Armani clothes, does that mean you'll have a better night's sleep in a Baccarat or Armani hotel? 'There is a danger, because sometimes just having a fashion brand doesn't necessarily add to the hotel experience.
It's got to make sense,' says Phillip Haller, chief marketing officer at Yoo, a high-end residential and hotel design company with its own chain. 'Boutiques are a 10am-6pm operation. A hotel is a macrocosm — it operates 24/7 so it can't be the same as a boutique.'
Intelligent design
It's easy to see how these brands can leverage their designer status to promote a kind of aspirational hotel experience in the same way as they position their other products. The Armani hotels, first in Milan and then at the base of the world's tallest building, the Burj Khalifa in Dubai, are a good example of a luxury group conveying its brand message and 'esprit' in an open and unabashed style.
'If you go to the Armani in Milan,' says Nick van Marken, global head of hospitality at Deloitte, 'unsurprisingly all of Giorgio's furniture line is all over the hotel — the classic greys and blacks. It's designed to portray his vision of how you can live an Armani life — and that's not only wearing his clothes but it's sitting in his chairs and eating wonderful food and sleeping in exceptional comfort.'
Bulgari employs a similar promotion and projection of the brand through its hotels. 'Opening a hotel under such a prestigious brand as Bulgari brings immediate advantages in terms of brand recognition and enables us to draw on their wealth of experience in providing individuality, beauty and an unrivalled attention to detail,' says Sylvain Ercoli, general manager of the hotel. When Harrods opens a hotel in Kuala Lumpur in 2018, one presumes its brand will be front and centre too.
Multi-tasking
So while these designer labels may see these resorts as a shop window for their brand, this may not necessarily mean thrusting products down customers' throats, but rather creating a luxurious experience the consumer will hopefully identify with the brand ethos.
And when you have as many luxury brands as LVMH does, you can insinuate them all into your hotel. There is a Louis Vuitton boutique in the Cheval Blanc, and the hotel's name comes from the domaine LVMH owns in Saint-Emilion.
We should be careful not to overestimate the importance of the brand, says Olivier Lefebvre, director of hotel activities for LVMH Hotel Management. Perhaps he is wise to play down this aspect, because if the hotel goes wrong — and with a hotel there are always many disasters waiting to happen — or initial expectations are too high, it can tarnish the original brand by association. The Bulgari in London, for example, was met with a barrage of criticism when it opened.
As Nick van Marken points out, a lot of these brands — whether they're in jewellery, fine wine or fashion — see a hotel as a way to communicate what they believe about the world and their consumers. After all, just like a Versace suit or a Bulgari necklace, where you stay says a lot about your place in the pecking order.
It's good to know, then, that just when you think you've got a handle on your status anxiety there's always something new to worry about.