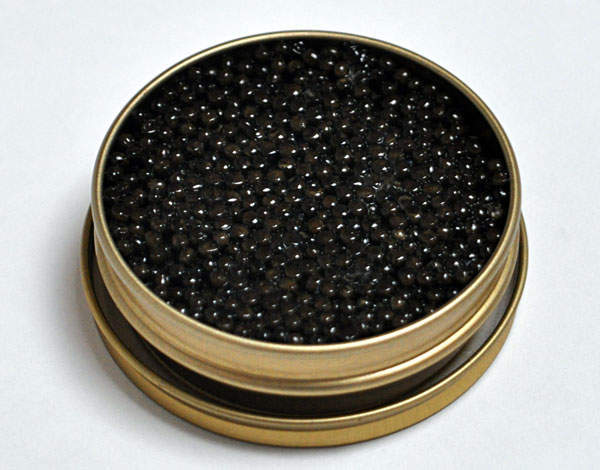 We are all used to the idea of Russian caviar but British caviar? Not so much. After decades of Britain having to import the stuff, Exmoor Caviar are now the first and only British caviar producer, in the heart of the West Country. (Yes, we have more to offer than cider and sheep out West.)
After a brief conversation with Harry Ferguson from London Fine Foods, I found myself with a small tin of British caviar and a side of smoked sturgeon to play around with for the weekend's meals.
Caviar, like foie gras, is one of those contentious foodstuffs. People question the ethics of farming an animal purely for its eggs or liver. In the caviar world, milking has been put forward as an ethical alternative as the sturgeon are not killed, however, I'm told that the drugs used during the process can potentially cause huge damage.
Exmoor Caviar, who supply top restaurants and chefs including Simon Rogan, do not milk their sturgeon, choosing instead to humanely kill the sturgeon and then, rather than discarding them after their eggs have been reaped, they have pledged total commitment to using the entire sturgeon as meat.
The sturgeon live in fresh spring water that flows freely through the pools – over 40 million litres per day – ensuring that they have the best quality environment and cleanest water to live in. Happy fish, in other words.
I tried some of the sturgeon that had been slowly smoked by Pinneys of Orford, a third-generation family smokehouse. Smoked over whole oak logs which slowly smolder, the end product is quite a lovely thing with a wonderful flavour. It has a firm, meaty texture and the flesh is succulent and sweet. You could mistake it for a very superior smoked pork loin.
It is delicious – as is the caviar that comes from the sturgeon. The caviar isn't overly salty, though they are cut with fresh salts – currently you can buy Cornish sea salted or Hebridean salted. It is clean and fresh and the eggs pop on the tongue as they should, each egg clearly defined rather than being part of a larger mass.
The whole process here to me seems very sensible. The sturgeon are well cared for and monitored constantly with a strict traceability protocol in place. Exmoor Caviar ensure the sturgeon feel no pain during the caviar harvesting process and there is no wastage as all the meat is used. Both end products are of the highest quality – win/win, surely.
If you like caviar you should try this. We need to support our own producers – especially as their product is just as good, if not better, than their continental rivals.